1000 Days Later: Remembering Nick Adenhart and a Tragedy Bigger Than Baseball
January 2, 2012
Stephen Dunn/Getty Images
One thousand days ago, Los Angeles Angels rookie pitcher Nick Adenhart made his 2009 season debut, hurling six shutout innings against the Oakland Athletics to go along with five strikeouts.
The date was April 8, 2009, and the Angels were playing just their third game of the young MLB season.
While speaking with reporters after the game, Angels manager Mike Scioscia said, "I thought (Adenhart) pitched a terrific game.  He gave us a chance to win.  He has better tools out there now."
Scioscia was referring to Adenhart's budding career.  A four-time minor league All-Star, Adenhart had pitched briefly for the major league club in 2008, and after a very strong spring in 2009, was poised for a breakout rookie season.
As fans left Angel Stadium of Anaheim after a late-inning defeat that Wednesday night, Adenhart joined a group of friends to celebrate the first of what looked to be many quality starts in the big leagues.
Just a few short hours later, the reports started trickling in.
Slowly at first, from TMZ to Twitter, the dismal news was confirmed: Nick Adenhart was one of multiple fatalities during a felony hit-and-run traffic collision in Fullerton early Thursday morning.
As the Angels, A's and MLB immediately postponed Thursday's scheduled game, Commissioner Bud Selig issued a statement:
"Major League Baseball is in mourning today upon the news of this tragedy that has taken Angels pitcher Nick Adenhart and two others.  Nick was just 22 years of age with a wonderful life and career ahead of him."
Kevork Djansezian/Getty Images
Selig's statement was aptly worded: "a wonderful life and career ahead of him," in that order.
Developed from Aristotle's philosophy of happiness, a popular folk question asks its audience: "Is your first priority money, happiness or health?"
The suppositional response concludes that health is most valuable.
In the absence of money, a person thrives off of charity and providence.  When money is unjustly taken from a person, the situation may be rectified in the courts or on the streets.
A lack of happiness may be a temporary state; a person can seek out others or look within themselves to achieve contentment. 
A person has both time and resources to mend this type of situation and can learn to control, to an extent, their degree of serenity.
Without health, however, a person cannot survive.  When life is taken from a person, there is no remedy, and such a loss gravely affects others. 
Even if one does everything right, a person cannot control another person's misdeeds or nature's unfair influences.
When Andrew Gallo was convicted of three counts of second-degree murder after recklessly running a red light and slamming into the Adenhart party's vehicle, he was sentenced to 51 years in prison—a conviction that couldn't bring back the young lives lost.
When authorities ordered the Covina bar that served Gallo one too many drinks to permanently shutdown, their order did little to console those affected by the terrible mistake.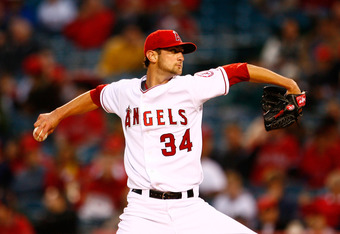 Jeff Gross/Getty Images
Adenhart was a young and promising pitcher, but more than anything else, he was a teammate, a son, a human being.
"He was just a great guy.  It just hurts," said catcher Mike Napoli, who had been Adenhart's battery-mate just hours before the fatal accident.
"He was a privilege to be around," added Scioscia.  "He grew as much in four years as anyone I've ever known ... His family should be very proud." 
Adenhart's death touched so many.  It reminded those of us who get so passionate, and at times so upset about a superstar's strikeout or an umpire's call that, at the end of the day, it's all just a game.
Players play, coaches coach, officials officiate and we all hopefully reap a certain amount of enjoyment from watching our grand American pastime. 
Win or lose, as long as we can return tomorrow to watch another ballgame, we all marvel in the spectacle of sport—of life.
As outfielder Torii Hunter said 1,000 days ago, "Life is fragile.  You never know when it's your time to go ... Treat people like you want to be treated and live life to the fullest."
Adenhart, the first active player to pass away since the Orioles' Steve Bechler in 2003, would have been 25 years old.