Rose Bowl 2012: Keys to Victory for Wisconsin Badgers
January 2, 2012
Andy Lyons/Getty Images
The 2012 Rose Bowl game is the anti-BCS National Championship.
This is because when it comes to a matchup between the Wisconsin Badgers and Oregon Ducks, you have to figure defense is totally optional. The Badgers finished fifth in the nation in scoring during the regular season, and the Ducks finished third.
It should be a great game to watch, but I've stated on multiple occasions that I think the Ducks are going to pull away late and win this game by a comfortable margin. That's just what they do, and it has a lot to do with how few teams are capable of keeping up with them for 60 minutes.
But hey, I'm willing to admit that Wisconsin has a legit chance to win this game. All the Badgers have to do is abide by the following four keys.
Make the Ducks Offense Beat You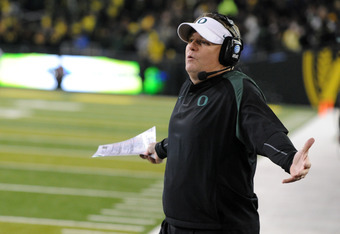 Steve Dykes/Getty Images
Wait, what?
Yup. If the Badgers are going to lose, they need to make sure they get beaten by Oregon's offense.
The reason I bring it up is because the Ducks don't need their offense to score all their points. De'Anthony Thomas and Josh Huff are dangerous kick returners, and the Ducks will use LaMichael James to return punts. All three of them boast great speed, and they will be gone to the end zone if they find some space.
To boot, Oregon has an opportunistic defense, one that picked off 16 passes and returned three of them for touchdowns during the regular season. The Ducks will give up yards on defense, but they will hurt you if you're not careful.
In a game like this one, both teams are going to need as many points as they can get. The last thing the Badgers want to do is give up points to a unit other than Oregon's offense.
Go for the Strip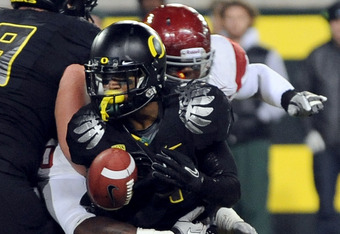 Steve Dykes/Getty Images
The Badgers would seem to have the edge on defense in the Rose Bowl, as they gave up just 17 points per game during the regular season.
But the Ducks represent a different challenge, and they will test Wisconsin's defense.
The best way for Wisconsin's defense to return the favor is to go for turnovers. Because the Ducks run the ball so much, that means they need to go for the strip.
It sounds simple to the point of being obvious, but it's worth noting that LaMichael James is not the strongest ball carrier, and he did have issues with his wounded elbow at points during the latter half of the season.
And, of course, we all remember the ball security issues De'Anthony Thomas had in Oregon's season-opener against LSU. 
Don't Ask Russell Wilson to Do Too Much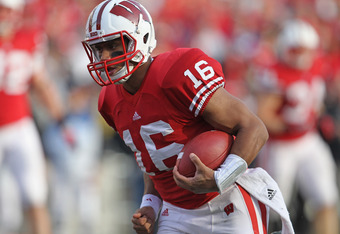 Jonathan Daniel/Getty Images
The amazing part about Russell Wilson's 2011 season is that he did a lot with relatively little work. He threw just 284 passes all season, completing 206 of them.
As the saying goes, if it ain't broke, don't fix it.
With the Ducks likely to be lighting up the scoreboard early and often, the temptation will be there for the Badgers to take to the air to keep up. They shouldn't do that. As good as Wilson is, he will make a mistake or two if he gets extra exposure against Oregon's defense. It bears repeating that it is an opportunistic unit.
Wisconsin is better off trusting its rushing attack, which carried the ball 563 times during the regular season.
If Wilson has to throw the ball more than 30 times, you'll know Wisconsin is in trouble.
Don't Be in Such a Rush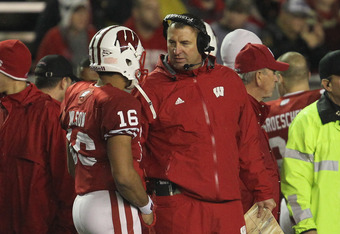 Jonathan Daniel/Getty Images
I think the Badgers have enough girth and strength to overpower the Ducks, but they don't have enough endurance to keep up with them. Nobody does.
The Badgers would be wise to accept that reality. They need to slow the pace of this game down, which is something that they can do by pounding away with the run and not being in too much of a hurry between plays.
And yes, it may even be a good idea to fake an injury or two.
If the Badgers can slow the game down, there's no reason to think they can't win. If they play the Ducks' game, however, they'll leave the Rose Bowl empty-handed.
Again.