Arizona Cardinals' 2011 Season in Review: What Can Cards Learn to Help in 2012?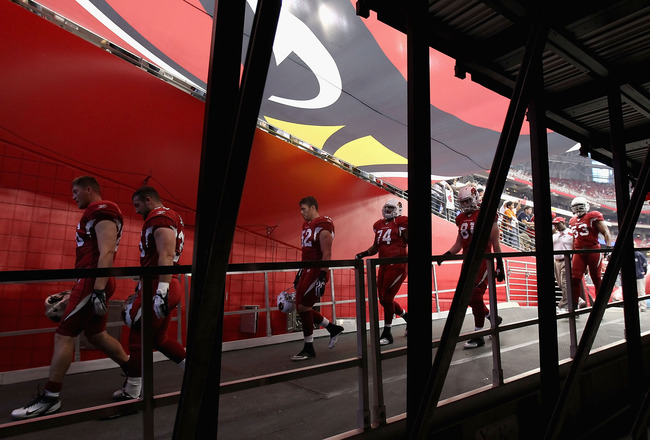 Christian Petersen/Getty Images
While there is still plenty of football to be played, for the Arizona Cardinals, 2011 is now in the books. The lockers have been emptied, the autographs signed, and they are now nothing more than fans, watching from home to find out which team will lift Vince Lombardi's trophy, knowing that, at least for this year, it will not be them.
Sure, Larry Fitzgerald and Adrian Wilson still have a Pro Bowl appearance to look forward to. Yes, 8-8 is a much better result than anyone would have expected after a 1-6 start, but if anything, those things just go to underline what could have been.
A few extra wins early on, against the Seahawks, Giants or Redskins—all games which were very winnable for the Cardinals—and we could now be discussing preparations for the wildcard weekend. We could be pondering whether Kolb or Skelton would start, questioning whether Wells would be able to keep his knee injury in check for another few weeks and asking ourselves if maybe, just maybe, we could be on the verge of another miracle run at the Super Bowl.
The season has been frustrating at best, heartbreaking at worst, and always, always, nail biting.
However, all the Cardinals can now do is learn from it. Use it to improve, to rebuild and to once again challenge for the NFC West title in 2012.
So, what can the Cardinals take away from 2011? How can they regroup for 2012? Let's take a look, shall we?
Larry Fitzgerald Is Worth Every Penny and Will Earn His Paycheck in 2012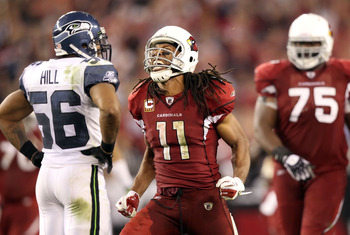 Christian Petersen/Getty Images
In the offseason, Larry Fitzgerald signed a six year, $120 million contract extension, which makes him one of the richest, and most secure men in the NFL. The deal, should keep Fitzgerald with the Cardinals until at least the end of the 2018 season, and quite possibly until the end of his career.
The contract includes more than $50 million in guarantees, with the remainder paid in roster and option bonuses, which are all but guaranteed. It's a steep price, to be sure, but anyone questioning whether Fitz is worth the money needs only to take a look at the Cards' last game against the Seahawks.
Fitzgerald posted 149 yards, to top 1400 on the season for the fourth time in his career.
The numbers are fantastic, but the player's face tells the real story. This means everything to him. The game had no real significance, the season was already over, the playoffs out of reach, and while 8-8 is easier to spin than 7-9, when your contract and future secure, whatever the result, most players would be unlikely put their bodies on the line in a game like this.
Larry Fitzgerald isn't most players though. Fitz just kept going. His work ethic is second to none, and each and every drive he played at 100 percent. He made not one, but two one-handed grabs during the game to keep Cardinals' drives alive, and ultimately, kept them in the game.
Oh, and did I mention that he bruised his lung during the game, and was coughing up blood on the sidelines?
Fitzgerald makes it look easy, but let's not forget, his numbers have come in a season with yet another QB carousel, and with the added pressure of being the team's solo (real) receiver, a position he is not used to. Teams have blanketed Fitzgerald all season, and he has still managed to produce a statistically spectacular season.
No matter who is throwing to him, no matter who his supporting cast is, Fitzgerald will find a way to shine. He is truly committed to the team, and has a work ethic, attitude and leadership abilities which inspire the players around him to greater heights than they would otherwise achieve.
He will lead the team to wins in 2012, which is good, because the Cardinals will not be happy with another .500 season, and will need to improve on that next year.
No Matter What You May Hear, There Is a QB Controversy Brewing in the Desert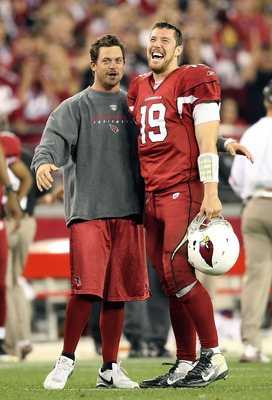 Christian Petersen/Getty Images
Once upon a time, Kevin Kolb was hailed as the answer to all which ailed the Cardinals, and the management wagered $63 million, and Pro Bowl corner Dominique Rodgers-Cromartie on a bet that he would live up to expectations.
Then the season started, and in his opening seven games, Kolb lead the Cardinals to an almost insurmountable 1-6 record before a turf toe injury hobbled his progress.
Though he returned in Week 13, and led the team to a win against the Cowboys, his comeback wouldn't last long. Indeed, Kolb was able to complete just one pass for one yard against the 49ers the following week, before a concussion sidelined Kolb for the remainder of the season.
Along came the other guy, John Skelton, the guy many of us had been raving about since he was drafted. He led the Cardinals to win after win, including three in overtime, which helped salvage the Cardinals' season, which finally ended 8-8.
Kolb was 2-6 in the eight games he finished as a starter.
Skelton was 6-2 in the eight games in which he took the majority of snaps.
Those two statistics tell one story: Kolb can't win, Skelton can.
But then there are the other stats.
Like Kolb's 81.1 passer rating, 57.7% completion percentage, 9 TDs and 8 INTs, versus Skelton's 68.9 passer rating , 54.9% completion percentage, 11 TDs and 14 INTs.
Neither QB's stats are great, but across the board, you would conclude that Kolb, not Skelton is the better passer.
And then there are the most telling facts of all: Kolb played most of his games in the first half of the season, when the Cardinals' defense struggled to adjust to its new coordinator's scheme. The team's complex offensive playbook would have proved difficult for any quarterback to learn given the short preseason schedule.
Skelton, on the other hand, got most of his wins in the latter half of the season when the Cardinals' defense really came together and looked dominant. Half of Skelton's wins, three of the six, came in epic, overtime games, where only the Cardinals defense kept them in the game, and Skelton could take little credit for the win, outside of the final quarter.
If you listen long enough, you will hear commentators spin these stats one way or the other, to prove that either Kolb, or Skelton, is the obvious choice, a done deal, the only possible starter in 2012.
They will tell you that Kolb's contract makes him the only choice, or alternately, that Kolb's contract makes it all but impossible for the team not to cut him. They will liken Skelton to Tim Tebow, and call him the quintessential clutch QB, and call Kolb an injury prone hack who has no pocket awareness, or tell you that Kolb has all of the skills to lead the team for years to come—anyone would have struggled early in the season, given the circumstances—and Skelton is a liability who doesn't know how to complete a pass.
There are, of course, elements of truth to all of these things. Skelton has looked inaccurate, and did indeed throw more picks than touchdowns. It's hard not to question Kolb's durability, and he did appear to struggle in the pocket.
The simple fact, however, is that neither player has done enough to cement their position as starter, and nor has either one been so bad as to warrant being cut yet. That means that Kolb will be around next season, and his sizeable roster bonus will be payable by the Cardinals, which means he certainly has the inside track to start next season, however, if you think that Ken Whisenhunt wouldn't give Skelton a fair shot, or even hand the reigns to Skelton midseason if Kolb fails to deliver once more... well, you simply haven't watched the Arizona Cardinals enough.
Kolb does appear injury prone, which means that even if he gets the nod in week one, there is no guarantee that he will still be fit to play the following week. Skelton is tough. He apparently fainted while having fluid drained from his knee before the game against the Seahawks, but still suited up and played one of his better games of the season. Skelton will not stop nipping at Kolb's heels, though the two seem to be good friends off the field. On it, they will continue to be fierce rivals, neither one willing to let the other get too much of an upper hand in a race which will undoubtedly be hotly contested during the preseason.
Long story short: Anyone who tells you they can predict who will start in 2012 is lying. There is a genuine QB controversy in the desert, and preseason will be all the more exciting because of it.
The Cardinals' Offense Needs to Find a Legitimate Number Two Receiving Threat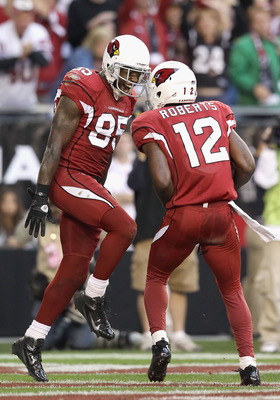 Christian Petersen/Getty Images
In 2011, both Early Doucet and Andre Roberts had a clear understanding of their goal for the season: Move out of the shadows and establish themselves as a legitimate number two receiver for the Cardinals.
With Larry Fitzgerald in blanket coverage, and the addition of natural pass catching tight ends Todd Heap and Rob Housler, this should have made that job a little easier, as defenses were forced to take these players into consideration. All they needed to do was run accurate routes, secure the ball consistently, and give the QB an easy target.
Neither player needed a 1500 yard, 15 TD season to do so. They just needed to haul in the majority of the balls thrown their way, keep drives alive, and force teams to take them seriously.
Both players failed to do anything resembling this.
They both made some big plays, and both men gave fans a taste of what they were capable of, but the problem was that neither player was able to do any of these things with any level of consistency.
Neither Roberts nor Doucet was able to break out of their WR 3, slot receiver mentality. While it is perfectly acceptable for a slot guy to try and exploit holes in coverage, and to try to give his QB a deep threat on every play, this is not, and cannot be, the MO of a number two guy. The number two WR needs to be dependable. He needs to keep drives alive, even if it means completing a pass short of the first down marker or end zone, to give your team a convertible field goal, or third-and-short option.
The reality was simple: When they did catch passes, it was often quite exciting to watch. They did give the Cardinals some big plays, and both hauled in some spectacular catches, but both players dropped far too many catchable balls, both allowed inaccurate and imprecise route running, resulting in picks, and both all too often, took off running towards the end zone before they had properly completed the catch.
I still believe that either Doucet, Roberts, or both, have a real part to play in the Cardinals' offense in 2012, but it should not be as a number two WR. The Cardinals should seek to pick up, trade for or draft a number two receiver.
There are some really interesting players in free agency, including Dwayne Bowe, DeSean Jackson and Vincent Jackson, to name but a few, and with plenty of cap space to play with, the Cardinals could tempt any of these big-name guys.
There are also options in the draft which could be available with their second pick, in the third round, but, one way or the another, the Cardinals need to find that number two guy, and unfortunately, they won't find him on their current roster.
The Cardinals Are More Than Equipped to Become a Run-First Team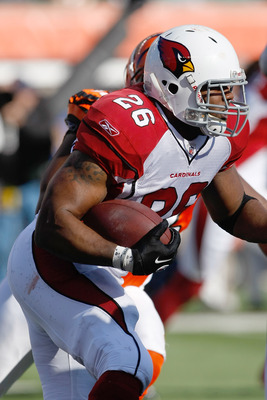 Scott Boehm/Getty Images
Every year, since coming over from Pittsburgh, Ken Whisenhunt has spoken about instilling a run-first mentality in Arizona. Every year, he has attempted to draft and sign players who could help make that a reality, and, each and every season, without fail, that has failed to materialize, and the Cardinals once again abandon the run and end up airing it out... that is, until 2011.
While Cardinals fans have become used to a high scoring, high octane, pass-oriented offense, in recent years, the simple fact of the matter is that expecting another combo like Warner, Fitzgerald, Boldin and Breaston is wishful thinking. The Cardinals do not have an elite QB on their roster, are picking late enough in the draft, and have enough other considerations to suggest that they are not going to draft one this season either.
Where the Cardinals are stacked, however, is at running back.
Beanie Wells had a breakout season. Though hampered by injury, in 14 starts, Wells managed to rush for 1,047 yards and 10 TDs, both numbers significantly higher than his previous season bests, and good enough to place him amongst the better running backs in the league.
Wells proved his toughness by playing most of the season with a knee injury he sustained early in the season, and was very upset to be held out of the team's final game against Seattle, believing that he would have been able to post enough yards to get into the top ten amongst all RBs this season.
Why was this important, when he has already posted the best numbers of any Cardinals RB in recent memory? Because Wells is acutely aware that his performance in prior seasons has been lacking, and the coaches and managers were losing confidence in him, so much so that they appeared to have drafted his replacement in highly touted rookie Ryan Williams, who missed this season with a knee injury.
Williams should be back next season, and if fully rehabilitated and able to perform to the level which we saw during his brief preseason, Wells and Williams should prove to be one of the most productive running back tandems in the league.
Williams is explosive, hits the hole hard, and has the strength and speed to rack up yards after contact.
This tandem should wear out opposing teams' front seven nicely, which should, in turn, make life much easier for the Cardinals' QB and receivers.
And we haven't even mentioned Hyphen yet. LaRod Stephens-Howling—affectionately known as Hyphen to his friends and fans—is the Cardinals' X-Factor. Though Stephens-Howling has been inconsistent throughout this season. Hyphen is one of the quickest, most elusive backs in the league. He is at his best when given a small seam on the edge, and can quickly and easily break into the backfield for huge gains if given the chance. Though he was unable to devastate in the kick return game, the way he has in previous seasons, against the Seahawks, Hyphen proved just what he can do when given the chance, rushing for 93 yards on 21 carries, including one long rush for 39 yards.
Chester Taylor and Alphonso Smith have also played their part, but the trio of Wells, Williams and Stephens-Howling in 2012 should prove to be more than a match for most opposing teams.
The Cardinals' O-Line Isn't as Bad as You Think, but Still Needs a Shake Up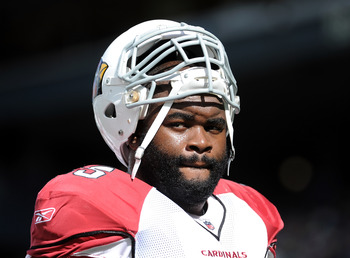 Harry How/Getty Images
Levi Brown and the Cardinals O-Line are better than you think. In the last few weeks of the season the O-Line as a whole, and Levi Brown in particular, played much better in recent weeks than at almost any other time in recent history.
Levi Brown has genuinely improved in pass protection in the latter part of the season, doing his part to prevent QB sacks and pressures, and while pressure still comes from elsewhere on the line, Brown, at least, is not deserving of all of the flack he has taken recently. When you come off the board before Adrian Peterson, and fail to perform, the pressure is always going to be on.
Fans are critical of the Cardinals' O-Line, and for good reason, however, there is reason to believe that things may not be quite as bad as they appear. The Cardinals will need to restructure their O-Line, but starting from scratch, fortunately, should not be necessary.
First and foremost, there is the aforementioned LT, Brown. He is improving as a pass protector, but still looks like he would be more comfortable lining up on the right. His contract for 2012, an $8.3 million base and nearly $17 million cap hit, is simply more than the Cardinals are going to pay for a tackle that is as inconsistent as Brown is. If Brown is to return, it will only be with a restructured contract. Even the $5 million he earned in 2011 seems a lot for him, but, Whisenhunt wants him back, and, if cut, he would struggle to find a team willing to give him a starting job, so restructuring his contract may be in his best interests.
Though Brown takes the lion's share of the flack, the Cardinals' RTs, Brandon Keith and Jeff Bridges are, if anything, even worse. If Brown is willing to renegotiate his contract, then he can slide over to RT, and make at least one of these players surplus to requirement.
The list of free agents at OT is, well, sparse, so Brown's replacement at LT is going to have to come through the draft. Matt Kalil and Jonathan Martin could both step into the Cardinals' lineup day one, and make an impact, but there is a problem, most specifically, that both could be off the board before the Cardinals pick at 13th in the first round, which means the Cardinals would need to trade up to ensure getting one of the two players. The problem, of course, is that bargaining chips will be limited, having already given up their second round pick to Philadelphia in exchange for Kevin Kolb.
Riley Reiff could still be available, and is experienced at LT, RT and guard, but would not necessarily be an instant upgrade at the LT position, and is a more natural RT, day one. The Cardinals would be left hoping that Levi Brown would continue his late season form at LT, rather than sliding him to the right, which means he would also have the power when it comes to renegotiating a contract—a bad situation all around.
At Center, Lyle Sendlein has been solid enough to keep his place, and while he has not looked as dominant as during his tenure in Green Bay, Daryn Colledge has done enough to earn his place in the line up next season too. And then there is Rex Hadnot. He's a tough player to call. While he seems like a really nice guy, and a hard worker, he has been inconsistent at best.
Local boy Deuce Lutui could make a play to recover the position he literally ate his way out of a year prior, if the Cardinals choose to sign him, but given that Lutui is strictly a right guard, while Hadnot is flexible, the most likely course of action seems to be to try and bring in a veteran free agent like Ben Grubbs as starter, and know that they have a very flexible, very versatile backup in Hadnot.
Believe it or not, I think that these few small tweaks could turn the Cardinals' pass protection from hopeless to serviceable. Yes, this is still a stop-gap solution, the Cardinals will still need to find eventual replacements for all of these players—many of these players' careers are now on the decline—it would hopefully give Russ Grimm just enough to work with to get something positive out of the next few seasons.
The Cardinals' Front Seven Is Doing the Job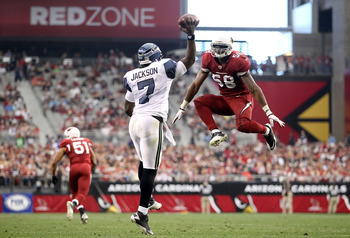 Christian Petersen/Getty Images
Coming into the season, there were questions—a lot of them—about the Cardinals' front seven. It was young, untested, and preparing to switch from a 4-3 base defense, to Ray Horton's Pittsburgh style, a high pressure, 3-4.
We questioned whether the transition would be smooth, whether established players like Dockett and Dan Williams would transition well to their new roles, whether there was enough depth to sustain the team through a long, brutal NFL season, whether the young players on the roster—and there are a lot of them—would have had the time to develop into starters even with a full preseason workout, let alone in the shortened time frame they had. We wondered where the pressure, in this so-called high pressure system was actually going to come from,
Many, myself included, considered an elite pass rusher, like Von Miller, an absolute must in the draft, and when they didn't take a linebacker at all in the first three rounds, we hoped beyond hope that the team had something up their sleeves by way of a big name free agent signing or trade.
That signing never came, and the Cardinals' front seven really struggled out of the blocks. They seemed to have difficulties learning the system. Their pass rush was as ineffective as people predicted, and all of the concerns appeared to be well founded.
However, slowly, but surely, the Cardinals' defense found its identity, and the Cardinals' front seven began to look dominant.
Calais Campbell came alive as a 3-4 DE, and was widely considered one of the Cardinals' defensive MVPs. He led the team in sacks (8.0) and was also a monster on special teams, blocking multiple field goals.
Dan Williams appeared solid until a broken arm ended his season in late November. The Cardinals looked sketchy at nose tackle, but Nick Eason proved to be a very nice surprise as a more than capable replacement after transitioning from DE.
Daryl Washington also made his presence felt throughout the season, and made a real case for his MVP status, leading the team in tackles (106), tied for second in interceptions (2) and third in sacks (5.0).
Opposite Washington, Clark Haggans showed no signs of letting up, even after 12 seasons in the NFL, and looks set to stick around for another few years to come. Though he is likely to be more of a mentor to O'Brien Schofield and Sam Acho in 2012 and beyond, he is a player the Cardinals will want to keep around while these young players continue to develop.
Sam Acho earned his spot in the lineup, and proved why you don't always need to reach in the first and second rounds to get great talent. Acho is shaping up to be a great pass rusher, and a big-time player for the Cardinals and will only go from strength to strength next season
Paris Lenon made a solid case for his continued employment, and is all but certain to return, given his very affordable contract status.
Youngsters like O'Brien Schofield and veterans like Vonnie Holliday have also earned their place on the roster, proving very useful in situational play.
In reality, the Cardinals' only issue appears to be with Stewart Bradley, who has failed to live up to his high expectations. Bradley has not been a complete bust, racking up a handful of tackles, but given his sizeable contract, and hefty cap hit for this season, Bradley may find himself cut before the start of the season.
All in all, the Cardinals' front seven looks solid.
Though there are numerous free agents available at these positions, the Cardinals seem more than set, with just a few possible exceptions.
Firstly, the Cardinals may want to find a cheaper backup at ILB to replace Bradley.
After that, Aubrayo Franklin is worth consideration. He has struggled in the Saints' 4-3 defense, since leaving San Francisco. Franklin is a proven 3-4 Nose tackle, who knows the NFC West well. Though Dan Williams and Nick Eason have proven solid, neither has had the experience of learning the position behind a true, experienced NT. At 31, Franklin is certainly somewhat of a stop-gap, but would anchor the Cardinals young 3-4 defense for a couple of years, while teaching the younger Williams the craft.
The Cardinals' Secondary Has Struggled, but Is Learning Fast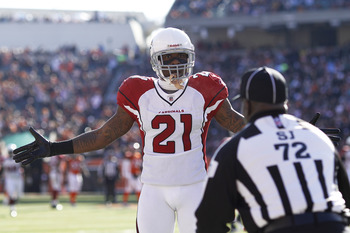 Joe Robbins/Getty Images
While the Cardinals' front seven have really come together to form what is set to become one of the more dominant defensive units in 2012, its secondary has not quite developed at the same pace.
By far, the biggest contributing factor has been injury. After sending cornerback Dominique Rodgers-Cromartie to the Eagles, as part of the Kevin Kolb trade, the Cardinals pinned a lot of hope on the tandem of high upside rookie Patrick Peterson, and third year player Greg Toler. Unfortunately for the Cardinals, Toler was sidelined for the season before even playing a game, leaving the Cardinals thin at this position.
A.J. Jefferson and Richard Marshall both struggled opposite Peterson, who himself had his fair share of difficulties transitioning to the pro game.
Peterson's biggest struggles, by far, were self-inflicted. He gave up a lot of avoidable pass interference calls, because he was a little too comfortable putting his hands on receivers.
Safety, and defensive leader Adrian Wilson played each and every game this season, in spite of a potentially season ending arm injury sustained during training camp. However, this significantly limited his ability to train with the team, and it showed early on. FS Kerry Rhodes looked very good until a foot injury sidelined him for several games.
However, the Cardinals' secondary found its identity as the season progressed, albeit a little later than the front seven. The Cardinals' pass coverage improved no end when Richard Marshall was handed the left corner job ahead of Jefferson, and at around the same time, Peterson's penalties also began to decline. Wilson came to grips with the his role in Horton's defense, and though he always looked better when Rhodes was on the field, freeing him to move up and play closer to the line of scrimmage, he quickly overcame his injury, and played well enough to earn another Pro Bowl selection.
Richard Marshall may well have become the Cardinals' defensive MVP, playing at CB, and safety, in place of the injured Kerry Rhodes, and excelling in both positions. He was versatile, flexible, and his presence really made the Cardinals tick.
Unlike the Cardinals' run defense, and pass rush, the Cardinals' pass coverage is still not the finished article. Depth, especially at safety, is a concern, and we are still at least one full preseason away from ironing out the remaining kinks at corner. Horton, himself a former secondary coach, will certainly make this priority number one for his defense. Securing the services of a young safety adding depth behind the ageing Wilson and Rhodes, and adding a veteran corner to mentor Peterson and Toler, will help matters no end.
The problems with the Cardinals' secondary are still a concern, but much less so than they appeared early in the season. Expect the Cardinals' secondary to look improved, but still be a work in progress in 2012.
The Cardinals Have Players to Re-Sign If They Hope to Improve on 2011
Christian Petersen/Getty Images
Currently, 16 of the Cardinals' 2011 team are set to become UFA's in 2012.
Of those, I would consider at least six must-sign players.
Calais Campbell, Clark Haggans, Richard Marshall, Early Doucet, Brandon Keith, Jay Feely, Joey Porter, Vonnie Holliday, Deuce Lutui, Floyd Womack, Mike Leach, Chester Taylor, Dave Zastudil, Hamza Abdullah, D'Anthony Batiste and Sean Considine are all unrestricted free agents.
Of those, Campbell, Haggans, Marshall, Doucet, Feely and Holliday should all be re-signed.
Campbell is clearly priority number one. The Cardinals appeared confident that something could be worked out, and sat down to talk, according to reports, before the season ends. This is good news. Campbell will listen to reasonable offers, and appears happy and comfortable in Arizona, so his chances of looking elsewhere are reduced, so long as the Cardinals don't low-ball him. They could franchise tag him, of course, but the new franchise tag rules, which include averages from the past five years, are even more likely to be seen as an insult, and greatly reduce the chances of his re-signing in the future, so locking him up to a realistic deal has to be top priority for the team.
Marshall is clearly also a high priority for Horton, who values his flexibility and versatility, and would allow the Cardinals' cornerback position to become a real position of strength for the team, when Greg Toler returns. His contract needs will not be exorbitant, however. Given his level of play in 2011, it will likely be considerably higher than whatever was paid to him this season.
Clark Haggans and Vonnie Holliday are both seasoned players, coming towards the end of their careers. Both should be retained because they are locker room favorites, consummate professionals, and have both made significant onfield contributions this season. Both players would be depth guys, situational players and mentors to the Cardinals' younger players, but their salary requirements would likely also reflect that. The Cardinals' locker room seems like a particularly nice place to work, with a real lack of disruptive or prima donna players, and this, coupled with the prospect of learning yet another new system, this close to the end of their playing careers will likely keep both men with the team for a very affordable price.
Doucet may not seem like a must sign player—he has made mistakes, and failed to establish himself even as the number two WR in Arizona, however this is a position which has been ravaged in recent years, with the losses of Steve Breaston and Anquan Boldin. Though the Cardinals will want to add players at this position, and Doucet will likely slide still further down the depth chart, with the Cardinals' struggles at QB, familiarity will be huge for the team.
Jay Feely is a solid kicker, who, in spite of a few missteps this season, has been good for the Cardinals. He is a fan favorite, is well liked in the locker room, and has a great relationship with the coaching staff. Feely has been a real journeyman throughout his career, but seems very settled in Arizona, and will likely close out his playing time here. He should be re-signed, and given his relationship with the coaches, this seems pretty much a given.
A number of restricted free agents, including return man and running back LaRod Stephens-Howling, and corner Greg Toler must also be locked up to long-term contracts, as both really add to the Cardinals, and will get significant playing time.
A few free agents—namely Brandon Keith and Joey Porter—appear to have lost their starting positions for good now, and, though persistent injuries sealed the deal for both and sidelined them, Sam Acho and Jeremy Bridges already appeared to have won the respective jobs, even without the injuries. These players should not, and likely will not, be brought back, as for the remaining players, well, it all depends on the price, really.
The Cardinals would do well to bring back Dave Zastudil, though certainly not at any cost. Chester Taylor may be surplus to requirements, especially if the Cardinals retain Stephens-Howling, though Taylor is a veteran, at a position dominated by youth on the Cardinals, and he could provide some much needed mentoring to the youngsters.
All Coaches Have Done Enough to Secure Jobs, but There Is Still Room for Change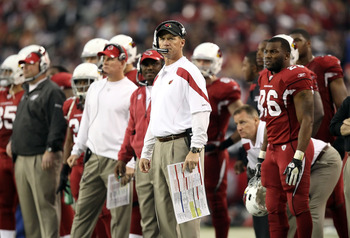 Christian Petersen/Getty Images
At 1-6, each and every coach had to feel his job was on the line. At 8-8, the Cardinals' coaches can feel relatively confident that they will be back next season, in one form or another.
After their first seven games, Whisenhunt was playing for his job. First time defensive coordinator Ray Horton's defense wasn't clicking, and many wondered if the Cardinals simply didn't have the personnel to make such a high pressure, complicated system work. Assistant head coach Russ Grimm's offensive line was as weak as ever, it appeared unclear in what way he was really assisting Whisenhunt.
The only person whose job seemed at all secure was first year offensive coordinator, Mike Miller. Not that his offense was doing any better, but given the difficulty of teaching a new quarterback a brand new system in a very short period of time, you could at least understand why it was struggling.
The season improved. Horton's defense came together, and looked potent. Grimm's O-Line, while still in need of some work, looked better, and Whisenhunt managed to bring his team back to 8-8, a place of relative security for any head coach.
By the end of the season, the only person whose job appeared in any real jeopardy was first year offensive coordinator Mike Miller. Not that his offense was really any worse than when they were at 1-6, it did appear to have improved—though admittedly not to the level of the defense. No, the single biggest reason that Miller's job is now in jeopardy occurred in mid-December, when the Kansas City Chiefs fired head coach, and former Cardinals OC, Todd Haley.
Haley, a close friend of Whisenhunt, and widely considered to be the man who brought out the best in the Cardinals' Super Bowl team of 2008, now appears likely to rejoin the Cardinals, barring an unexpected head coaching offer elsewhere.
That is a problem for the Cardinals, who already have an offensively-minded head coach, offensively-minded assistant head coach and dedicated offensive coordinator. While many teams could possibly create a new position for Haley, rather than demote someone else, all of the offensive positions he would be interested in already exist in Arizona.
It's a shame for Miller, who hasn't really done anything to lose the job, but given the choice between Miller and Haley, the decision would almost unanimously be in the favour of Haley.
Haley is not a lock to return yet, of course. A number of college programs are in need of a new head coach, and Haley could be tempted to take a college HC job, rather than taking a demotion. Haley was also a guest analyst on ESPN, and looked remarkably comfortable in front of camera, and could be convinced to make this his new vocation, however, all signs point to his imminent meeting with the Cardinals, and, it would be unlikely for that to be anything more than a formality, to hammer out financial details, at least from the point of view of the Cardinals.
Haley will have time to weigh up his options, but there seems to be no chance of the Cardinals not offering him a position on their staff.
Keep Reading

Arizona Cardinals: Like this team?