Fiesta Bowl 2012: Andrew Luck Will Validate Status as Top NFL Prospect
January 2, 2012
Ezra Shaw/Getty Images
Andrew Luck will prove why he is the best NFL draft prospect by lighting up Oklahoma State in the 2012 Fiesta Bowl.
The Cowboys will win the game, because Stanford's defense is just awful. But Luck will keep it close by displaying the skills that have had pro scouts drooling for years.
The 6'4", 235-pound junior has every tool necessary to succeed in the NFL. His arm is a rocket launcher and he has the accuracy to squeeze the ball through the slightest of openings.
He is a little limited athletically, but he makes up for it with his exceptional awareness and pocket presence. He has great footwork and is adept at making slight movements in the pocket to keep plays alive.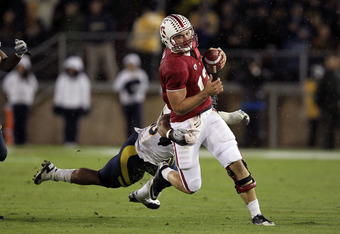 Ezra Shaw/Getty Images
Rarely do you see quarterbacks at the collegiate level master the subtleties of the game, but Luck is incredibly advanced.
Given some of the horrible quarterback play this season, Luck could have started for several NFL teams and done just fine.
This season he threw for 3,170 yards and 35 touchdowns, while completing 70 percent of his passes. He was intercepted just nine times in 12 games.
He also threw for at least three touchdowns eight times this season. He will have another big game tonight as he tries to keep pace with the high-flying Oklahoma State offense.
With the rise of Robert Griffin III, there have been some doubts about who the best quarterback prospect really is.
But with a spectacular performance in prime time at the Fiesta Bowl, Luck will put those doubts to rest.