5 Pitches the San Francisco Giants Need to Make the MLB Playoffs in 2012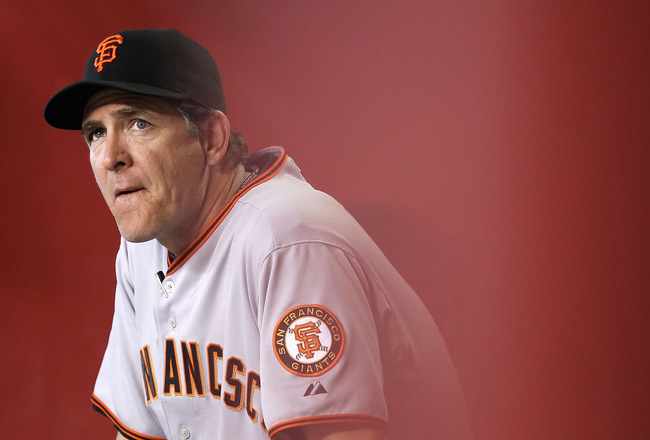 Giants Pitching Coach Dave Righetti
Christian Petersen/Getty Images
As every baseball fan knows, the strength of the San Francisco Giants lies in the team's exceptional pitching staff, as good or better than any in baseball with the possible exception of the Philadelphia Phillies.
Most analysis of the Giant pitching staff starts with the pitchers themselves, which of course makes perfect sense. Yet at the elite level we are talking about here, the difference between success and failure often boils down to the effectiveness of a pitcher's "out" pitch—the pitch they depend on at big moments against tough hitters.
In the slides that follow, we'll take a look at five such pitches, the effectiveness of which may determine the Giants' success in 2012.
Tim Lincecum's Changeup

Tim Lincecum change-up

When Tim Lincecum was drafted by the Giants in 2006, he depended almost entirely on a 95-plus mph fastball and a curveball which, though quite nasty at times, he sometimes had difficulty throwing for strikes.
Fast-forward to the Giants' 2010 championship season. Lincecum, now a young but seasoned pro, featured four pitches he could throw for quality strikes; his fastball, now thrown most often in the low 90s, curveball, slider and—most importantly—a splitter that Lincecum calls a changeup. It is this last pitch, thrown like a fastball but breaking sharply straight down as it approaches the plate, that separated Lincecum from other quality pitchers, for when the pitch is working, it is not only unhittable but simply unfair.
When Lincecum has his command and can get ahead of hitters with his fastball, it really doesn't matter if they know the changeup is coming—they can't hit it.
Sergio Romo's Slider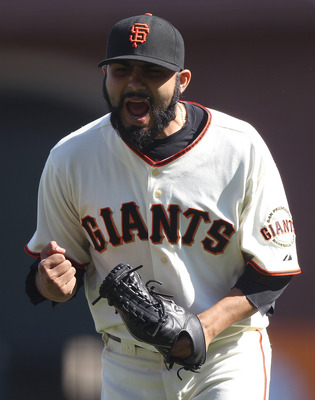 Sergio Romo
Jed Jacobsohn/Getty Images
OK, you're a right-handed hitter facing a guy with a 90-mph fastball that bores in on right-handers. The pitcher releases the pitch and your eyes widen as it heads straight for your chest. Knowing better and clinging to quaint notions of pride, you don't jump back or hit the dirt, but neither are you ready to lean in as, halfway to the plate, the pitch suddenly veers sharply away. If you manage to swing at all, you can manage only a weak flailing motion, leading to—if I can coin a phrase that seems particularly well-suited to Sergio Romo strikeouts—abject flailure.
When it's on, Sergio Romo's slider is rough on lefties and almost impossible on righties. At its best, the pitch breaks a good two feet, often finishing six to eight inches off the plate. This helps to explain why hitters swing through Romo's slider at around a 50 percent clip over the last two seasons.
Particularly when combined with Romo's fastball, which moves the other way, Romo's slider is one of the very best in baseball, and is a pitch Romo and the Giants will need if they are to be successful in 2012.
Javier Lopez' Fastball

Javier Lopez Sidearm Fastball

Seeking to neutralize Romo's slider late in a game, the opposing manager brings in a lefty to pinch-hit in a critical situation. Bruce Bochy has the perfect antidote—Javier Lopez. Although Lopez won't blow anyone away with velocity, the side-winding lefty often releases his fastball from what appears to be well behind the hitter's head, an arm angle calculated to test the fortitude of any left-handed hitter. The result? A minuscule 1.93 ERA against lefties in 2011.
Although Lopez is definitely a situational pitcher, he is a very valuable one, and the fastball he throws from his outermost arm slot is as good a pitch against lefties as exists in the major leagues. If he can throw it consistently for strikes in 2012, as he has the past two years, the Giants will be very tough in the late innings.
Matt Cain's Fastball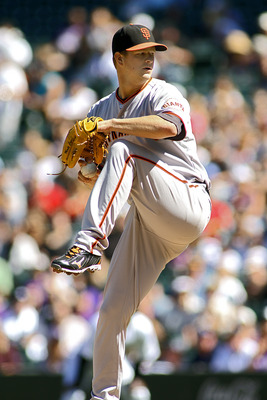 Matt Cain
Marc Piscotty/Getty Images
The workhorse of the Giants' pitching staff is Matt Cain, and Cain's bread and butter is unquestionably his fastball. Although Cain's velocity is good—he throws his fastball in the low to mid 90s—the sheer velocity of the pitch isn't quite up to the best starting pitcher fastballs in the game, such as those thrown by Justin Verlander, David Price and Ubaldo Jimenez.
Yet for reasons that cannot be fully explained, Cain is as effective as anyone in the game at throwing the high fastball past hitters, and his results over the past three years—527 strikeouts and a batting average against of only .223—bear this out. Even when he doesn't throw the pitch for strikeouts, he is extremely effective in inducing fly ball outs, a pitching style that is particularly effective at spacious AT&T Park.
Cain has worked hard on his off-speed pitches the last several years, and his significant improvement in accuracy and reliability of those pitches has paid dividends. Nevertheless, for Cain to be effective, and for the Giants to win, he needs to continue to throw the high fastball effectively in 2012.
Brian Wilson's 2-Seam Fastball
Brian Wilson
Thearon W. Henderson/Getty Images
The final pitch to be reviewed here is a little different than the others, which isn't entirely inappropriate given that it comes from Brian Wilson, who is a little different generally. The other pitches we've discussed—Lincecum's changeup, Romo's slider, Lopez's and Cain's fastballs—have been featured pitches for at least a few years. They are proven out pitches, and have all been mastered by the pitchers who throw them.
In 2011, Brian Wilson began to throw a two-seam fastball in game situations. Normally, the two-seam fastball has better movement than a four-seam fastball, but is thrown three to five mph slower. Wilson, however, seems to throw his two-seam at almost the velocity of his four-seam, topping out around 96 mph.
Even more importantly—and here's the really good part—the pitch just explodes in on a right-handed batter. If you don't believe this report, just ask the Dodger's Jamie Carroll, who struck out to end a game last April on a two-seam fastball that moved at least two feet in and one foot down at 96 or so mph.
If Brian Wilson can consistently couple his hard slider, which moves away from a right-handed hitter, with a two-seam fastball that moves hard and sinks in the opposite direction, he has the ability to dominate hitters even more completely than he has in his last two All-Star seasons. If he can do that, the Giants can once again be a playoff contender in 2012.
Keep Reading

San Francisco Giants: Like this team?