Cam Newton: There Is Only One Thing Holding Back This Quarterback from Greatness
January 3, 2012
Streeter Lecka/Getty Images
Cam Newton had one of the best, if not the best, rookie quarterback seasons in NFL history.
He broke Peyton Manning's record for rookie passing yards by throwing for 4,051 yards, and he also broke the NFL record for rushing touchdowns by a quarterback by running for 14 touchdowns. Newton took the league by storm in 2011.
Some people expected Newton to play well this season, and many thought that he would flop in the NFL. However, I do believe that anyone suspected that Newton would play this well in 2011.
Newton finished the season with 4,051 passing yards, 706 rushing yards, 35 total touchdowns and an 84.5 passer rating. As a rookie, Newton did have 22 turnovers, but that will definitely improve as he matures at the professional level.
Despite how well Newton played in his rookie campaign, there is one thing that is holding Newton back from being a truly great quarterback. That one thing is his attitude.
I love a lot of things about Newton and the way he carries himself. He exemplifies a winning attitude and does not put up with losing. Newton likes to be the best at everything and he wants his teammates to have the same attitude.
Swagger and confidence are two words that describe Newton very well, and he is on his way to helping the Carolina Panthers carry themselves in the same way. Players like Steve Smith, Jeremy Shockey, and Charles Godfrey have always been guys that play the game passionately, and Newton has helped them become even better in 2011.
The leadership that comes with Newton's attitude is a great help as well. Newton really does not have to try to be a leader and that is the best part of his repertoire. People follow Newton because of everything that he exemplifies.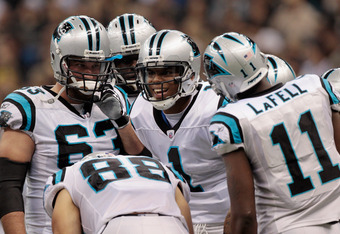 Chris Graythen/Getty Images
It is because of that reason that Newton's attitude is so dangerous. In 2011, we all saw how difficult it was for the quarterback to keep his cool. There were times when he would walk right past his coaches, ignore his teammates and sit on the bench with a rag over his head.
Newton is a winner, and because of that he does not know how to lost football games. That is fine, no professional athlete should be a good loser, but everyone should know how to handle themselves in a tough situation.
Newton's attitude during bad games and after losses rubbed off on his peers throughout the season, and in turn made everyone on the team unhappy. It is good that the Panthers no longer put up with mediocre play, but Newton has to begin to understand that how he carries himself, and his team, will translate to better play on the field, especially in tight games that are not going the Panthers' way.
Look at the great quarterbacks currently playing in the NFL. Guys like Aaron Rodgers and Drew Brees carry themselves with poise and control on and off the field, even in losing situations. These two players are always telling their peers to keep their heads up and believe that they will somehow find a way to win the game.
I do not believe that you will ever see Brees or Rodgers lose composure or ignore their team and coaches on the sideline. It is this factor that makes a quarterback better than the rest.
I would love to have seen how differently some Panthers' game would have turned out this year if Newton would have kept his confidence and faith in his teammates throughout the whole game, instead of getting upset and sitting on the bench.
However, this is an area that will improve as Newton becomes more mature. All-Pro linebacker Ray Lewis called Newton to discuss his attitude, and that Newton needs to focus more on the good, instead of just looking at all the negatives.
Newton will learn to control his intensity and use his passion to evoke the best out of his Panther teammates.
In the very near future, we may be talking about Newton as an MVP candidate and later in time as one of the best quarterbacks to play the game, but he will need to fix his mindset first.