NFL: New York Jets Drama Continues; Is Santonio Holmes Done in New York?
January 2, 2012
Patrick McDermott/Getty Images
The New York Jets watched any hopes of making the playoffs fall apart against the Miami Dolphins, losing 19-17.
How the Jets lost to the Dolphins was a great way to describe their season.
They can play great football at times, but drama and lack of mental toughness made them fall apart in the end.
The drama has now focused on Jets WR Santonio Holmes.
Holmes looked like he quit on his team out there on the field.  He wasn't putting his all into each play and it was noticed by the media and most importantly, his teammates.
Holmes was targeted only once in the game and did not make a catch. This was the first game in Holmes' 88-game career that he did not make a catch.
The situation escalated in the game when his teammates were getting frustrated with Holmes' effort.  OL Wayne Hunter and Holmes got into a shouting match about something that Holmes said in the huddle.
It got to the point where Jets offensive coordinator Brian Schottenheimer decided to bench Holmes in the fourth quarter in favor of WR Patrick Turner.
Jets head coach Rex Ryan would not comment on the situation until he knew more about what happened.
In a postgame press conference, Holmes walked out after persistent questions about his benching.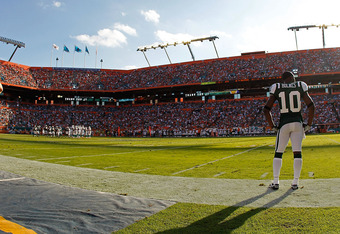 Mike Ehrmann/Getty Images
According to reports, the situation with Santonio Holmes has been getting worse over the course of the season.  
ESPN's Adam Schefter reported that a team source said "Holmes has developed a reputation in the locker room for not working hard during the week."
Holmes even got into an exchange of words with Jets QB Mark Sanchez last week during a team meeting.  Sanchez was trying to rally his team and Holmes wanted no part of it.
Remember, Holmes is a team captain of the Jets.
Holmes' behavior is inexcusable.  He probably has worn out his welcome in New York and I would not be surprised if he does not play for the Jets next season.
The team can't have someone who doesn't put the effort in and gets into arguments with teammates.
It is amazing that he was a team captain.  He should be ashamed of himself for how he has acted in the Jets final game of the year and apparently the rest of the regular season.
Even LaDainian Tomlinson criticized Holmes for his behavior.  Tomlinson tried to get Holmes' head back in the game, but it didn't work.
The Steelers didn't want Holmes around, now it appears the Jets don't want him around either.  
We'll see where Santonio Holmes ends up next season.