Why Saints' Record Season Won't Be a Success Unless They Win Super Bowl
January 3, 2012
Chris Graythen/Getty Images
The New Orleans Saints had a fantastic 2011 regular season.
They finished the season at 13-3, undefeated at home. The Saints broke numerous team records and a couple of individual records as well.
Drew Brees threw for 5,476 yards, the most in a single season in NFL history. He broke Dan Marino's record that stood for more than 20 years, and Brees did it in 15 games.
He also broke his own record for completion percentage in an NFL season. In 2009, Brees completed 70.6 percentage of his passes, but in 2011 he completed 71.2 percent of his passes, setting the NFL mark.
On Sunday, Brees extended his own record for 300-yard passing games in a single season (13) and consecutive 300-yard passing games (seven).
Brees also broke Peyton Manning's record for completion in a season. Last year, Manning threw 450 completions, but in 2011 Brees completed 468 passes.
New Orleans running back Darren Sproles broke the NFL record for all-purpose yards in one NFL season. Derrick Mason set the mark at 2,690 yards back in 2000, but Sproles set a new mark in 2011, gaining 2,695 yards throughout the season.
Jimmy Graham initially broke the record set by Kellen Winslow for receiving yards by a tight end, but his mark was later surpassed by New England's Rob Gronkowski.
The Saints as a team also broke many records. The most prominent of these was the total offense in a single season. The mark was set by arguably the greatest offense to ever play the game of football, the 2000 St. Louis Rams.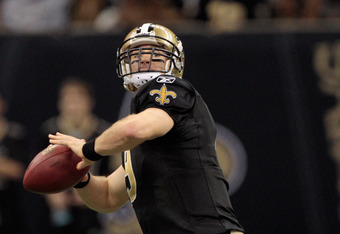 Chris Graythen/Getty Images
The Saints had the most prolific offense in 2011 and finished the regular season with 7,474 yards, nearly 400 more yards than the Rams had 11 years ago.
New Orleans finished 2011 with the most first downs in NFL history (416) as well. The Saints fumbled six times in 2011, which is the fewest in league history.
It's clear the Saints broke numerous records in 2011. However, they will all become nearly meaningless if the Saints do not win Super Bowl XLVI.
If you ask any of the Saints players or coaches, they will tell you they would prefer a Super Bowl ring over an NFL record. Records can be broken, but a Lombardi Trophy can never be taken away.
Brees and the Saints have broken records before in losing efforts, and have not been happy about it. The Saints will not be satisfied with 2011 unless they walk away as the champions.
This New Orleans Saints team is one of the best in franchise and NFL history, as proven by the records that they have broken.
However, unless they are Super Bowl XLVI winners, they may not be remembered as one of the best teams in history.