Philadelphia Eagles: Steve Spagnuolo Fired in St. Louis, Next Stop in Philly?
January 2, 2012
Whitney Curtis/Getty Images
It's official, St. Louis Rams head coach Steve Spagnuolo has been fired today, as reported by Jay Glazer of FOX Sports.
Spagnuolo has been widely speculated to wind up back in Philadelphia as the defensive coordinator, replacing the embattled Juan Castillo.
Andy Reid is not holding his usual day-after press conference with the media today and will not until after Jeff Lurie speaks to the media in his customary end-of-the-season address, which will be sometime later this week.
One has to wonder if that's because they were waiting to hear whether or not Spagnuolo would get fired today. And if he did, one has to think someone within the Eagles organization is in contact with him to gauge his interest in coming to Philadelphia.
It would make sense, as the Eagles sometimes like to address everything at once. In one media session, Lurie could address the team, Andy Reid, Juan Castillo and (the hopeful) hiring of Spagnuolo.
Why address the media today and then turn around and make a big move a day or two later, then have to hold another press conference?
I'm sure the Eagles already have some kind of idea as to whether or not Spags is interested in coming back. Even though teams are not permitted to speak with personnel from other teams while under contract, you would be naive to believe that nobody from the Eagles' front office at least put out "feelers" to Spags within the past month or so.
Spagnuolo will be a hot commodity now, at least as a defensive coordinator. He will likely have no shortage of suitors. But the Eagles are aggressive when they know what they want and could basically give Spags a deal he can't refuse.
While I like Juan Castillo as a genuine person and good coach, I feel that hiring Spagnuolo as the defensive coordinator is in the best interest of the football team.
I don't want to see Castillo gone from the team, though, so hopefully they'd just move him to another position, such as linebackers coach. Though I'm sure it would be tough for Castillo to swallow, I think he'd ultimately understand and not be resentful.
After all, nobody should view Castillo as a failure. It was Reid who failed by putting Castillo in such a position to begin with.
Another clue that the Eagles may want Spagnuolo is that apparently defensive line coach Jim Washburn doesn't know if the Eagles want him back for next season yet.
Jeff McLane tweeted that defensive end Juqua Parker stated: "DL coach Jim Washburn said that he wants to return, he just doesn't know whether Eagles will have him back like many."
Why could this be considered a clue? Because there has been some chatter recently about whether or not Spagnuolo and Washburn could coexist.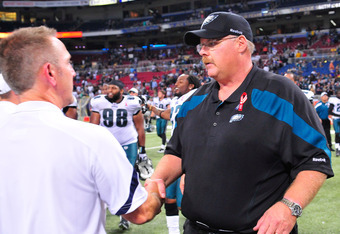 Jeff Curry/Getty Images
Washburn believes his wide-nine scheme provides enough pressure on the quarterback and therefore does not like to blitz.
Spagnuolo, on the other hand, learned from the great blitz-master Jim Johnson and predicates his defensive philosophy on generating pressure from anywhere and everywhere.
Though I believe the schemes could coexist, there could be some merit as to whether or not the personalities of Spags and Washburn could.
Ultimately, I'd be willing to scrap the wide-nine if that's what it took for Spags to come back to Philly.
If the Eagles do bring in Spagnuolo, it will bring their defense to another level. We can get back to seeing a Jim Johnson-style defense of pressuring, attacking and causing general mayhem for opposing offenses.
The players will embrace it, as will the fans. Philadelphia fans like good offense, but they live and die for great defense.
That's the difference Spagnuolo can make for this team.