MLB Free Agents 2012: Hottest News on Today's Daily Radar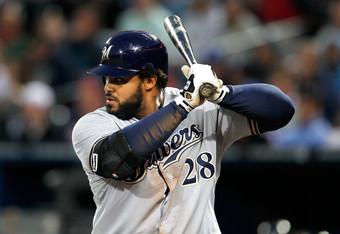 Kevin C. Cox/Getty Images
The MLB offseason thus far has produced over two months of transactions totaling over $1 billion, and trades have significantly altered rosters and changed payrolls for many teams.
While the bulk of free agents have been signed, there are still several high profile names out there, including Prince Fielder, Roy Oswalt, Ryan Madson, Edwin Jackson and Carlos Pena.
Other MLB teams still have needs to fill as well, so for the next two months, until pitchers and catchers first report in mid-February, MLB general managers will still be scouting, evaluating and conversing with other teams about players that could possibly impact their rosters in the future.
Over the next week, Bleacher Report will report on the speculation and rumors surrounding the remaining free agents still unsigned, as well as on the various players rumored to be on the move.
Many of the rumors come from speculation, but in a world of instant news, each speculation can be looked upon as a rumor, and within mere seconds a player's name that is linked to a trade becomes viral on the web. We will attempt to work through some of the more outrageous reports and focus on the news that makes some sort of sense.
In other words, don't expect to see speculation about Prince Fielder being signed to a 15-year deal by the Tampa Bay Rays. Sorry folks, but that just isn't happening.
Stay with us as we weed through the mountain of rumors to report what might actually happen.
Justin K. Aller/Getty Images
The biggest catch left on the MLB free agent market, Prince Fielder, is currently on the PF Flyer Express, with agent Scott Boras as the conductor leading the way.
According to Adam Gilmore of the Washington Post, the Washington Nationals appear to be the leading candidate for Fielder's services, but as we've seen thus far this offseason, that could certainly change in a moment's notice.
For teams who are apparently not booked on the PF Flyer Express, there are other less expensive trains to board...er, first basemen, to sign.
Casey Kotchman, Carlos Pena and Derrek Lee have yet to find their final destinations on their current train rides. Luke Scott could also potentially end up at first as well.
It doesn't appear that any of these players will be out of a job by the time pitchers and catchers start reporting in mid-February, but for now, until the PF Flyer Express stops at its final destination, they will probably continue riding the rails, for now.
This article is
What is the duplicate article?
Why is this article offensive?
Where is this article plagiarized from?
Why is this article poorly edited?
Kevork Djansezian/Getty Images
When the Texas Rangers posted a record bid of $51.7 million to earn the right to exclusively negotiate with Japanese pitcher Yu Darvish, they envisioned a pitcher who would lead the Rangers at the top of their rotation for years to come. On Tuesday, Darvish finally paid a visit to his potential new home.
The Rangers, who were awarded the winning bid to the Hokkaido Nippon Ham Fighters of Japan's Pacific League on Dec. 20, only have another 17 days in which they can sign Darvish, or the posting money will be returned to the Rangers, and Darvish will return to Japan for yet another season.
Darvish arrived in Texas on Tuesday, however, the Rangers are being very tight-lipped about any meetings with Darvish, or what Darvish's itinerary will be during his stay.
Having already lost C.J. Wilson to free agency, the Rangers now envision a starting rotation that included Darvish, Colby Lewis, Derek Holland, Alexi Oguando and Neftali Feliz, who, like Wilson two years earlier, is making the move from the bullpen to the rotation.
If the Rangers are unable to sign Darvish, they do have options (Scott Feldman, Matt Harrison), but they didn't spend $51.7 million with the thought of not closing the deal with Darvish.
This article is
What is the duplicate article?
Why is this article offensive?
Where is this article plagiarized from?
Why is this article poorly edited?
Brian Kersey/Getty Images
The Chicago Cubs have had a relatively quiet offseason thus far, despite a new president of baseball operations (Theo Epstein), a new general manager (Jed Hoyer) and a new manager (Dale Sveum).
While many fans no doubt expected a whirlwind of activity, Epstein has thus far preached a platform of patience, preferring instead to develop a long-term rebuilding plan to take the Cubs far into the future with a competitive plan.
David DeJesus, Ian Stewart, Travis Wood, Andy Sonnanstine and Manny Corpas have been brought on board, but none of the names would qualify as franchise-saving moves. However, there is one piece remaining on the Cubs roster that could reap huge benefits—starting pitcher Matt Garza.
With the trade of Carlos Quentin to the San Diego Padres, Garza has now clearly become the name most bandied about in trade discussions.
According to Jon Heyman of CBS Sports, at least five teams—Yankees, Blue Jays, Tigers, Red Sox and Marlins—are the major players in Garza talks. The Cubs are apparently coveting at least two of the three Yankees' top prospects, or, as Wallace Matthews of ESPN New York points out, the Yankees' "Holy Trinity."
The Marlins may not have the prospects that Epstein would want in return, but they do have a young, talented first baseman that could warrant some thought.
The Red Sox would love having Garza on board as well, considering his experience in the always tough AL East. Ditto the Blue Jays, who have already made several moves to better compete, picking up closer Sergio Santos and bringing back reliever Jason Frasor in recent days.
Whether or not any of the five teams mentioned actually pulls off the deal remains to be seen, but one thing is for certain—considering the San Diego Padres came out of nowhere to grab Carlos Quentin, it shouldn't be a shock for Garza to be dealt to another team not included in Heyman's list.
This article is
What is the duplicate article?
Why is this article offensive?
Where is this article plagiarized from?
Why is this article poorly edited?
Ronald Martinez/Getty Images
At just 28 years of age, free agent pitcher Edwin Jackson is entering the prime of his career, and with a World Series ring to boot. However, his current asking price may be scaring off several teams, including the free-wheeling New York Yankees.
According to Wallace Matthews of ESPN New York, Yankees GM Brian Cashman likes Jackson, but not at the current expected deal being peddled by Jackson' agent, Scott Boras.
Apparently, Boras is trying to sell teams on a five-year deal in the $60 million range. Jackson, who posted a combined 12-9 record with a 3.79 ERA for the Chicago White Sox and St. Louis Cardinals last season, is just 60-60 overall with a 4.45 ERA over his nine-year career with six different teams.
When the oft-overspending Yankees are scared off by a contract, then it's a safe bet that most other teams won't be biting on the asking price for Jackson, either.
Very few teams have actually been linked to Jackson since the end of October, so it's a safe bet to assume that Boras would accept a shorter term contract for his client as the offseason drags along.
This article is
What is the duplicate article?
Why is this article offensive?
Where is this article plagiarized from?
Why is this article poorly edited?
Al Bello/Getty Images
The biggest name on the MLB free agent market is still without a contract, however according to published reports on Monday morning, that may not be for long.
Tom Haudricourt of the Milwaukee Journal-Sentinel is reporting that the Washington Nationals are the leading candidate to sign former Milwaukee Brewers first baseman Prince Fielder.
Fielder, who have visited several teams over the offseason, is represented by mega-agent Scott Boras, would like to come close to matching the 10-year, $254 million contract given to Albert Pujols by the Los Angeles Angels, however one MLB executive told Haudricourt that it's possible the Nationals may not be willing to commit to that length, however, if the annual salary matches that of Pujols, then Boras and Fielder might sign off on it.
The Nationals are clearly making a play to be in contention in 2012, as evidenced by the trade that netted them Gio Gonzalez from the Oakland Athletics last month. With a lineup that would feature Fielder, Mike Morse, Wilson Ramos, Ryan Zimmerman, Ian Desmond and Danny Espinosa, and a starting rotation with Gonzalez, Stephen Strasburg and Jordan Zimmermann, the NL East would suddenly be much tighter, and the Philadelphia Phillies will be hard-pressed to run away with the division once again.
This article is
What is the duplicate article?
Why is this article offensive?
Where is this article plagiarized from?
Why is this article poorly edited?