Did Brock Lesnar Plan On Jumping Ship to WWE With the UFC Title?
Sam Greenwood/Getty Images
January 2, 2012
At first glance, the sudden retirement of Brock Lesnar seems like a blow to Dana White and the MMA promotion, Ultimate Fighting Championship.
But in truth, things could have been worse. Much worse.
Camelclutchblog.com is reporting that Lesnar planned on jumping ship with the UFC title if he had won his fight against Alistair Overeem. After that fight, he would have next fought for the UFC Heavyweight Championship.
If he had won, he planned on leaving for WWE, taking the title with him.
Instead, he lost the bout against Overeem and announced his retirement from Mixed Martial Arts competitions. Dave Meltzer claims that Lesnar promised his family he would step away from UFC if he lost the fight at UFC 141.
If he hadn't lost the fight, he would have gone on to his next one—for the UFC title—and then retired, win or lose.
But if he had won that match, plans were that he would appear part-time as part of WWE programming, allowing Vince McMahon to promote the UFC heavyweight champion as part of his company.
This could have set up a potential scenario in which UFC was left with no legitimate champion, and Lesnar appearing on WWE television with the rival promotion's championship.
Such rumours could affect any plans Lesnar and WWE had for a WrestleMania XVIII appearance, if Dana White decides to play hardball and force Lesnar to sit out the remainder of his contract with UFC.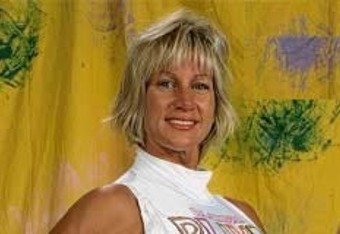 When Alundra Blayze joined WCW, she threw the Women's Championship in the trash.
Incidentally, both WWE and UFC have experience with situations such as this.
In 1995, former WWE wrestler Alundra Blayze joined rival wrestling promotion WCW.
Being the Women's Champion for WWE at the time, Blayze took the title with her and threw it into the trash live on television, resulting in the championship losing so much credibility that it was made inactive in WWE for almost three years.
The incident also precipitated Bret Hart leaving for WCW when he was WWE Champion, resulting in Vince McMahon committing what is remembered in infamy as the "Montreal Screwjob."
And in 2007, UFC found itself locked in a legal struggle with Randy Couture, who announced his plans to quit the promotion despite being both under contract and the organization's Heavyweight Champion at the time.
Whatever the case, Meltzer has said he expects Lesnar to make a WWE appearance sometime in the future.
Like the new article format? Send us feedback!