LSU vs. Alabama Rematch: Game Time, Spread Info and TV Schedule
January 2, 2012
Kevin C. Cox/Getty Images
The Alabama vs. LSU rematch for the BCS National Championship needs no introduction.
On Nov. 5, 2011, these two teams took the field in what was dubbed the "Game of the Century". The Tigers defeated the Crimson Tide 9-6 in an overtime slobberknocker.
The showdown certainly didn't live up to the hype in terms of excitement, and it is because of this that many didn't want to see the two SEC schools meet again in the National Championship Game.
However, even the BCS could not deny that these two were far and away the best teams all year.
This year's Waterford Crystal football will deservedly be decided in a rematch of epic proportions.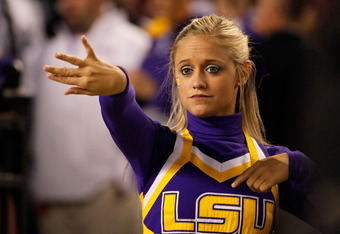 Kevin C. Cox/Getty Images
Where: Mercedes Benz Superdome, New Orleans, Louisiana
When: Monday, Jan. 9, 8:30 p.m. EST
Watch: ESPN / ESPN 3D / ESPN 3
Listen: Alabama Radio. LSU Radio.
Key Storyline: Rematch
The biggest gripe with Alabama potentially winning is whether or not they deserve to be crowned the outright national champion. The Tigers beat the Tide once already this year and should they lose this time around will be 1-1 against a team with the same record.
Many people wanted to avoid this rematch because they believed that Alabama "already had their shot" at knocking off LSU.
But if the BCS were to give the shot to any other program the questions would still remain.
Ultimately, champion will be decided between the two best teams the nation has to offer.
Betting Line: Alabama (-1)
This line started at LSU (-1) and moved to Bama (-1). Does it get any closer than that?
Who Might Not Play (via College Injury Report)
Alabama - Will Lowery, S - Out (Knee)
LSU - Eric Reid, S - Probable (Leg) 
What It Means for Alabama
This would be Alabama's second national championship in three years.
Nick Saban revitalized the Alabama program only five years ago and is coaching the Tide in their third BCS game in five seasons—and second national title game.
In 2009 the Tide rolled over every opponent en route to Saban's second national title as a head coach. His first win, 2003, was with the LSU Tigers. 
What It Means for LSU
This would be LSU's third national championship in less than 10 years.
Les Miles took over after Saban's departure and promptly won his first national championship in his third season as coach.
The Tigers, who are appearing in their third national title game since the 2003 season, have a chance to join Texas and Georgia Tech with four national championships.
What They're Saying
Cecil Hurt of the Tuscaloosa News (via Rivals.com's TideSports) talks about 'Bama's preparation writing:
There is still some strategy to be implemented by both teams, but for now, the main job for Nick Saban and his staff is to manage the Crimson Tide emotionally. The six-week layoff between games alters the emotional cycle of a team, and Saban has had to do careful calibration to make sure that readiness coincides with kickoff.

"We have basically had two good weeks of work," Saban said. "We've gone through two cycles of practicing, then giving the players a few days off. We'll practice Tuesday and Wednesday before we go down there. We need to continue to work and improve not only fundamentally but also in how we are going to execute."
And Scott Rabalais of the Advocate talks about LSU's fifth-year seniors:
They stood on the sideline of the then Louisiana Superdome that night of Jan. 7, 2008, all dressed up for a party they could only watch but not attend.

There were nine of them, now all fifth-year seniors on this current LSU team: Will Blackwell, Joey Crappell, Josh Dworaczyk, Stefoin Francois, T-Bob Hebert, Mitch Joseph, Jarrett Lee, Alex Russian and Ron Brooks.

They, like their teammates who played in that game against Ohio State, left New Orleans to soon be fitted for BCS championship rings.

They also left with a boundless, youthful determination to get back to that game again.

"We talked about it since we were freshmen," said Dworaczyk, who suffered a preseason knee injury and will likely participate as a player-coach rather than player in next Monday's BCS National Championship Game against Alabama. "We said, 'We've got to get back here. Next time it's here (in New Orleans), we'll be back.

"Now it's like a dream come true."
Player to Watch for Alabama: Trent Richardson, RB, No. 3
A Heisman finalist and potential top 10 pick in the 2012 NFL draft (should he declare), Richardson is the best all-around back in country.
The junior tallied 1,910 yards from scrimmage this season and scored 23 total touchdowns.
He carries an Alabama offense led by an inexperienced quarterback and makes life easier for the veteran receivers on the outside.
LSU knows all about him and they'll stack the box on him when necessary. But, if he gets loose, things will open up for the entire Tide offense.
Player to Watch for LSU: Morris Claiborne, CB, No. 17
The Honey Badger gets all the attention in the Tigers secondary, but by late February everyone will know who Morris Claiborne is if they don't already.
The junior cornerback had a game-changing interception in the first game and fixes to be one of the top players taken in April's draft.
Claiborne is the top cover cornerback in the country and a dangerous man the ball in his hands as well.
Alabama's quarterback A.J. McCarron will think twice before challenging No. 17 at all in this game.
Key Matchup: A.J. McCarron vs. LSU Secondary
Speaking of McCarron, he holds the key to this game. Well, at least his matchup with LSU's ridiculous defense does.
We know the Tide's defense features a number of superstars and as many as five potential first-round picks in April's draft. They'll be a problem for LSU's offense all night.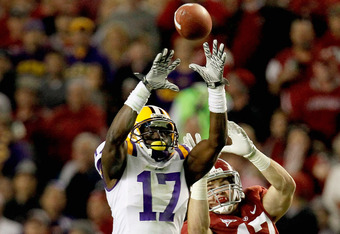 Kevin C. Cox/Getty Images
The question is whether Alabama's offense, which features the best offensive player in the game, can make avoid putting that defense in bad field position and/or costing the Tide points.
McCarron must make plays when they present themselves.
The sophomore is coming off two of his best games this season and needs to continue to play that same way.
LSU has a number of dangerous players on their defense and McCarron has to avoid putting the ball in their hands.
If he can make plays and force the Tigers to play honest it will allow Richardson to find more running room as well.
The Tigers aren't going to let Trent Richardson beat them. They're going to make A.J. McCarron beat them.
Prediction: Alabama 24, LSU 14 ... ROLL TIDE