B/R MMA Rankings for January: Top 10 Lightweights in MMA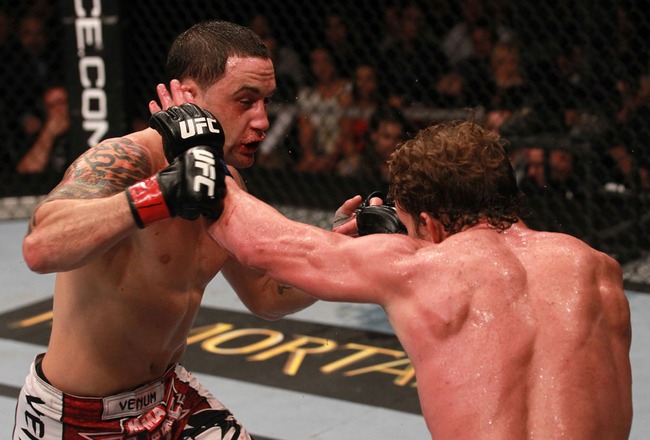 A new year brings us a new set of rankings in the 155-pound lightweight division in MMA.

Perhaps the most stacked division in the entire sport, the lightweights shot into the spotlight in 2011 and appear ready to do so again in 2012.
The upcoming UFC lightweight title bout between Frankie Edgar and Benson Henderson will headline the UFC 144 fight card from Japan in February, a fight which many are calling an early candidate for Fight of the Year.

That fight is expected to settle the debate of who the best 155-pounder in the world is, but there are a number of other fighters who will be attempting to stake their claim to the lightweight throne in 2012.
These 10 lightweights are all on track and maybe only a fight or two away from their own chance at being No. 1 in the world.

These rankings are the combined effort of some of Bleacher Report MMA's best writers, as we continue to try to provide you with the best content on the web.
10. Michael Chandler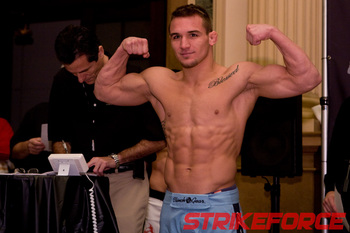 Previous Ranking: 10

Promotion: Bellator

MMA Record: 9-0

Most Recent Fight: Defeated Eddie Alvarez at Bellator 58

Next Scheduled Fight: N/A

No movement for Michael Chandler this month as the Bellator lightweight champion hasn't competed since defeating Eddie Alvarez in one of the most exciting fights of 2011 at Bellator 58 this past November.
The undefeated 25-year-old may have been the underdog against Alvarez, but he was definitely impressive in the first title fight of his young career.

Chandler now awaits the next Bellator season winner, whom he will fight in his first title defense.
9. Shinya Aoki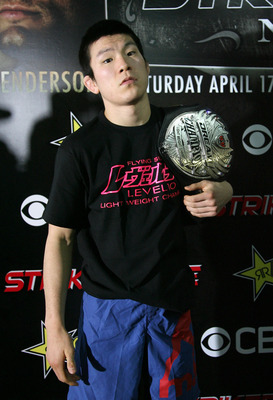 Valerie Macon/Getty Images
Previous Ranking: 9

Promotion: DREAM

MMA Record: 30-5-1

Most Recent Fight: Defeated Satoro Kitaoka at Fight for Japan: Genki Desu Ka Omisoka 2011

Next Scheduled Fight: N/A

A five-round decision win over Satoro Kitaoka at the New Year's Eve event in Japan helped to solidify Shinya Aoki's placement in the top 10 of the lightweight division as we head into 2012.

Aoki has been great since his loss to Gilbert Melendez in April 2010, winning seven straight fights since that night.
Though Aoki is not fighting quite the competition in Japan that some of the others on this list are fighting in America, Aoki has proven himself against some top opponents in the past.
8. Anthony Pettis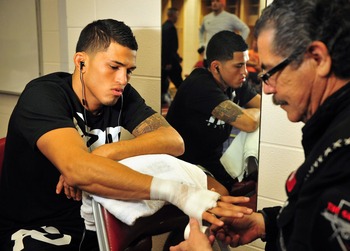 Previous Ranking: 8

Promotion: UFC

MMA Record: 14-2

Most Recent Fight: Defeated Jeremy Stephens at UFC 136

Next Scheduled Fight: Joe Lauzon at UFC 144

Former WEC lightweight champion Anthony Pettis has made a name for himself by being one of the most exciting young fighters in the world today. His innovative striking technique is visually pleasing as well as being effective.

He holds a victory over the current UFC No. 1 contender Benson Henderson as well as a number of other impressive wins, including one over Jeremy Stephens at UFC 136 in a bout that showcased his adapting overall fighting game.

If the 24-year-old can continue to improve, he could find himself competing for a championship sometime by the end of 2012. He fights another great up-and-comer in Joe Lauzon at UFC 144.
7. Nate Diaz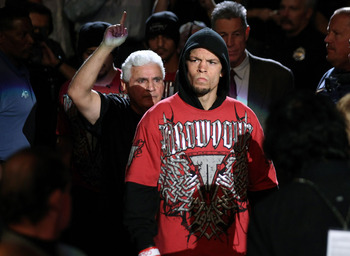 Previous Ranking: NR

Promotion: UFC

MMA Record: 15-7

Most Recent Fight: Defeated Donald Cerrone at UFC 141

Next Scheduled Fight: N/A

An impressive victory over Donald Cerrone at UFC 141 has finally put Nate Diaz back in the top-10 for the first time since 2009. At that time, the former The Ultimate Fighter winner was coming off five straight wins and appeared to be well on his way to a UFC title shot.

He had fallen off in recent years and become one of the most inconsistent fighters in the sport, losing quite a few bouts that many believed he shouldn't have.
But since moving back to the lightweight division in the second half of 2011, Diaz has put together perhaps the two best performances of his entire career in back-to-back fights against Takanori Gomi and Donald Cerrone.

He's still a couple fights away from title contention, but Diaz appears to be moving in the right direction and replaced his UFC 141 opponent, Cerrone, as the No. 7 lightweight on our rankings this month.
6. Jim Miller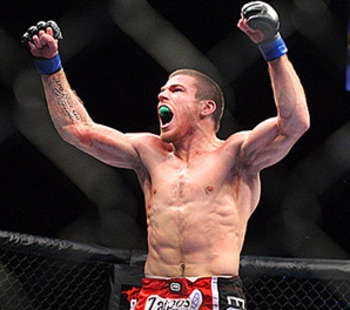 Previous Ranking: 6

Promotion: UFC

MMA Record: 20-3

Most Recent Fight: Lost to Benson Henderson at UFC Live: Hardy vs. Lytle

Next Scheduled Fight: Melvin Guillard at UFC Fight Night 26

With a career record of 20-3, Jim Miller has long been considered one of the top 155-pounders in the world.
Unfortunately, his three losses have all come against the top three lightweights in the UFC, thus it is difficult to put him any higher than No. 6 on the rankings.

Miller is an interesting fighter who could potentially fight for a title down the road if he can string together a couple wins against top opponents, but the fact that he already has losses on his record against Gray Maynard, Benson Henderson and Frankie Edgar makes it tough for the UFC to justify it.
5. Clay Guida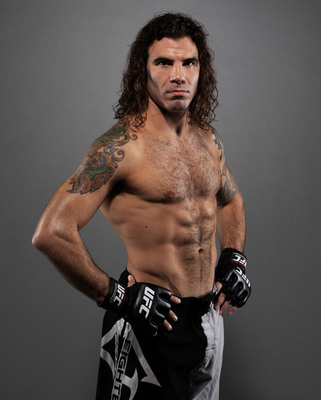 Previous Ranking: 5

Promotion: UFC

MMA Record: 29-12

Most Recent Fight: Lost to Benson Henderson at UFC on FOX 1

Next Scheduled Fight: N/A

Like Jim Miller before him, Clay Guida's run for a shot at the UFC title was spoiled by current No. 1 contender Benson Henderson when Henderson defeated him in an undercard bout on the inaugural UFC on FOX fight card in November.

Guida had been on a four-fight winning streak that included victories over Shannon Gugerty, Rafael dos Anjos, Takanori Gomi and Anthony Pettis, but the loss to Henderson drops him back down out of the "elite" level at 155.

No word on who he is fighting next; however, it is likely to be someone outside the top five, so anything other than a dominant win will be disappointing for Guida.
4. Gray Maynard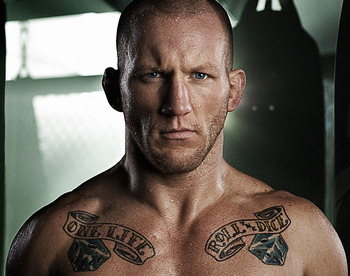 Previous Ranking: 2

Promotion: UFC

MMA Record: 10-1-1-1

Most Recent Fight: Lost to Frankie Edgar at UFC 136

Next Scheduled Fight: N/A

Coming into October, some believed that Gray Maynard was on his way to being ranked the No. 1 lightweight in all of MMA. A date with Frankie Edgar at UFC 136 determined that UFC lightweight champion and subsequently the top spot in the MMA rankings, but it was not Maynard's night.

After nearly knocking out Edgar in the first round yet again, he was unable to seal the deal and let the champion back into the bout.
In the fourth round, Edgar took over, eventually catching the challenger with a series of punches that knocked him out and sent him tumbling down the rankings.

Though he hasn't fought since that night, Maynard saw his stock drop two spots this month after victories from each of the two challengers who are now above him in the month of December.
3. Gilbert Melendez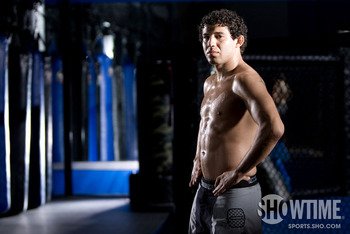 Previous Ranking: 3

Promotion: Strikeforce

MMA Record: 20-2

Most Recent Fight: Defeated Jorge Masvidal at Strikeforce: Melendez vs. Masvidal

Next Scheduled Fight: N/A

It wasn't the prettiest performance of his career, but Gilbert Melendez's decision win over Jorge Masvidal in December was case in point as to why the Strikeforce champion deserves to be fighting in the UFC.
His contract won't allow him to do so, though, so fans have to sit around and wait to see which random challenger Strikeforce throws at him next.

Unless someone comes over from the UFC, Melendez will be a massive favorite against any challenger that he could fight in a Strikeforce cage, so it's going to be very tough for him to move into the No. 1 slot.
However, as he continues to dominate in Strikeforce, Zuffa may finally realize that bringing in some UFC-caliber opponents for him to fight might be the wisest business decision they could make for the champion, who is now essentially the face of the Strikeforce brand.
2. Benson Henderson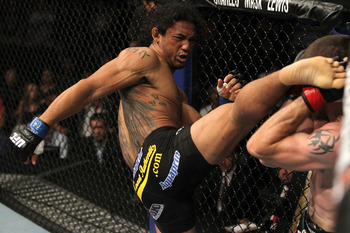 Previous Ranking: 4

Promotion: UFC

MMA Record: 15-2

Most Recent Fight: Defeated Clay Guida at UFC on FOX 1

Next Scheduled Fight: Frankie Edgar at UFC 144

With the exception of Jon Jones and perhaps Donald Cerrone, Benson Henderson might have had the best 2011 of any fighter in all of MMA.

After losing to Anthony Pettis in his final title defense in the WEC, Henderson made his UFC debut at UFC 129 where he rolled through Mark Bocek on his way to a unanimous-decision victory. A few months later, he earned what was then the biggest win of his career by defeating Jim Miller at UFC Live: Hardy vs. Lytle.

But it was his victory over Clay Guida on the UFC on FOX card that has many believing that the new UFC No. 1 contender may be ready to supplant Frankie Edgar as the lightweight champion.

Henderson's combination of striking, aggressiveness and wrestling is extremely difficult to prepare for. While he has been defeated in the past, Henderson might be clicking at the best pace of any fighter at 155 today.
1. Frankie Edgar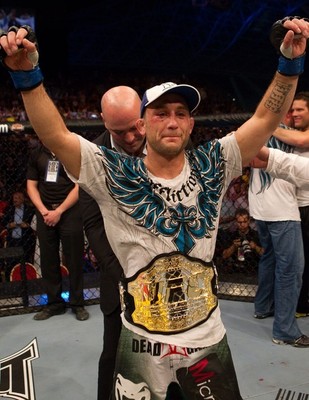 Previous Ranking: 1

Promotion: UFC

MMA Record: 14-1-1

Most Recent Fight: Defeated Gray Maynard at UFC 136

Next Scheduled Fight: Benson Henderson at UFC 144

The undisputed king of the UFC lightweight division has been Frankie Edgar since his back-to-back victories over BJ Penn in 2010. Though he has only fought Gray Maynard since those wins, Edgar's performances in those bouts were enough to secure his place as the top 155-pounder in MMA right now.

Edgar may be facing his biggest challenge yet at UFC 144, though, as Benson Henderson brings an entirely new set of challenges for the New Jersey native. His unique combination of skills could make for a tough night in Japan for the champion.

If he does get through Henderson, suddenly the UFC lightweight division is looking pretty thin at the top, with only opponents that Edgar has defeated, or ones with losses to fighters he has defeated, remaining at the top.
Perhaps it will then be time to seriously consider a champion-versus-champion fight between Edgar and Strikeforce champion Gilbert Melendez.

Zuffa probably won't go that far, but a guy can dream, right?
Keep Reading