New York Knicks Will Continue to Struggle Until Baron Davis Can Contribute
January 2, 2012
Even though the Knicks somehow have a 2-2 record, they have really been struggling to score the ball so far this season. 
Last season the Knicks were second in the league in scoring, averaging 106.5 points per game.  Even though the Knicks only had Carmelo Anthony for a small portion of the season last year, they averaged 11.5 points more per game than this year's team (95 ppg).  You would think after adding arguably the best scorer in the league there would be no chance the Knicks could drop from second in the league in scoring to 18th.
The main reason for this drop off in production has been because of inconsistent point guard play.  Last season the Knicks point guards were Raymond Felton and Chauncey Billups. 
In Felton's 54 games with the Knicks last season he set the pace of the offense and got the ball to Amar'e Stoudemire in easy scoring opportunities, averaging nine assists per game.  Billups only played 21 games with the Knicks, so he didn't really have time to completely learn D'Antoni's system, but still managed to average a respectable 5.5 apg. 
This season however the Knicks point guards Toney Douglas and Mike Bibby are struggling to set up their teammates with scoring opportunities.
Toney Douglas is not a point guard and has been forced to play out of position this season.  He is too trigger happy to run this offense, which can be seen in his 14 field goal attempts per game.  Douglas needs to learn to be more patient with the ball and wait for his teammates to get open instead of shooting so quickly.  With scorers like Carmelo Anthony and Amar'e Stoudemire on his team, there is no reason Douglas should only be averaging 4.8 assists per game.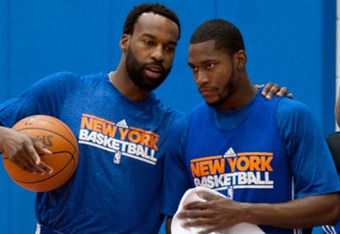 The Knicks backup PG Mike Bibby may be playing the worst basketball out of any player on the team.  Even though he plays close to 20 minutes per game, Bibby hasn't hit double digits yet in either points or assists.  He has only scored seven total points and has dished out only six assists in his three games as a Knick combined.  Bibby is even struggling at what he does best, hitting three pointers. He has shot 38 percent from three for his career, but is only shooting 14 percent from long range this season.     
Unless one of these two guys learns how to run D'Antoni's offense, the Knicks will continue to struggle until Baron Davis comes back and contributes like everyone knows he's capable of.
Even though Davis has always been known more as a scorer, as he's gotten older his assists per game have risen drastically.  While he only averaged five assists per game in his first four years in the NBA, Davis has averaged over seven per game the last three seasons. This is exactly what the Knicks need.
Davis will bring success to the Knicks because of his patience and ability to get into the lane.  Instead of just driving into the paint and throwing up a contested shot like Douglas has been doing, Davis will hold onto the ball a little longer and wait for the defense to collapse on him so he can find an open teammate to kick the ball out to.
I am also very intrigued to see if Davis and Stoudemire can develop chemistry on pick and roll plays, something the Knicks have lacked with Douglas running the point.  Amar'e is one of the best outside shooting big men in the NBA and a pick and roll with Davis and Stoudamire should result in many open jumpers for Stoudamire since the defense has to react to Davis' excellent driving ability.  This play should also be successful because the weak side defender can't help out or they will be leaving Carmelo Anthony wide open for Davis to pass to.    
Since I don't see Douglas or Bibby stepping up and running this offense the way it needs to be run, the Knicks may struggle until Baron Davis can come back and contribute.