Angels in Heaven: The Top 15 Greatest Pitchers in Los Angeles Angels History
January 2, 2012
Claus Andersen/Getty Images
Nearly 400 players have taken the mound in the 51 years the Angels have been in existence. Nearly 400 players, from Don Aase to Geoff Zahn and everyone in between, whose job it was to get the other guy out.  Some were good, some were bad, some were legendary.  
Here is one man's look at the top 15 greatest pitchers in Angels history.        
15.  Jim Abbott – Selected in the first round of the 1988 draft, Abbott made the team out of spring training the following year and went 12-12. His best season was 1991, when he was 18-11 and sported a 2.89 ERA. The following season he lowered his ERA to 2.77 but finished 7-15. 
After that season he was traded to the Yankees before rejoining the Angels as a free agent in 1996.  He was released in 1997 and finished with 54 career wins, not that high on the team's list but by far the most by any one-handed player in the history of baseball.  He was an inspiration to children with disabilities everywhere and a wonderful ambassador for the team.
14.  Clyde Wright – Selected in the sixth round of the 1965 draft, Wright debuted with the Angels the following season, going 4-7. He struggled with consistency his entire career, with his high point coming in 1970, when he went 22-12.  After a 16-17 campaign the next year, Wright bounced back in 1972, going 18-11.  The next season he was 11-19.  Still, his 87 wins are good for seventh in team history.  He was traded to the Brewers after the 1973 season.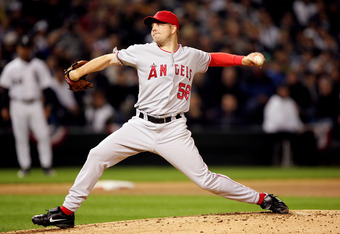 Jed Jacobsohn/Getty Images
13.  Dean Chance – Acquired by the Angels in a trade with the Orioles, Chance made his debut at age 20 in 1961 towards the end of the team's inaugural season.  He only pitched five full seasons for the Angels but managed to rack up 74 wins with an ERA of 2.83.  His best season was 1964, when he went 20-9 with a 1.65 ERA and won the Cy Young Award. He had 15 complete games that season along with 11 shutouts, all tops in the American League.  He was traded to the Twins in 1966.
12.  Jarrod Washburn – Picked in the second round of the 1995 draft, Washburn started with the Angels in 1998, starting 11 games that year, going 6-3.  The crafty left-hander spent eight seasons with the team, with his best year coming in that championship season of 2002, when he went 18-6 with a 3.15 ERA.  He finished with 75 career wins before signing with Seattle as a free agent in 2006.
11.  Mark Langston – Signed as a free agent in 1989 after six seasons with Seattle and Montreal, Langston had four straight seasons with double-digit victories before injuries began taking their toll.  He finished with 88 career wins, good for sixth all-time.  His best season was 1991 when he went 19-8 with a 3.00 ERA. 
He made three consecutive all-star teams from 1991 – 1993 and also shone during the 1995 season when he went 15-7 but the team blew a 12 ½ game August lead that year and lost the division to the Mariners in a one-game playoff.  He signed as a free agent with the Padres in 1998.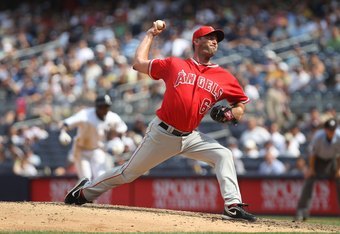 Nick Laham/Getty Images
10.  Scott Shields – Chosen in the 38th round in the 1997 draft, Shields made his debut in 2001.  During his time with the team, he was an indispensible member of the bullpen, serving at times as a closer, set-up man, middle reliever and spot starter.  Other teams often inquired about trading for Shields but the Angels kept him around for 10 seasons, and he helped them make the playoffs in six of them. 
He finished with a 46-44 career record and a 3.18 ERA and second on the team all-time in appearances with 491, but his contributions went way beyond the numbers.  The team chose not to offer him a contract after the 2010 season.
9. Ervin Santana – Signed by the Angels in 2000 as an amateur free agent, Santana arrived in 2005 and went 12-8 with a 4.65 ERA.  He has since averaged 14 wins over his seven year career and has been a mainstay in the team's postseason rotation.   After struggling in 2007 with a 7-14 record, Santana rebounded to make the All-Star team in 2008, when he posted a 16-7 record and finished 2nd in the league in strikeouts with 211.  
Santana has been 52-37 with a sub 4.00 ERA from 2008 – 2011.  He currently has 87 career wins with the Angels, good for seventh all-time and with one more 16-win season, he would jump to fourth.  He is currently signed through 2012 with a team option for 2013.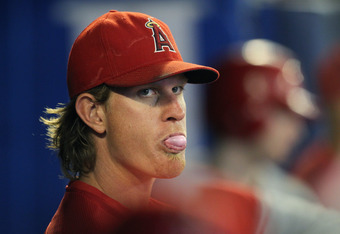 Claus Andersen/Getty Images
8.  Francisco Rodriguez – Signed as an amateur free agent in 1998, K-Rod had one of the more impressive debuts in team history when he joined the club in 2002 as a September call-up.  Featuring a mid-90's fastball and a nearly unhittable slider, Rodriguez mowed down hitters and became the team's secret weapon during the postseason that year, going 5-1 with a 1.75 ERA. 
After two years setting up for Troy Percival, Rodriguez became the team's full-time closer in 2005 and for the next four years was dominant, notching 47, 45, 40 and 62 saves, leading the league three times and finishing second the other time.  He finished with 208 career saves.  He signed with the Mets as a free agent in 2010.
7. Jered Weaver – Drafted by the Angels in the first round in 2004, Weaver made his major league debut in 2006 and promptly won his first nine decisions, finishing the year 11-2, good for fifth place in AL Rookie of the Year voting.  He's posted double-digit win totals in every year since, averaging 16 wins during that time. In 2010 he added a two-seam fastball to his already impressive repertoire of pitches.  He made his first All-Star team that year and led the league in strikeouts. 
Last season was his best yet, when he went 18-8 with a 2.41 ERA, made the all-star team for the second consecutive year, and finished second in the Cy Young voting.  Weaver has 82 career wins and with seven more he will move into 5th all time in team history.  He recently signed a five year, $85 million dollar extension to stay with the team through 2016.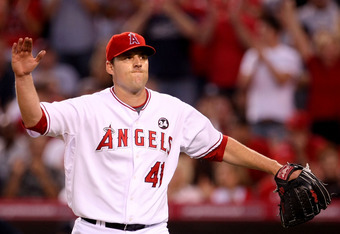 Stephen Dunn/Getty Images
6.  Frank Tanana – Drafted by the Angels in the first round in 1971, Tanana made his major league debut at age 19 and seemed destined for stardom.  Over the next five seasons, he averaged more than 15 wins per year, including a career high 19 in 1976.  During that span Tanana also recorded a staggering 81 complete games.  He led the Angels in wins four separate times. 
Tanana is tied with John Lackey for fourth on the Angels' all-time wins list with 102.  His 3.08 career ERA as an Angel ranks fourth best all-time among pitchers with at least 100 career starts.  He made three All-Star teams with the Angels and was in the top 10 in shutouts five different seasons including 1977, when he led the league with seven.  Tanana was traded to the Red Sox after the 1981 season.
5.  John Lackey – Drafted in the second round in 1998, the "Big Texan" made his Angel debut in 2002 and did so with a bang, becoming the only rookie pitcher in major league history to start game seven of a World Series. Pitching on three days' rest, Lackey would get the win in that game, going five innings and giving up one run as the Angels won their first and only World Series in franchise history. 
For the next seven seasons, Lackey was a stalwart in the Angels' rotation as they proceeded to dominate the AL West, winning the division four times during that span.  He posted double-digit wins in every one of those seasons, including a career-high 19 wins in 2007, where he made his only All-Star team, led the league in ERA and finished third in the Cy Young voting. 
He is tied with Frank Tanana for fourth on the team's all-time wins list with 107, and stands alone in fourth place in games started (233) and fifth in innings pitched (1501) and strikeouts (1201). He signed with Boston as a free agent in 2010.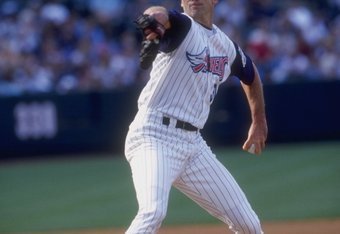 Tom Hauck/Getty Images
4.  Mike Witt – Drafted in the fourth round in 1978, Witt made his Angels debut in 1981 and finished third on the all-time wins list with 109.  A classic power pitcher with a nasty curveball, Witt was at his best during an impressive five-year period from 1984 - 1988, averaging 15 wins and 181 strikeouts. 
A two-time All-Star with the Angels, Witt was the anchor of a rotation that was one strike away in 1986 from their first AL pennant.  That season was Witt's finest, as he posted an 18-10 record and finished third for the Cy Young award.  He is the only Angel pitcher to throw a perfect game, doing so on the last day of the 1984 season against Texas.  He was traded to the Yankees in 1990.  
3.  Troy Percival – Drafted in the sixth round in 1990, Percival made his debut in 1995, eventually serving as a set-up man to then-closer Lee Smith.  After that brief apprenticeship, Percival assumed the closer's role and for the next nine seasons he was as effective as anyone not named Mariano Rivera, averaging 35 saves a year and making the All-Star team four times. 
One of the leaders and more popular players in the clubhouse, Percival finished as the team's all-time leader in saves with 316 and was on the mound for the final out when the Angels won the World Series in 2002.  He signed as a free agent with Detroit in 2004, but not before grooming his replacement, Francisco Rodriguez, much like Smith did for him. 
2.  Chuck Finley – The all-time franchise leader in wins (165), games started (379) and innings pitched (2,675), Finley – selected by the team in the first round of the 1985 draft – broke in as a reliever in 1986 before assuming a place in the Angels' rotation in 1988.  In the ensuing 12 seasons, Finley was one of the few bright lights for a franchise that struggled to compete, posting 15 or more wins six times in that span despite the team often finishing at or near the bottom of the AL West. 
A true ace in every sense, Finley more than held his own against more celebrated contemporaries like Roger Clemens, Jack Morris and Mike Mussina, finishing in the American League top 10 in strikeouts nine times and top five in ERA four times. Finley, who mixed a mid-90's fastball with a devastating split-finger, made four All Star teams as a member of the Angels and he was as durable as he was brilliant, leading the league in complete games in 1993 with 13 and finishing in the top three in that category three other seasons.  He is second all-time in strikeouts as an Angel with 2,151.   
1.  Nolan Ryan – Acquired prior to the 1972 season from the Mets for Jim Fregosi in what is arguably the greatest trade in franchise history, the "Ryan Express" thrilled Angels fans for eight seasons, averaging 17 wins and an astonishing 302 strikeouts per season. 
While Ryan played for four teams during his 27-year career, his best years were with the Angels, where he made five A.L. All-Star teams and finished in the top 10 in wins six times.  More impressively, he led the league in strikeouts in every season as an Angel except 1975, when he finished sixth. 
He was also among the league leaders in complete games, averaging a mind-boggling 19 a year.  Four of his record seven no-hitters were with the Angels and he led the team to their first division title in 1979, where they lost to the Baltimore Orioles in the ALCS.  His 138 wins as an Angel are second all-time and his 2,416 strikeouts are tops in team history. 
He left the Angels to become baseball's first "million-dollar player" when he signed with the Houston Astros as a free agent in 1980.