College Football's 5 Best Coaching Hires Heading into 2012
January 3, 2012
Jamie Sabau/Getty Images
The 2012 college football season will feature 26 head coaching changes at the Football Bowl Subdivision (FBS) level.  While some schools made questionable hires, there are many schools that made a great decision for a new head coach.
Here are some of the top coaching hires heading into the 2012 season.
No. 5:  Turner Gill at Liberty
Yes, an FCS school made this list, but Liberty Flames had a huge steal in Turner Gill.  He was shown the door at Kansas after only two seasons.  
While Gill was 5-19 in his tenure with the Jayhawks, I honestly felt he deserved one more year to turn the program around.  Kansas—especially competing in the gauntlet that is the Big 12—is one of the toughest coaching jobs in college football.
Instead, Gill will now be the head coach at FCS Liberty, a private Christian university in the Big South Conference. His mission will be to expand their football program and make the upgrade to the FBS in the near future, according to CollegeSportsInfo.com.
With Gill's coaching experience and solid Christian faith, he is the perfect fit for the small school in Lynchburg, Virginia.
No. 4:  Gus Malzahn at Arkansas State
Even with Huge Freeze's departure to Ole Miss, Arkansas State will likely remain as a Sun Belt Conference power. The school landed Auburn's Gus Malzahn, who will actually be taking a pay cut to become a head coach in his home state.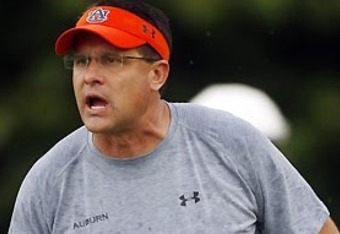 Malzahn's track record is extremely impressive. Most notably, he won the 2010 National Championship at Auburn.
Additionally, Malzahn received the Broyles Award in 2010, which is given to the best assistant coach in college football.
No. 3:  Kevin Sumlin at Texas A&M
Texas A&M made a great hire in Kevin Sumlin, luring him from Houston.
While the Aggies already had a solid offense in 2011 with quarterback Ryan Tannehill and running back Cyrus Gray, it will only get better in 2012.  Tannehill and Gray will be gone next season, but Sumlin will be able to look towards running back Christine Michael and wide receiver Ryan Swope.
The biggest challenge for Sumlin will be to develop a solid defensive coaching staff that will improve the Texas A&M defense. The defense was 71st in the FBS in points against per game with 28.2.
No. 2:  Mike Leach at Washington State
After a two-season hiatus, Leach will return to football as the head coach at Washington State.
His offensive coordinator stops at Kentucky and Oklahoma featured his notable Air Raid offense. Leach also rebuilt the football program at Texas Tech with a 84-43 record.  
Additionally, the Red Raiders never had a losing season in Leach's 10 seasons in Lubbock.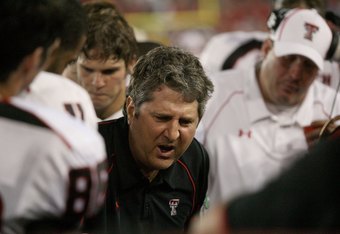 Thomas B. Shea/Getty Images
With quarterback Jeff Tuel and wide receiver Marquess Wilson returning in 2012, Leach will have the offensive talent to make his Air Raid offense effectively immediately for the Cougars.
No. 1:  Urban Meyer at Ohio State
How can Urban Meyer not be No. 1 on a list like this?
Meyer will take his 104-23 head coaching record, 7-1 bowl record and two BCS National Championships to Ohio State as he looks to rebuild the Ohio State program after the Jim Tressel scandal.
While the Buckeyes will not be eligible for a bowl appearance or Big Ten Championship in 2012, it is obvious the program will be heading back in the right direction under Meyer.