NHL Trade Rumors: What Superstars Could Be Dealt at the Deadline?
January 2, 2012
Jeff Gross/Getty Images
The NHL Winter Classic may be dominating headlines this weekend, but with the second half of the season quickly approaching, teams will hope to start finalizing their rosters for the long haul. The more games current contenders have to establish continuity and line chemistry the better off they will be in the playoffs. There are a few superstar players who will find themselves subject to trade rumors as the deadline approaches.
1. Bobby Ryan
Bobby Ryan has been shopped once. His Anaheim Ducks have a subpar record of 3-6-2 under new head coach Bruce Boudreau. The Ducks are a team that is in dire need of secondary scoring. Outside their top line, the Ducks have limited offense.
Ryan may be a valuable young player for the Ducks but they could use him to receive a package that includes a bevy of roster players, prospects and draft picks. It is always hard to trade away young players. Just ask the New York Rangers of the later 90s and early 2000s. 
The deciding factors on whether or not Ryan will be traded are simple. The first factor is the team play of the Ducks. If they can somehow turn their year around, maybe there is a reason to hold onto Ryan to see what Boudreau can do with a full training camp and season.
The second factor is will a team make an offer for Ryan that blows the Ducks out of the water, no pun intended.
If the Ducks continue to lose and are presented with an amazing offer, chances are Bobby Ryan leaves town for a new locale.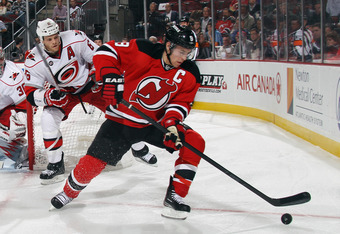 Bruce Bennett/Getty Images
2. Zach Parise
Zach Parise is currently set to become one of the most sought after free agents in recent memory. He is a young talented goal scoring forward you can build a team around. He has bounced back from injury and appears to be at the top of his game. He has the potential to be "that final piece" for a playoff-contending team in order to put them over the top.
Right now the New Jersey Devils are contending for a playoff spot. As long as this is the case, it is unlikely that Lou Lamoriello moves Parise. The Devils architect will attempt to lock up Parise for the long haul if he can.
A trade involving Parise will likely involve a proven goaltender coming back to the Devils. Martin Brodeur is on his last legs and the Devils will need an established goaltender in order to be a playoff team. If this is indeed Brodeur's last season, the Devils will have a huge hole to fill.
If Parise is traded, chances are it won't be to a major Eastern rival of the Devils.
3. Ryan Suter
The Nashville Predators entered this season in a precarious situation.
Jeff Gross/Getty Images
The Predators were faced with the daunting task of inking their three best players to new contracts at the same time. Pekka Rinne, Ryan Suter and All-Star Shea Weber's contracts all were set to expire this summer.
After The Hockey News released an issue with the title Slashville, it rubbed Predators management the wrong way. The Predators swiftly re-upped Rinne to a long-term contract. With that deal done, Predators Chairman Tom Ciggaran stated that money would not be an issue when it came to taking care of Suter and Weber.
"The Hockey News had a cover article called 'Slashville' where it talked about us not being able to afford to sign these three players, and I'm looking forward to writing them a little letter telling them they were wrong," Ciggaran said. "The money is there, and we have every intent to sign these players."
Does Ryan Suter become ever-more valuable to the club this season and in the future, or does he  command even more trade value if the Predators decide to roll the dice with Weber?
The 26-year-old currently carries a cap hit of $3.5 million. He is due for a huge payday considering what his partner, Weber, already makes. He will likely earn an average cap hit of $5.5 to $6.0 million dollars next season.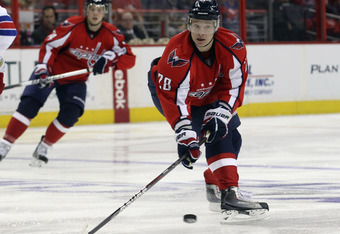 Bruce Bennett/Getty Images
4. Alexander Semin
Alexander Semin is another player set to become a free agent. He has been a free agent a few times in previous years, but this was because he signed one-year deals with Washington for the past two seasons.
This year he may test the free-agent waters. When on his game, Semin is a dynamic player with a lethal wrist shot. Part of the reason Bruce Boudreau was replaced was the underperformance of Semin and Alex Ovechkin.
There are a lot of teams that will have some interest in Semin. The Red Wings could be a team in the mix. They have had a lot of success with Russian players in the past and Semin may feel more comfortable surrounded by fellow countryman and Olympic teammate Pavel Datsyuk. A playmaker like Datsyuk could really turn around Semin's game.
These are just some of the big names who will draw a lot of attention as the trade deadline approaches. While they may not be dealt, it will be interesting to see what teams take interest as it will give a good indication of the potential free-agent market.
Tom Urtz, Jr. is an NHL featured columnist. For NHL news, updates and alerts about players: