Cleveland Browns: Resolution to Raise the Bar
January 2, 2012
Matt Sullivan/Getty Images
How long can we continue to baby our beloved Cleveland Browns?
Please think about this as you are watching the NFL Playoffs next weekend. Think about this when you are watching the Pittsburgh Steelers, Baltimore Ravens, and—wait for it—the Cincinnati Bengals.
Teams like Green Bay and San Francisco were already locked into the playoffs, and still won in week 17, resting players. The Packer, Saints, and Falcons, also already assured spots, destroyed their opponents. Could you ever see the Browns in such a position?
Local comedian Mike Polk Jr. said it best when he said that it is like the Browns are playing a different sport.
Watch all the teams in the playoffs, and it's like they are playing a different sport. Yet we as Browns fans can come up with a dozen positives from each loss.
Fans still buy tickets, show up to games like today, pay for their tickets and parking, buy over-priced food and beer, buy gas and spend time driving to and from the stadium. Heck, the best part of the experience is tailgating anyway, right?
I'm sick of always playing for the draft pick 'next year'.
I'm over the hope of 'beating the Steelers' being our season, or our 'Super Bowl'. The team has been back for twelve years. It's a farce to be happy with 5-11, as long as we beat the Steelers.
It was justified for the first five years, then just something to root for, now it's stupid. It's not good enough.
If the Cleveland Browns went 6-10 this season with a victory against Pittsburgh, fans and the city would be ecstatic. Really? A winning percentage like that is crap in any other sport. 
Since 1999, Browns fans have become brainwashed, because of our emotional state, and the unbridled desire for a winner, or at the least a competitive team.
So much that we now accept mediocrity, keeping it close, having 'a chance' to win. Oh yeah, and just beating the Steelers.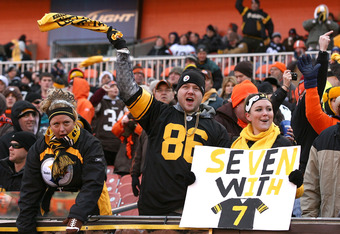 Matt Sullivan/Getty Images
Life is too short for mediocrity, and if you are a Browns fan, too expensive. It costs us financially, emotionally, and mentally.
My New Years Resolution, as a Browns' fan, is to lower my expectations for 2012. I will hope for the best, but expect the worst. I will not celebrate mediocrity, nor accept small positives.
I'm raising the bar. Average is for losers. I will not be satisfied as a Browns' fan until they start winning more, and are consistently in contention for the Division Championship.
Too harsh? Too bad.
I'm sick of seeing more Yellow & Black than Orange & Brown on Sundays in Ohio.
Enjoy the upcoming playoffs. Fantasize about the Cleveland Browns playing in the postseason one day.
But until the front office, Randy Lerner, and the organization as a whole, stop accepting mediocrity, promoting a culture of 'beating the Steelers once is good enough', and toughen up their reputation and image, they never will. 
The Browns suck. I can't defend them anymore.
But I am still a fan, and always will be.
Picking fourth, huh?