2012 NFL Mock Draft: Projecting Andrew Luck, Robert Griffin III & Best QBs
January 2, 2012
Ezra Shaw/Getty Images
Every NFL draft, or NFL mock draft for that matter, seems to prove the same point: quarterbacks are the most valued position in any draft.  You see it with Cam Newton, with Matthew Stafford, with Eli and Peyton Manning and, unfortunately, as Oakland Raiders fans will tell you, with JaMarcus Russell as well.  This is a QB's league.  As such, they are hypervalued on draft boards.
So which QBs will be taken in the first round this year?  Let's take a look at the latest 2012 NFL mock draft with top quarterback projections.  
Which teams will invest in Stanford's Andrew Luck, Baylor's Robert Griffin III or Oklahoma's Landry Jones?
1.  Indianapolis Colts—Andrew Luck, QB, Stanford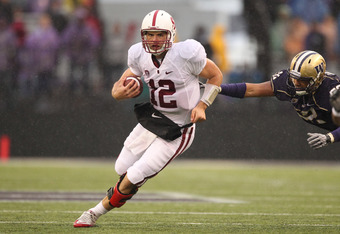 Otto Greule Jr/Getty Images
Simply put, Jim Irsay, Bill Polian or whoever is running the Colts these days can't afford to pass on Luck.  He's one of the finest QB prospects to come along in quite some time, and certainly one of the most pro-polished passers.  Not that he needs to be, of course, if Peyton Manning returns healthy for another three or four years.
The Colts should hope for a Brett Favre-to-Aaron Rodgers type handoff, with an NFL great mentoring a promising rookie.  There's no reason the two can't co-exist, unless Luck doesn't want to ride the pine for a few seasons...in which case, Indy should seek to trade the pick for a king's ransom.
2.  St. Louis Rams—Robert Griffin III, QB, Baylor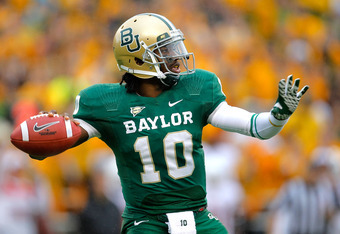 Sarah Glenn/Getty Images
Robert Griffin III may not have number two overall talent (I would have him in the five-to-nine range based on overall talent), but the drop-off between Luck, Griffin III and all other QBs in the 2012 NFL draft will surely overinflate Griffin's value.
St. Louis is actually in a wonderful position here, or as wonderful a position as a terrible team without dibs on Luck could be.  With Sam Bradford, the Rams don't need a QB, so they could look to trade out of the number two pick and fix a litany of problems on their roster.  
Teams like the Cleveland Browns, Washington Redskins, Miami Dolphins and Seattle Seahawks would have to be close to the phones on draft day and intrigued about the possibility of moving up.
Look for the Rams to try and trade down from number two overall, and a QB-starved team to trade far too much to move up.  For their sake, they had better hope Griffin is worth it.
3.  Minnesota Vikings — Matt Kalil, OT, USC
4.  Cleveland Browns — Trent Richardson, RB, Alabama
5.  Tampa Bay Buccaneers — Courtney Upshaw, LB, Alabama
6.  Washington Redskins — Justin Blackmon, WR, Oklahoma State
7.  Jacksonville Jaguars — Jonathan Martin, OT, Stanford
8.  Carolina Panthers — Alshon Jeffrey, WR, South Carolina
9.  Miami Dolphins — Quinton Coples, DE, North Carolina
10.  Buffalo Bills — Luke Kuechly, LB, Boston College
11.  Seattle Seahawks — Landry Jones, QB, Oklahoma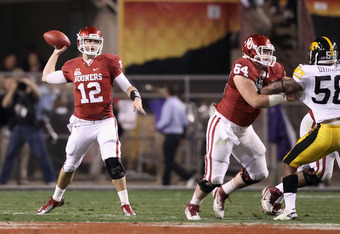 Christian Petersen/Getty Images
Oklahoma's Landry Jones is probably bottom-of-the-first-round talent in the 2012 NFL draft, but if you doubt he'll end up in the top 15, you haven't watched many drafts.
Blaine Gabbert and Jake Locker went far too high in the 2011 NFL draft.  I don't expect the case to be any different with Jones.  QB-starved teams will try to trade up and nab Griffin, but if they can't, look for them to reach on Jones, who has some serious accuracy and system questions coming out of Oklahoma.
That said, could Jones really be much worse than the Tarvaris Jackson/Charlie Whitehurst combo in Seattle right now?  He would have to be a special brand of awful if so.  Should Jones fall to the Seahawks, look for them to pull the trigger.
12.  Kansas City Chiefs — Michael Floyd, WR, Notre Dame
13.  Arizona Cardinals — Riley Reiff, OT, Iowa
14.  Philadelphia Eagles — Morris Claiborne, CB, LSU
15.  New York Jets — Melvin Ingram, DE/OLB, South Carolina
16.  Oakland Raiders — Zach Brown, LB, North Carolina
17.  San Diego Chargers — Vontaze Burfict, ILB, Arizona
18.  Chicago Bears — Dre Kirkpatrick, CB, Alabama
19.  New York Giants * — Janoris Jenkins, CB, Miami
20.  Tennessee Titans — David DeCastro, OG, Stanford
21.  Denver Broncos — Devon Still, DT, Penn State
22.  Dallas Cowboys * — Alfonzo Dennard, CB, Nebraska
23.  Cincinnati Bengals — Kendall Wright, WR, Baylor
24.  Houston Texans — Dont'a Hightower, LB, Alabama
25.  Atlanta Falcons — Mike Adams, OT, Ohio State
26.  Detroit Lions — Stephon Gllmore, CB, South Carolina
27.  Pittsburgh Steelers — Cordy Glenn, OL, Georgia
28.  Baltimore Ravens — Ronnell Lewis, LB, Oklahoma
29.  New Orleans Saints — Brandon Thompson, DT, Clemson
30.  San Francisco 49ers — Alameda Ta'amu, DT, Washington
31.  New England Patriots — Mark Barron, S, Alabama
32.  Green Bay Packers — Jared Crick, DE, Nebraska
* Pending results of Sunday Night Football's Dallas Cowboys vs New York Giants game.