NBA Awards: The Top 5 MVP Candidates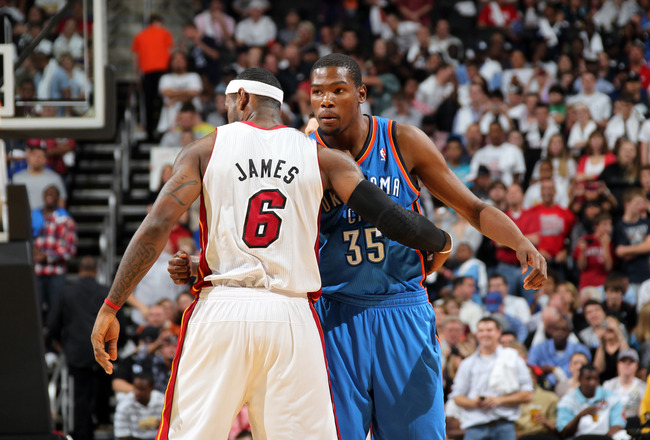 Jamie Squire/Getty Images
With most teams in the league at least five games through in their 2012 campaign, the "sea legs" are gone and fewer players are looking out of shape.
Interestingly enough, there are no more undefeated teams in the league, showcasing the strenuous qualities of this season as teams play many games in a limited amount of time.
Even though we are only one week through the season, I thought it would make sense to have an early MVP watch, detailing the top-five candidates as of now.
Let's dive into it.
5. Rajon Rondo (Boston Celtics)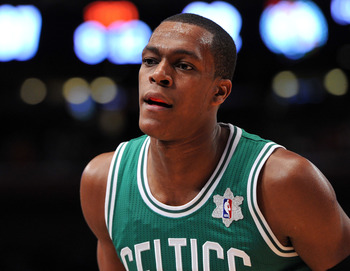 Christopher Pasatieri/Getty Images
If the Celtics had a winning record, Rondo would definitely be higher on this list. Without Paul Pierce, he was the catalyst of the C's offense and almost led them to surprising road victories at Miami and New York.
Even though Boston is 2-3, Rondo has proven to be their best player, averaging 16.5 points, 10.5 assists and 6.0 rebounds, while swiping 1.3 steals per game.
His best game was against the Wizards, when Rondo picked up a triple-double with 18 points, 14 assists and 11 rebounds at the point guard position.
If he can continue his stellar play, the Celtics could easily garner the No. 2 or No. 3 seed and win the Atlantic division with the Knicks struggling.
4. Dwight Howard (Orlando Magic)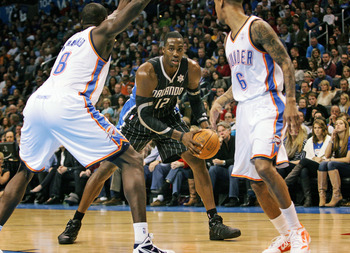 Brett Deering/Getty Images
Dwight Howard has been an absolute beast for the Magic this season and is rebounding the ball better than he ever has in his career.
In fact, the major reason why Orlando stands at 4-2 is due to Howard's 17.7 points, 15.3 rebounds and 2.7 blocks per game.
He had a 20-20 game against the Bobcats, and posted 24 rebounds in consecutive games, controlling the paint and leading his team to blowout victories.
Even with all of the rampant trade rumors regarding Howard, he has played exceptionally well for the Magic. As they begin to play tougher opponents, look for them to struggle more and rely on their All-NBA center too much.
This could cause his numbers to rise, but their worse record will cancel out those improved statistics.
3. Kevin Love (Minnesota Timberwolves)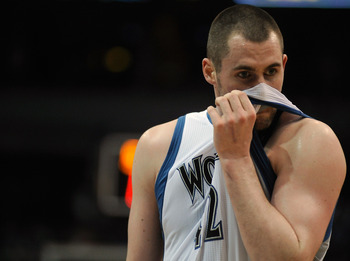 Hannah Foslien/Getty Images
If you told me that the Minnesota Timberwolves would have two wins after five games and had lost three games by a combined nine points, I would call you crazy.
However, that is right where the T-Wolves stand and we need to give credit to their unsung leader, Kevin Love, who is playing like the best power forward in the league.
He is averaging 25.4 points and 15.2 rebounds per game, while beating up on some of the best teams in the NBA. He has scored at least 22 points and grabbed at least 12 rebounds in all five of the T-Wolves' contests.
Love's best game was against the Milwaukee Bucks, when he put up 31 points, 20 rebounds, while making 19 free throws in a hard-fought loss.
As Minnesota improves and heads into playoff contention, so do his chances of winning MVP. Love is still a longshot to win the award, but a definite dark horse if the T-Wolves are able to garner a top-six seed in the West.
2. Kevin Durant (Oklahoma City Thunder)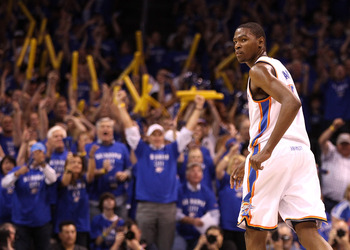 Christian Petersen/Getty Images
Kevin Durant has been fantastic as usual this season, solidifying himself as the best scorer in the league and possibly one of the greatest of all time.
Not only has he led his team to a 5-1 record and hit a buzzer-beater to beat the defending champion Dallas Mavericks, but Durant is also averaging 27.3 points and 6.2 rebounds for the best team in the Western Conference.
Durant might not have best statistics as of now, but he has been clutch for the Thunder while leading them to one of the top-two records in the league.
As much as people hate to hear it, MVPs usually come from elite teams and Durant is the best player on one of the highest-ranked teams in the league.
If the Thunder garner the No. 1 seed in the West and claim the top record, I think KD will take home his first Most Valuable Player award. If not, I think the player above him will win another one of these coveted trophies.
1. LeBron James (Miami Heat)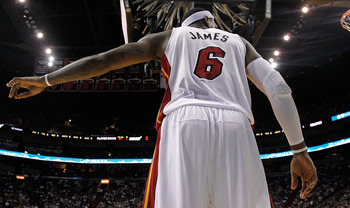 Mike Ehrmann/Getty Images
The King has been the best this year. No one has even been able to approach his throne.
LeBron James is having a virtuoso season, averaging 29.3 points, 6.3 assists, 8.0 rebounds and even 2.0 steals as the leading offensive weapon for the Miami Heat.
The Heat seem to have the perfect formula in place, allowing James to play big for the first few quarters then calling upon Dwyane Wade to close out the game if need be.
He was incredible against the Dallas Mavericks on opening day, possibly slaying his demons with a 37 point, 10 rebound and 6 assist performance in the arena where he froze up during the NBA Finals.
James looks one step quicker than anyone else on the court right now and looks to be having his best season of his NBA career.
If he is able to keep up this performance throughout the playoffs, I do not seem any team giving the Heat problems. Averaging 29-6-8 will give James an MVP, but he needs a ring to silence his critics.
Keep Reading