Tom Brady Leads Patriots to No. 1 Seed in AFC, but Defense Flops Again
January 2, 2012
Jim Rogash/Getty Images
The New England Patriots offense and Tom Brady once again showed how strong they are. 
The Buffalo Bills traveled to Gillette Stadium and were blown out by New England, 49-21.  But the score only tells a part of the story.
Brady played a great game, throwing for 338 yards and three touchdowns. He finished the regular season with the second-most yards passing in NFL history with 5,235.
Two of Brady's touchdowns were thrown to Rob Gronkowski, who put his name in the NFL record books by setting the single-season receiving yards record for tight ends with 1,327 after gaining 108 on eight catches.
The Patriots offense had to bail out the defense by scoring 49 straight points.
A player who I was a little surprised to see have a good game for the Patriots was RB Stevan Ridley. He rushed for 81 yards on 15 carries and was a spark at times to keep the Patriots offense moving down the field.
It was good to see the Patriots running the ball well at times.  It could play a factor in the playoffs if they can run the ball to keep their defense off the sidelines.
And keeping the defense on the sideline might be the only way to not give up so many points.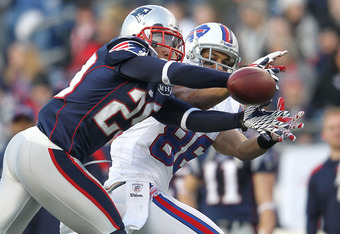 Jim Rogash/Getty Images
The Bills started out very strong taking a 21-0 lead after two touchdown passes by Ryan Fitzpatrick and a touchdown run by Tashard Choice.
The Patriots defense had a hard time containing Bills RB C.J. Spiller at times, which gave Fitzpatrick extra time to find his targets.
But Brady kept persistent and the Patriots offense got into a groove and dominated.
Fortunately for New England, the defense played much better, especially the secondary.  The Patriots secondary was able to get four interceptions off of Fitzpatrick's throws.
Even with the defense's rebound, New England needs to be concerned about how poorly its defense is playing.  Giving up three straight touchdowns to Buffalo to start the game is simply unacceptable.
What happens when the Patriots start facing tougher opponents in the playoffs? 
The defense needs to not give up so many yards a game.  They gave up 402 yards to the Bills today. 
Tom Brady can only do so much to keep the Patriots leading, but the defense needs to do its job too, or this could be a short playoff appearance for New England.