24-16 Victory Gives Ravens AFC North Title and 1st Round Bye
January 2, 2012
Andy Lyons/Getty Images
Like in so many other NFL seasons, the full 2011 playoff picture was not revealed until the final week of the season. This was especially true in the AFC North, where both the Baltimore Ravens and the Pittsburgh Steelers entered Week 17 with a chance to win the division. 
This year the division went to the Ravens. Their 24-16 win over the Cincinnati Bengals gives them their first division title since 2006 and a greatly desirable first round bye. The Bengals clinch a playoff berth. which gives the AFC North both of this year's wildcard teams.
The Ravens have made a habit of taking the hard way to the playoffs and today's game was no exception. After getting out to a 17-3 lead at halftime, the Ravens offense stalled, allowing the Bengals to get back into the game. Even after a 51 yard touchdown run by Ray Rice, the Bengals kept the game close and the outcome in doubt.
The 51 yard run by Rice was not his longest today. He also had a huge 70 yard rushing touchdown on the Ravens' fourth offensive play, getting their offense off to a great start. He finished with 191 rushing yards turning in his second best rushing performance of the season.
The Ravens defense turned in some great plays as well. Terrell Suggs made one last case for winning Defensive Player of the Year with his forcing a Jermaine Gresham fumble. They also had several big stops, including a Hail Mary play that fell incomplete at the end of regulation.
All in all the game was a rare road performance for the Ravens and their fans to be proud of. They were able to ease doubts of their ability to beat teams on the road and continued to play their best with their backs against the wall.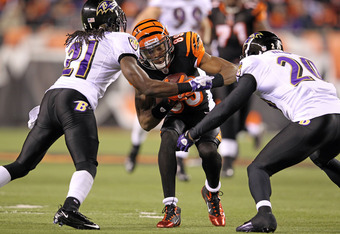 Andy Lyons/Getty Images
What I Liked
Anquan Boldin's injury has left a hole in the receiving game and for the most part it hasn't been pretty. Today things became even more complicated with an injury to Ed Dickson.
However, underrated backup tight end Dennis Pitta stepped up and led the Ravens in both yards and receptions. He had six catches for 62 yards with one touchdown. Pitta has shown a lot of promise this season, and it is very likely that he will be a key figure in the Ravens passing attack going forward.
There's also a lot to like about Rice's huge game. His 70 yard rushing touchdown in the first quarter was his longest regular season run ever. The monster game came at a good time with cold temperatures at Cincinnati on what was a very windy day.
With 15 touchdowns on the year, Rice has set a new team record. He has also become the only running back besides St. Louis Rams great Marshall Faulk to have at least 1,200 rushing yards and 700 receiving yards in multiple seasons. With 2,068 total yards this season, Rice has made it clear that he is the top player on this offense and he will need to continue to carry the load for the Ravens to go anywhere in the playoffs.
What I Didn't Like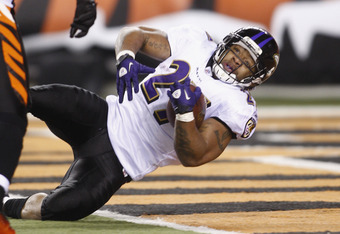 John Grieshop/Getty Images
It's difficult to explain Lee Evans' complete disappearance in the offense this year. With the Boldin injury he is now starting yet he can't even manage to get one reception most games. He ends the regular season with four receptions and 74 yards, terrible numbers for a receiver that was supposed to start for the Ravens.
Inexplicably that trend continued today. Now it seems safe to say that Evans has been a total bust this year as he has failed to be a deep threat or any type of consistent threat this season. It's going to be hard to have any confidence in him doing anything in the playoffs, at this point it can only be hoped that he'll find a way to prove his many doubters wrong.
Injuries again hit the Ravens hard for a second week in a row. Both Jimmy Smith and Tom Zbikowski combined for only one tackle after suffering concussions. Jameel McClain had a scary moment where he went off the field for a knee injury although thankfully he returned to the field later in the game.
Getting the bye certainly helps in terms of getting these injured players back. Since the Ravens won't be playing again until two weeks from now, these players could potentially be healthy by then.
What's Next 
This win over the Bengals finished off a great regular season, one of the best in franchise history. At 12-4 this is the Ravens second best regular season record and it is also the first season that they have swept the division. They now reap the awards with a division title and a first round bye.
There are only three possible teams that could be coming to M&T Bank Stadium in two weeks: either the Houston Texans, Denver Broncos or the Pittsburgh Steelers. For now, the Ravens can rest, watch Wild Card Weekend, and plan for their next opponent.