2012 Illinois Football: Boldly Predicting Best and Worst Cases
January 2, 2012
Ezra Shaw/Getty Images
It is never too early to start looking at next season. With that thought in mind, I have broken down each game the Illini will be playing in next season and derived two potential outcomes for the season (one best case, one worst case).
The typical, consistent football program would not have too much parody between its best case and worst case outcomes. Maybe their regular season schedule deviates by three wins in a best/worst case scenario, but Illinois is not a typical football program. 
There are so many unanswered questions with this team heading into the offseason.
How will Tim Beckman do in a BCS automatic qualifying conference like the Big Ten?
How will the players take Beckman's coaching?
How long will it take to rid the program of Ron Zook's legacy?
Because of all of these questions, this team could go anywhere from a 4-8 disappointment to a dark-horse contender in the Big Ten.
For reference, here is Illinois' 2012 football schedule:
9/01 Western Michigan
9/08 @Arizona State
9/15 Charleston Southern
9/22 Louisiana Tech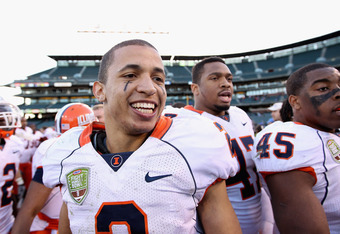 Ezra Shaw/Getty Images
9/29 Penn State
10/06 @Wisconsin
10/13 @Michigan
10/27 Indiana
11/03 @Ohio State
11/10 Minnesota
11/17 Purdue
11/24 @Northwestern
And without any further adieu, here is my best and worst case outcomes from next season:
Best Case: 9-3, 5-3 in the Big Ten 
Illinois easily makes it through its non conference season 4-0. The players embrace what Tim Beckman is saying and have a new-found energy and confidence. Linebacker Jonathan Brown establishes himself as one of the best linebackers in the league and Nathan Scheelhaase takes the next step as a passer.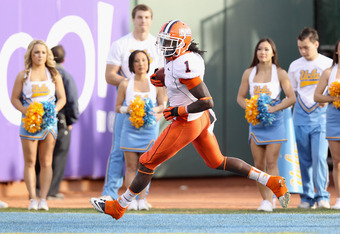 Ezra Shaw/Getty Images
Sophomore running back Donovan Young shows why he is worthy to wear the No. 5 jersey for Illinois. He averages about 100 yards a game in the non-conference season and is one of the bright spots of the offense.
Arizona St would be the only team with a real chance to knock off the Illini, but Arizona State is losing their QB and star linebacker and Illinois manages to handle a Sun Devil team searching for identity.
Illinois' first five games of the conference season are laced with difficulty.
If Illinois can show the mental toughness needed to compete, their talent will carry them to wins against PSU and Indiana, and then an upset of either Wisconsin, OSU or Michigan to go into the Minnesota game 7-2 with a Top 25 ranking.
Michael Buchanan pulls a "Whitney Mercilus" and leads the Big Ten in sacks from the defensive end position. He constantly dominates and gains national recognition for his ability to rush the passer.
I would imagine that the team starts hitting its stride and wins versus mediocre Minnesota and Purdue teams but stumbles against a Northwestern team that always seems to play Illinois tough, especially on its home turf.
The Illini finish the season 9-3, barely missing out on a Big Ten championship game birth.
Worst Case: 4-8, 2-6 in the Big Ten
If this season is going to get ugly, it will show from the start.
Illinois struggles with a new coaching staff and schemes and gets beat right out of the blocks by a tough Western Michigan team that almost beat the Orange and Blue in 2011. Then Illinois struggles with the long trip out to Arizona St. and loses there to start off 0-2.
Tim Beckman cannot decide between Riley O'Toole and Nathan Scheelhaase as a starting quarterback. As a result, the offense looks lost and confused and lacking leadership. A young running back and receiving core have no one to help lighten the pressure and minimal points are scored. 
Illinois would then barely win their next two games as a result of talent alone.
Although their record going into the Big Ten season is 2-2, they are playing like an 0-4 team.
Illinois then manages to lose its first three Big Ten games versus superior opponents on their home fields.
The defensive players struggle to learn Beckman's defense and they give up over 30 points a game. Michael Buchanan, Terry Hawthorne and Jonathan Brown don't step up as leaders on the defensive side of the ball and it shows. 
Then Illinois then gets a rare win at home versus an Indiana team that is also struggling mightily to improve the Illini's record to 3-5. The Illini still have a chance to get a bowl, but it is an uphill battle as they must win three of their next four games.
Illinois loses to Ohio St. in a blowout loss in the Horseshoe. Lacking any confidence, I would imagine that Illinois finishes out the season on 1-2 run and a regular season record of 4-8.
Tim Beckman stands by his formula saying that it will take time to improve this team, but Illini nation is skeptical of whether he has what it takes to succeed in the Big Ten.