2012 NFL Mock Draft
January 2, 2012
Ezra Shaw/Getty Images
As the 2012 NFL playoffs prepare to get set in stone, here's a a mock of the 2012 NFL Draft based on predicted playoff results.
1. Indianapolis Colts (2-14) - Andrew Luck, QB, Stanford
The Colts could decide to trade this pick down, but Luck might be too good to pass up.
2. St. Louis Rams (2-14) - Justin Blackmon, WR, Oklahoma State
The Rams could, and maybe should, go with OT Matt Kalil, but tackles Jason Smith and Roger Saffold are both still young and should improve, and Blackmon would provide Sam Bradford with a high quality target at receiver.
3. Minnesota Vikings (3-13) - Morris Claiborne, CB, LSU
The Vikings desperately need help in the secondary, and Claiborne is one of the top two players on arguably the best secondary in the nation.
4. Cleveland Browns (4-12) - Trent Richardson, RB, Alabama
Cleveland has not done much with Colt McCoy at quarterback, but in fairness, McCoy has had very few weapons to work with. Richardson isn't a receiver, but he would still help McCoy's cause by greatly improving the running game.
5. Tampa Bay Buccaneers (4-12) - Dre' Kirkpatrick, CB, Alabama
Kirkpatrick is an outstanding NFL prospect from a physical standpoint, and with a little time and development might turn out to be a top NFL cornerback. The Bucs need help everywhere on defense, especially in the secondary.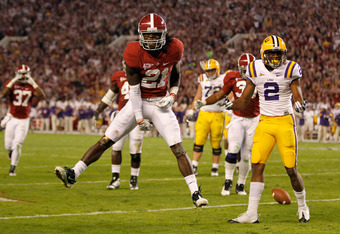 Streeter Lecka/Getty Images
6. Jacksonville Jaguars (5-11) - Alshon Jeffery, WR, South Carolina
Would the Jaguars take Jeffery, who has had a disappointing season statistically, at this spot? I think they would if Justin Blackmon is not available. It's not time to give up on Blaine Gabbert, and getting Jeffery as a target would be a good way to help him out.
7. Washington Redskins (5-11) - Robert Griffin III, QB, Baylor
Maybe there's no way RG3 falls this far, but if he does, the quarterback-needy 'Skins will scoop him up without a second thought.
8. Carolina Panthers (6-10) - Matt Kalil, OT, USC
The Panthers might need a cornerback or receiver in a worse way, but if Kalil is still on the board here and Kirkpatrick and Jeffery are already gone, he might be too good to pass up. 
9. Miami Dolphins (6-10) - Jonathan Martin, OT, Stanford
The Dolphins lose out on Matt Barkley, so instead a popular idea is that they'll go with a tackle. They could also go with Iowa tackle Riley Reiff.
10. Buffalo Bills (6-10) - Quinton Coples, DE, North Carolina
The Bills need to upgrade their pass rush, and Coples was arguably a top 3 prospect going into this year.
11. Kansas City Chiefs (7-9) - Riley Reiff, OT, Iowa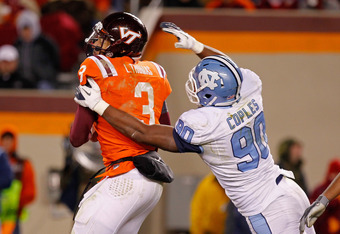 Geoff Burke/Getty Images
The Chiefs have been plagued by injuries this year. They'll use the down year to upgrade their quarterback protection.
12. Seattle Seahawks (7-9) - Landry Jones, QB, Oklahoma
The Seahawks have obviously had quarterback struggles this year, and Landry Jones could help remedy that. Ryan Tannehill is an option too.
13. Arizona Cardinals (8-8) - Luke Kuechly, ILB, Boston College
One of the most productive linebackers in college football history, Kuechly could really improve this linebacking corps.
14. San Diego Chargers (8-8) - Courtney Upshaw, OLB, Alabama
Upshaw collected 8.5 sacks for an unbelievably talented Alabama defense. The Chargers need an upgrade for its pass rush.
15. Philadelphia Eagles (8-8) - Michael Floyd, WR, Notre Dame
Michael Floyd is an extremely talented receiver that could take the place of DeSean Jackson if he doesn't return to Philly. 
16. New York Jets (8-8) - Brandon Jenkins, OLB, Florida State
Brandon Jenkins is an outstanding pass rusher, and the Jets need an upgrade at OLB. Whitney Mercilus and Nick Perry are a couple of other possibilities.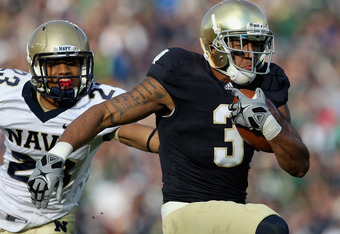 Jonathan Daniel/Getty Images
17. Chicago Bears (8-8) - Melvin Ingram, DE, South Carolina
The Bears could use some youth in their defense, and if there are no receivers worth taking here, Ingram wouldn't be a bad consolation prize.
18. Cincinnati Bengals (9-7) (acquired from Oakland) - Janoris Jenkins, CB, North Alabama
Cincinnati needs help at cornerback, and the Bengals have never shied away from taking talented players that have had run-ins with the law.
19. New York Giants (8-7)* - Vontaze Burfict, ILB, Arizona State
The Giants have been plagued with injuries this season, but they needed help at linebacker anyway. Burfict could be a steal this late.
20. Tennessee Titans (9-7) - David DeCastro, G, Stanford
The Titans need to upgrade their run protection for Chris Johnson, and DeCastro would be a great pick at this spot.
21. Denver Broncos (8-8) - Alfonzo Dennard, CB, Nebraska
The Broncos have need a lot of help in the secondary, starting with cornerback. Champ Bailey is still playing well, but he is getting up there in age. Dennard would be an instant upgrade opposite Champ.
22. Dallas Cowboys (8-7)* - Chase Minnifield, CB, Virginia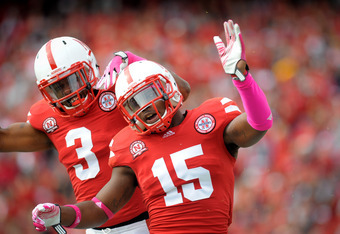 Eric Francis/Getty Images
The Cowboys are in dire need of cornerback help, and Minnifield is arguably the top cornerback left at this point.
23. Detroit Lions (10-6) - Zebrie Sanders, OT, Florida State
The Lions have needed help at the tackle position for a few years now, and this might be the year they finally address it. Sanders is one of the top 32 prospects according to ESPN.
24. Cincinnati Bengals (9-7) - David Wilson, RB, Virginia Tech
The Bengals need help at running back, and David Wilson is one of the top running backs on the board.
25. Houston Texans (10-6) - Cordy Glenn, OG, Georgia
The Texans have a stout running game already, but this team doesn't have a whole lot of needs. Adding Glenn to the line could make this running game even stronger.
26. Cleveland Browns (4-12) (acquired from Atlanta) - Kendall Wright, WR, Baylor
Kendall Wright has had a dream season for Baylor, and the Browns could really use another weapon for Colt McCoy that can stretch the field. Wright and Greg Little could turn out to be a quality duo.
27. Pittsburgh Steelers (12-4) - Jerel Worthy, DT, Michigan State
The Steelers really don't have many needs, but they are aging on defense and could use an eventual replacement for Casey Hampton. Worthy has the size to play nose tackle.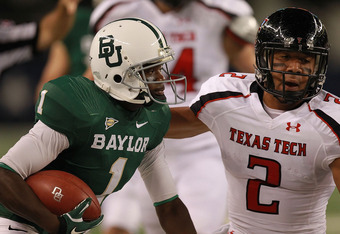 Ronald Martinez/Getty Images
28. San Francisco 49ers (13-3) - Mark Barron, SS, Alabama
Mark Barron is just another talented player on a stacked 'Bama defense. The 'Niners' defensive weakness was the secondary, and Barron could help remedy that.
29. New England Patriots (13-3) - Whitney Mercilus, OLB, Illinois
Whitney Mercilus is one of the best pass rushers left on the board. The Patriots should be happy he is still available.
30. Green Bay Packers (15-1) - Stephon Gilmore, CB, South Carolina
This might be a reach, but Gilmore is a physical cornerback that could learn under Charles Woodson and end up taking his place.
31. New England Patriots (13-3) (acquired from New Orleans) - Devon Still, DT/DE, Penn State
Devon Still is another player that the Patriots should be delighted is available. Still would instantly upgrade the D-line.
32. Baltimore Ravens (12-4) - Dont'a Hightower, ILB, Alabama
Ray Lewis can't play forever. Hightower could step in without missing much of a beat.
*The Giants/Cowboys game is still in progress at the time of publishing and may change this draft order depending on the outcome