Rex Ryan, Mark Sanchez and the New York Jets: 4 Things That Must Happen
January 2, 2012
Mike Ehrmann/Getty Images
I know, Jets fans, I know. I'm one of you. I'm so disgusted and disappointed with this season's version of Gang Green I could stick pins in a Rex Ryan voodoo doll.
Hey, that's not a bad idea.
There are so many issues to discuss about New York's highly disappointing 8-8 campaign. There are numerous areas of need. However, for now, here are four key issues that general manager Mike Tannenbaum must address during what will be a very long, agonizing offseason.
Fire Offensive Coordinator Brian Schottenheimer
It's time. Sometimes you just have to move on. After six years as offensive coordinator, it's time to let Schotty go. The straw that broke the camel's back came in Week 15 against the New York Giants when he inexplicably allowed third-year quarterback Mark Sanchez to make 59 pass attempts (he was also sacked five times so he actually went back to pass an incredible 64 times). That's ridiculous.
All Jets fans know that Sanchez is more of a game manager type of signal-caller, who works best when the "ground and pound" is working so he can use play-action effectively. In that pivotal contest vs. Big Blue, the Jets were running the ball well, but Schottenheimer asked Sanchez to come out of his element.
The "Sanchize" cannot carry a team on his shoulders like Drew Brees, Tom Brady or a healthy Peyton Manning. I know a lot of Jets fans who think this move is long overdue. Former Kansas City head coach Todd Haley might be a viable replacement.
Revamp the Offensive Line
This was a disaster area all season long. After having one of the best rushing attacks the last few years, the Jets slipped all the way to 22nd in the NFL in rushing, averaging a scant 105.8 yards a game.
Center Nick Mangold maintained his All-Pro status when healthy, but left tackle D'Brickashaw Ferguson did not deserve his All-Pro selection. Right tackle Wayne Hunter simply was in over his head, repeatedly getting beaten by quicker defensive ends. He was putrid. Matt Slauson and Brandon Moore were mediocre at best while former UMASS product Vlad Ducasse has been a huge bust.
This unit also struggled in pass protection as Sanchez was battered and bruised more than in any other campaign. The Jets will have to make the offensive line one of their top priorities in the upcoming draft. Tackle Jonathan Martin from Stanford may be available in the middle of the first round. It's time for Hunter to hit the road.
Draft a Solid Pass Rusher
This has been a bugaboo for years. How many times have we witnessed Tom Brady simply stand in the pocket for six to eight seconds, have a cup of coffee, eat some lunch and then complete a pass to Wes Welker or Deion Branch? Without blitz schemes, Gang Green does not get any regular, sustained pressure on the quarterback. They only registered 35 sacks, which was middle-of-the-pack in the NFL.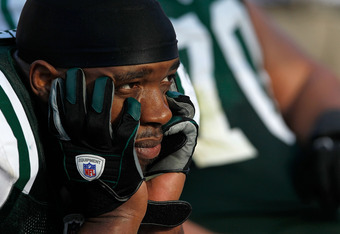 Mike Ehrmann/Getty Images
Calvin Pace is past his prime, and the Jets missed Bryan Thomas, who only played four games before being lost for the season with an Achilles injury. Free agent pickup Aaron Maybin was a pleasant surprise, but he's not the answer long-term.
The Jets need to eye defensive end Nick Perry of USC, who led the Pac-12 in sacks with 9.5, or LSU's Sam Montgomery to inject some youth and much-needed speed into the Jets' mediocre defensive line. I miss former Jet John Abraham (now with the Atlanta Falcons) already.
Sign a Backup Quarterback
I'm sorry, but it's time for ancient backup signal-caller Mark Brunell to go. He's 41 years old. I think he played against Sid Luckman and Sammy Baugh. I think he still wears a leather helmet.
It's time to sign a viable backup for Sanchez, who has no one to threaten him off the bench when he plays poorly—which happened quite often this season. Sanchez regressed quite a bit this year and needs to be held more accountable.
The Jets need a David Carr-type of backup quarterback—someone who won't totally threaten Sanchez's starting gig, but someone who can step in and run the offensive attack effectively. What's wrong with sitting Sanchez down when he struggles during a game? The Jets could never do that with the ancient one. A viable backup will give Sanchez time to take a deep breath and observe.
Brunell has had a very good NFL career that has spanned 19 seasons. It's time for him to pick up a fishing rod though and time for the Jets to finally wake up.