BCS Bowl Games 2012: Power Ranking the Worst Slate of Games in BCS History
January 1, 2012
Kevin C. Cox/Getty Images
While the BCS Bowl Games should be the end-all-be-all for college football, this season the bias system showed again why its flaws make it the most hated system in sports.
This list is of the BCS games from 2012, ranked from the least sucky to the absolutely unbearable to watch. They are all very disappointing, but the closer you get to one, the sicker you will become.
If you were still a believer in the BCS thought process, look at this slate of games and tell me that immediate change isn't needed. It's unfair to continue feeding this slop to people.
You think about that, BCS.
5. Allstate BCS National Championship Game—No. 1 LSU vs. No. 2 Alabama
Monday, January 9, 8:30 p.m. ET (ESPN)
As much as people want to complain about the rematch between LSU and Alabama as being bias against other schools that deserve the honor more, this is still the least of all the evils.
That's like saying robbery is less evil than murder. True, but that doesn't make robbing people alright.
If there was ever a team that had a point about being in the National Title game, it would be the Oklahoma State Cowboys, who were passed over by the BCS and relegated to No. 3 in the nation.
I wonder if money had anything to do with that?
4. The Rose Bowl Game presented by VIZIO—No. 5 Oregon vs. No. 10 Wisconsin
Monday, January 2, 5 p.m. ET (ESPN)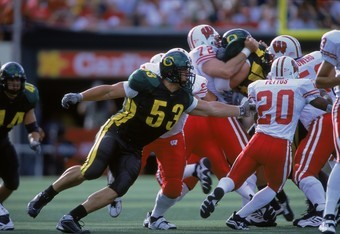 Otto Greule Jr/Getty Images
To any fans that like defensive battles, this game is not for you. I'm thinking somewhere along the lines of the Baylor vs. Washington's 67-56 offensive barrage.
As good as the defenses are for both the Oregon Ducks and Wisconsin Badgers, this is all about the offenses. Oregon has the third-best offense in the nation, while Wisconsin has the fifth best.
This game has the potential to be sloppy all over the field, with points off interceptions and fumbles happening as often as the deep passing plays or running scores.
3. Tostitos Fiesta Bowl—No. 3 Oklahoma State vs. No. 4 Stanford
Monday, January 2, 8:30 p.m. ET (ESPN)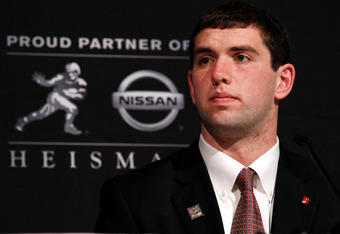 Jeff Zelevansky/Getty Images
This matchup could be solid, but it should have never happened in the first place. As good as Oklahoma State was this season, they should be playing in the BCS National Title game.
Considering they're not, they should at least be facing off with a team like Oregon or Boise State that actually deserves the No. 4 ranking, not Stanford.
Stanford's inflated record comes from their star quarterback who looked solid this season, but certainly didn't turn them into a top five football team.
2. Allstate Sugar Bowl—No. 11 Virginia Tech vs. No. 13 Michigan
Tuesday, January 3, 8:30 p.m. ET (ESPN)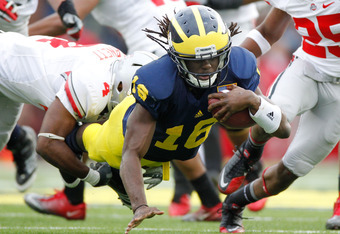 Gregory Shamus/Getty Images
This is the ultimate battle of teams that are facing issues with inconsistency. It was the death of these teams in the regular season, and it will make for a dreadful bowl game on a Tuesday night.
Each team is built very similarly; both have running quarterbacks and solid run defenses. That usually equals plenty of slow-moving action from two teams unworthy of the national attention.
With the Sugar Bowl being a big deal in certain circles still and the only thing on TV January 3, VT and Michigan will be putting people to sleep all over the USA.
1. Discover Orange Bowl—No. 15 Clemson vs. No. 23 West Virginia
Wednesday, January 4, 8:30 p.m. ET (ESPN)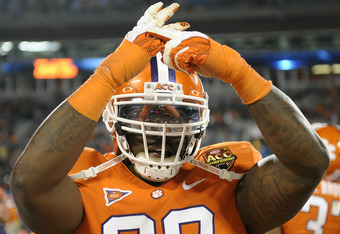 Jared C. Tilton/Getty Images
What in the world were the people who control things thinking when they were preparing for this matchup? I bet there was drinking.
West Virginia is as terrible as you can get for a BCS bowl game participant, and while Clemson is better, they're not that much better.
Yet teams like Houston, Boise State and TCU sit on the outside looking in on the what could be the worst college football matchups in the history of the sport.
Check back for more on the NCAA Football as it comes, and check out Bleacher Report's College Football Page to get your fill of College Football.