Ohio State Football: 5 Reasons to Be Optimistic for 2012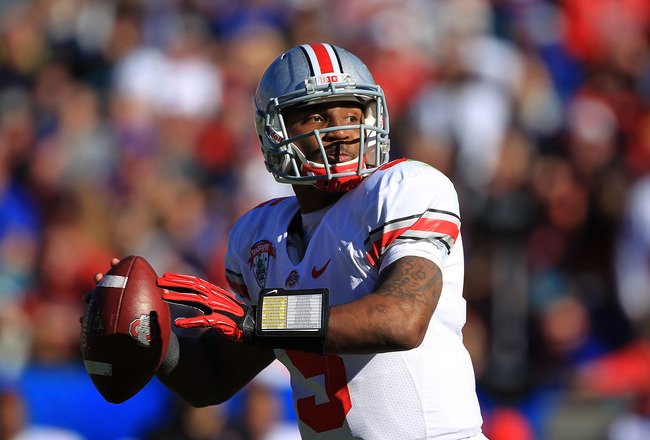 Scott Halleran/Getty Images
It wasn't how most planned for Ohio State's football program to finish in the 2011-12 campaign, but the Buckeyes offseason turmoil and in-season problems resulted in their first seven-loss season in well over a century (1897).

OSU had many growing pains with its young squad throughout the year with a true freshman quarterback, numerous freshman receivers and an incredibly inexperienced defensive unit.

The Buckeyes concluded with a 6-7 (3-5 Big Ten) overall record, placing fourth in the Big Ten's Leaders Division. They ended the season with a four-game losing streak, including a pitiful 24-17 loss in the TaxSlayer.com Gator Bowl to the Florida Gators, where special teams miscues were yet again their downfall.

Still, despite a one-year bowl ban handed down by the NCAA, there is much to look forward to in 2012.

Ohio State's losses combined for a total of 50 points. That's just 7.1 points per loss, meaning virtually just one touchdown per game separated the Bucks from being a 10- or 11-win team.

And with Urban Meyer bringing his old offensive system from his tenure in Gainesville (35.0 points per game)—including the Tim Tebow era—to Columbus, that's a statistic that can easily be achieved.

Here are five reasons to be optimistic for next season.
Urban Meyer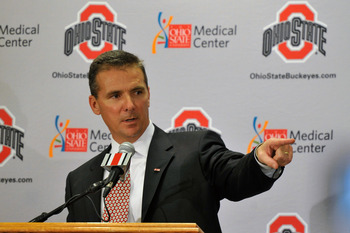 Jamie Sabau/Getty Images
It's funny to think that a year ago to this day, Jim Tressel was head coach, Terrelle Pryor was returning for his senior year, and Ohio State fans were expecting a National Championship appearance in 2011.

Never in a million years would anyone have guessed that just one year later, Urban Meyer would come out of his one-year retirement to begin preparing for his first season as the Buckeyes leader.

Meyer has led three different teams in his illustrious coaching career: Bowling Green, Utah and Florida. His resume is outstanding, as he trails only Chris Peterson (92.4 percent) as the highest-winning active coach with 81.9 percent.

And we all know Boise State doesn't play in the SEC.

Many coaches get off to a slow start during their first year with a new team. For example, Jim Tressel—who averaged 10.6 wins during his tenure at OSU—went 7-5 in his first season with the Bucks (2001).

That's not the case for Meyer.

History shows that he's very good when taking the helm of a new squad. Meyer is a combined 27-8 (77.1 percent) in this situation, which means he's right at nine wins. As an Ohio State fan, it's hard to go through a rough outing like we did in 2011. We're used to 10-win seasons every year, becoming spoiled with consistent dominance.

Meyer is ready to bring us back to the top of the college football totem pole.
Outstanding Recruiting Class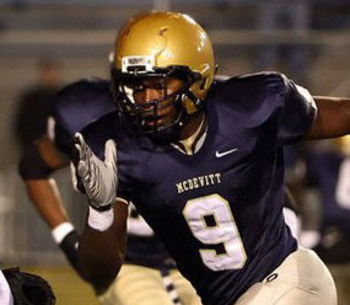 Noah Spence, DE
Since day one of his hiring, Urban Meyer has been fishing for high-profile recruits.

Let's just say he's had a good few days at the lake.

In the few weeks Meyer has been with Ohio State, the Buckeyes have made a colossal jump in the class of 2012 recruiting rankings, going from unranked to No. 10, according to ESPN.

The Buckeyes have four ESPNU150 signings—including 5-star defensive end Noah Spence—and seven overall 4-star athletes.

If this is what Meyer has done in one month, I'm very excited to see what he can do before National Signing Day. OSU has a bright future ahead.
Favorable Schedule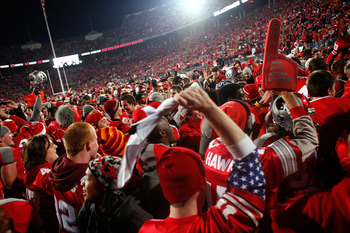 Kirk Irwin/Getty Images
vs. Miami (OH) RedHawks
vs. Central Florida Knights
vs. California Golden Bears
vs. Alabama-Birmingham Blazers
at Michigan State Spartans
vs. Nebraska Cornhuskers
at Indiana Hoosiers
vs. Purdue Boilermakers
at Penn State Nittany Lions
vs. Illinois Fighting Illini
BYE
at Wisconsin Badgers
vs. Michigan Wolverines

Notes

* Buckeyes play eight home games, where they are 38-5 since 2006.
* Non-conference opponents combined for a 19-30 record in 2011 with one bowl appearance (Cal).
* Michigan State loses seven offensive starters, including standout quarterback Kirk Cousins. It also will not return consensus All-American pick Jerel Worthy on defense. The Bucks tend to play better in East Lansing, anyway.
* OSU arguably would have finished Nebraska off in '11 if Braxton Miller would have stayed healthy. He'll be back and it's in the 'Shoe.
* Penn State found its replacement for Joe Paterno with former Patriots offensive coordinator Bill O'Brien. He'll have his work cut out for him in his first year, as the Nittany Lions return just five starters from each side of the ball.
* The Wisconsin matchup is yet again following the bye week, and it'll be without Russell Wilson. Montee Ball returns, but was a non-factor in the 2011 game.
* "The Game" will be Ohio State's Super Bowl. I can't stress enough how badly the Buckeyes will want to win that game in Columbus before watching the postseason from home.
10 Defensive Starters Return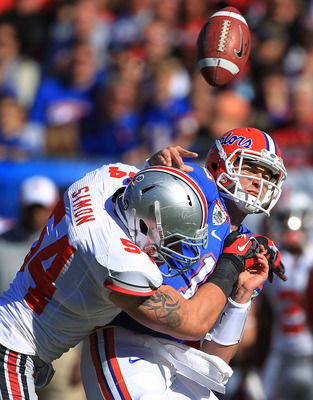 Scott Halleran/Getty Images
It may not look like a good thing right now, but Ohio State returns 10 defensive starters from an extremely talented, yet inexperienced unit.

The Buckeyes should have one of the Big Ten's better defensive lines, as All-American John Simon, a healthy Johnathan Hankins, Garrett Goebel and Adam Bellamy come back.

Etienne Sabino, Storm Klein and Ryan Shazier will fill the linebacker positions. Only Andrew Sweat (and Tyler Moeller, who was a situation player) will be missing, and Shazier saw significant playing time during his injury towards the end of the season.

The entire secondary is back, including senior cornerback Travis Howard.

Ohio State allowed 21.0 points per game in 2011, which ranked 27th in the NCAA out of 120 schools.
Braxton Miller, Receiving Corps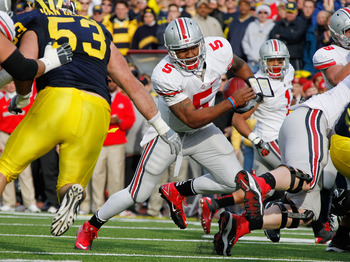 Gregory Shamus/Getty Images
If you haven't heard of Braxton Miller yet (where the heck have you been?), just go to YouTube.com and look up his play versus Wisconsin.

That pretty much describes the type of player he is and will be moving forward.

Of course, he does have his downsides. Miller, an outstanding dual-threat quarterback, lacked consistency in the pass game and made plenty of freshman mistakes when under pressure. He's still learning the right time to tuck it away and scramble or throw the ball away and avoid the sack.

But what true freshman doesn't struggle with that?

A lot of the blame can definitely go to the conservative offensive game plan (thanks and good riddance, Jim Bollman) and very young wide receivers, but Urban Meyer is a quarterback-savvy football coach and will build the offense around Miller's strengths.

The upcoming sophomore QB will flourish in the next few seasons in Meyer's vibrant scheme.

It helps that leading receiver Devin Smith, tight end Jake Stoneburner—who had seven touchdowns in 2011—Corey Brown, Chris Fields and Verlon Reed all return with game-time experience under their belt and a chip on their shoulder after finishing 115th (127.0 yards per game) in the nation through the air.

Like I said, there's plenty of reasons to be ecstatic when September rolls around. God Bless and Go Buckeyes!


Follow me on Twitter @Tyler_Waddell for more updates around the sports world.
Keep Reading

Ohio State Football: Like this team?