Los Angeles Lakers: Trading for Dwight Howard Is the Wrong Move
January 1, 2012
Harry How/Getty Images
The Lakers would be dumb to trade for Dwight Howard. Did you see Bynum in his return last night?  As far as their talent and chemistry right now, this season, Kobe, Bynum and Pau are right up there with Miami's big three, New York's new trio, the lob city Clippers, the talented young Thunder and the well-built Bulls.
The Lakers CAN and WILL compete with the roster they have right now, and would be making a mistake if they were to trade for Howard. They already shot themselves in the foot when they tried to trade for Chris Paul, ultimately loosing one of their most valuable players in Lamar Odom. 
Josh McRoberts has been playing very well so far this season. Throw in the dominance of Bynum in his first game back—assuming that continues and he stays healthy—in addition to Pau and Kobe, and just imagine how much better they could be with Odom still in the fold, especially considering the fact that this shortened season will certainly weigh heavy on the reserves.
Yes, fans will always complain that PG is an issue with the Lakers as long as Derek Fisher is starting, especially now that Phil Jackson is gone and no longer running the triangle offense, which took some of the load off D-Fish. 
That being said, this is all the result of narrow mindedness on our part—the fans.  Yes, Fisher is no longer a legit scoring option and he's far from a great defender, but if we're only going to focus on the negatives, then of course he'll seem like the weakest link on the team. 
However, if you instead focus on the positives, you'll see that Fisher, while he's no longer a legit scoring option, he is still as clutch as ever.  He can shoot the three and drain open shots when he's asked—à la Chauncey Billups.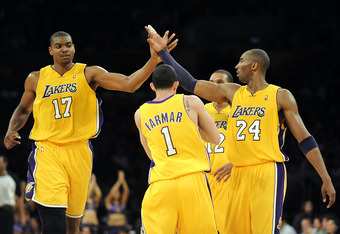 Harry How/Getty Images
He also has two things that are often overlooked: leadership (just look at his role in leading the NBA players association out of the lockout) and, of course, don't ever underestimate his chemistry with Kobe and the respect he commands from Bryant. 
Fisher is a key part of this team, be it as a starter, assuming the Lakers stand pat, or coming off the bench should the Lakers seek an upgrade at PG, either via a low-key trade, improved play from Steve Blake or a breakout from Darius Morris.
The other major knock on the Lakers that is the result of narrow-mindedness by the fans is the idea that the Lakers are weak at the 3.  Many do not believe a change of his name will keep Mr. Artest competitive, do not see Matt Barnes as a viable starter and doubt the abilities of youngster Devin Ebanks. 
What do I have to say about that?  Well, yes, the 3 spot is one of the two weaker areas for this team, but to call it an outright weakness is inaccurate. 
On a team with a trio of Kobe, Pau and Bynum, you don't need a fourth and fifth scoring option every night.  The Lakers just need their trio at SF to come up big by doing the little things; staying aggressive, fighting for rebounds and loose balls and showing some passion on defense.
Final Thoughts:
As long as Fisher continues to be a leader—both on the court and as a mentor to Blake, Morris and Andrew Goudelock—and provided Metta World Peace, Barnes and Ebanks continue to do the little things, the Lakers will be just fine.
With the supporting cast doing what they are asked, which will not be much, Bryant, Bynum and Gasol should have no problem playing a leading role in bringing a title back to tinsel town. 
2011-2012 rotation:
PG: Derek Fisher, Steve Blake, Darius Morris
SG: Kobe Bryant, Jason Kapono, Andrew Goudelock
SF: Metta World Peace, Matt Barnes, Devin Ebanks
PF: Pau Gasol, Josh McRoberts,
C: Andrew Bynum, Troy Murphy, Derrick Caracter
All this rotation could really use is maybe one more frontcourt addition; maybe a veteran's minimum contract to a guy like or similar to Reggie Evans and this team is good to go ahead and make a run at a title and forget last year's early exit at the hands of the Mavs.