Jets vs. Dolphins: 10 Things We Learned from Miami's 19-17 Win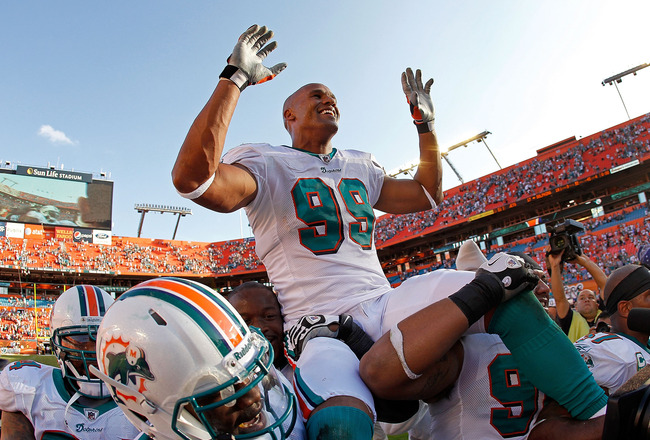 Mike Ehrmann/Getty Images
The Miami Dolphins squashed the New York Jets' playoff aspirations with a 19-17 victory on Sunday afternoon.
Rex Ryan, Mark Sanchez & Co. had to defeat the 'Fins in order to keep their playoff hopes alive, but Miami refused to lose in Jason Taylor's final NFL game. Miami's defense played visibly inspired and propelled the team to a win—racking up three sacks and three interceptions in the process.
Meanwhile, the Dolphins offense managed to succeed despite the absences of Jake Long and Reggie Bush. Miami received big contributions from players like Steve Slaton and Charles Clay that helped ease the pain of losing those two marquee players.
Miami's season might have been an utter failure, but this win over the Jets was absolutely amazing. Here, for one last time, are the lessons learned from the Dolphins' win.
The Dolphins Should Be Primed for a Bounce-Back Season in 2012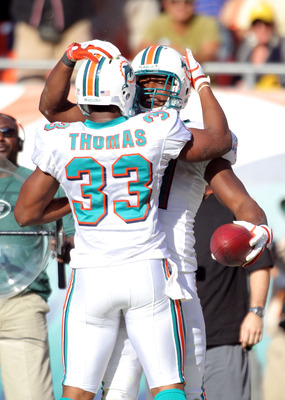 Marc Serota/Getty Images
The Dolphins were arguably the worst team in the NFL through the first half of the 2011 season, but they looked formidable and dangerous over the second half of the year.
So will the Dolphins capitalize on their momentum or slip back into futility in 2012?
So long as the 'Fins acquire a quality head coach and quarterback, they should be a competitive team. Miami boasts one of the league's best front sevens, an outstanding linebacker corps, a duo of budding cornerbacks, a top-ten wide receiver and a lethal running back.
Of course, Miami has many holes to fill, but the foundation for a playoff contender is here.
Even When He Is at His Worst, Matt Moore Keeps the Dolphins in a Position to Win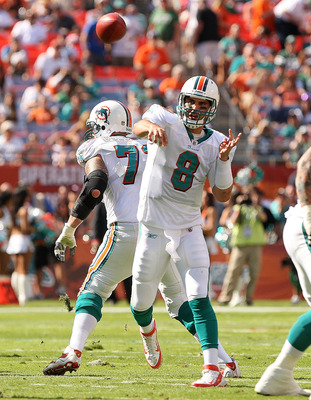 Mike Ehrmann/Getty Images
Matt Moore may have posted his worst performance of the 2011 season on Sunday.
Yet, he still managed to lead the Dolphins to victory. Moore tossed a pair of ugly interceptions, but he was nearly impeccable otherwise.
Not many quarterbacks can win a game with just 135 passing yards, but Moore always manages to get the job done.
Whichever quarterback Miami acquires this offseason will have to defeat Moore in a quarterback competition, because he has definitely earned the right to compete for the job.
Daniel Thomas Runs Hard, but Still Doesn't Seem to Have Much Confidence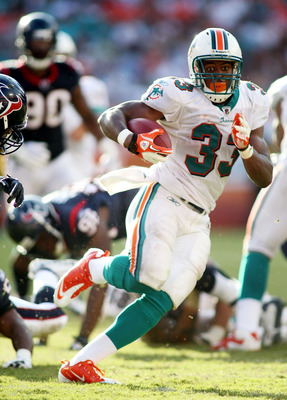 Marc Serota/Getty Images
Despite grand collegiate success, an NFL physique and elite athleticism, rookie running back Daniel Thomas has stumbled through his rookie season. After playing extraordinarily well in his first two NFL games, Thomas has been a non-factor in Miami's offense.
On Sunday, Thomas received a great chance to salvage his season. With Reggie Bush sidelined, Thomas got the start, but failed to capitalize on the opportunity. He ran for a dismal 28 yards on 12 carries.
It's important to remember that Thomas is only a rookie and has struggled with injures for much of the season. He still has plenty of time to mature into the great back Miami thought he would be, but there's reason to be concerned about his future outlook.
Brian Daboll Will Probably Be Fired When a New Coach Takes over
Gregory Shamus/Getty Images
Dolphins offensive coordinator Brian Daboll may be the unsung hero of this year's team. Daboll managed to make an offensive consisting of a makeshift offensive line, anonymous quarterback and castoff running back formidable.
However, Daboll will probably get the axe once a new general manager and coach are hired.
Daboll practices a boring brand of football. Even though it has proven effective, Stephen Ross wants a high-flying, exciting style of play. The Dolphins mustered up a measly 203 yards of total offense on Sunday, and Ross simply won't tolerate such mediocrity.
The Dolphins Will Take a Long, Hard Look at Packers Backup QB Matt Flynn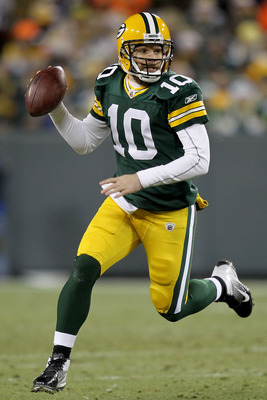 Matthew Stockman/Getty Images
While the Dolphins were squashing the Jets' playoff hopes, the Green Bay Packers and Detroit Lions were playing a relatively meaningless game. Even though the outcome of their matchup didn't affect the 'Fins at all, the play of Packers backup quarterback Matt Flynn did.
Flynn is slated for free agency this summer and is expected to draw the attention of many teams in search of a quarterback—including Miami.
On Sunday, Flynn assured himself a big contract. He tossed a whopping six touchdowns and 488 passing yards en route to a victory. If the 'Fins lose out on Robert Griffin III, then Flynn might be the player they pursue to solve their quarterback quandaries.
If John Jerry Continues Playing Well, He Could Be a Starter Next Season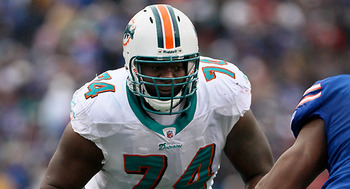 Earlier this season, John Jerry was being labeled a bust.
Drafted in the third round of the 2009 NFL draft, Jerry looked completely incompetent when in the lineup, and he quietly faded into a backup role.
However, Jerry has resurfaced over the past three weeks.
He has been allotted playing time in Miami's last three games, and has performed admirably in each one. If Jerry puts in the right amount of work this offseason, he could return to a starting role in 2012. This would save the Dolphins money and aid Jeff Ireland's chances of keeping the GM job.
Steve Slaton Deserves a Chance to Carry a Bigger Workload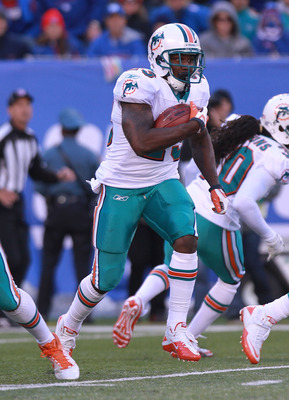 Nick Laham/Getty Images
Because Reggie Bush was inactive on Sunday, backup running backs Daniel Thomas and Steve Slaton were asked to carry an expanded workload. While Thomas struggled with his broadened allotment, Slaton shined.
Slaton rushed for 55 yards on 11 carries, showing great shiftiness and speed.
Remember, Slaton rushed for over 1,200 yards just three years ago. Perhaps—though it is a long shot—he is ready to re-establish himself as a serviceable NFL back. Either way, he deserves a chance to shoulder some more carries next season (if Miami keeps him around).
Right Tackle and Right Guard Will Both Be High Priorities for the 'Fins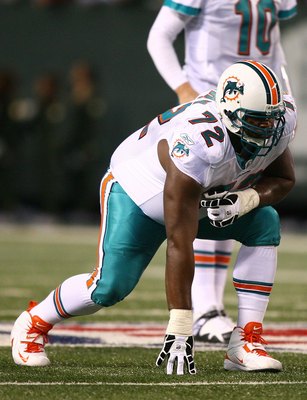 Al Bello/Getty Images
Miami's offensive line deserves some serious credit for its performance against the Jets on Sunday. Even without Jake Long, it surrendered only one sack.
But Sunday's game may have been the last for a pair of Dolphins offensive linemen. Marc Colombo will definitely not return and Vernon Carey is slated for free agency—and Miami might prefer to opt for a young lineman.
Everybody's attention will be on the quarterback position, but the Dolphins have quite a few other positions that need to be addressed as well.
If Davone Bess' Injury Is Serious, the Dolphins Could Be in Trouble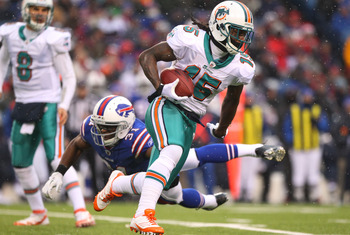 Tom Szczerbowski/Getty Images
Late in Sunday's game, Davone Bess suffered a gruesome leg injury. The extent of his injury is currently unknown, but it looked really bad from the naked eye.
If Bess suffered a serious injury, then there is a chance that he could be sidelined into next season. This scenario could be disastrous for Miami's top-heavy wide receiver corps. Besides Brandon Marshall and Brian Hartline, Miami doesn't have any reliable wideouts on the roster.
Miami Will Probably Have to Trade Up If They Want Robert Griffin III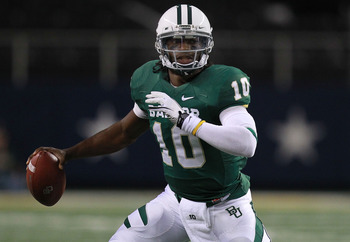 Ronald Martinez/Getty Images
No true Dolphins fan will complain about the team's late-season win streak, but it did severely damage Miami's chances of landing an elite quarterback prospect with their 2012 first-round draft pick.
The 'Fins will likely have the 10th or 11th overall draft pick, which may leave them too far down the pecking order to snag Baylor quarterback Robert Griffin III. It looks like Miami will have to trade up if they want to secure the services of RG3.
Keep Reading

Miami Dolphins: Like this team?