LeBron James Engaged: Why Engagement to Savannah Brinson Was Right Move
January 1, 2012
Ronald Martinez/Getty Images
Any publicity that increases the general public's respect for LeBron James' commitment is gold.
While the world of sports watches its heroes like Tiger Woods and Kobe Bryant cheat on their wives, the spotlight avoids James.  LeBron obviously didn't propose to improve his image, but it's quite a nice unintended consequence.
According to ESPN, LeBron apparently wants to be like Mike on and off the court.  A week after Jordan proposed to his girlfriend Yvette Prieto, James got engaged to his baby mama Savannah Brinson.  They are the parents of two sons and have been dating since high school.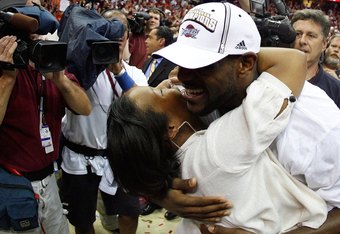 Gregory Shamus/Getty Images
Now, it's common knowledge that when people around you do something stupid, it makes you look better.  With superstar professional athletes like Tiger and Kobe doing something stupid—rumors would suggest many stupid things—all of a sudden, LeBron looks like a good guy...sort of.  And after his messy breakup with his first NBA marriage, he could afford to take on a committed image.
After growing up in Akron, approximately 45 minutes away from the city of Cleveland, the Cavaliers' fans looked up to LeBron like a hometown hero.  James led their team from being the league laughing stock to championship contender. Cleveland embraced King James, the Chosen One they were all witnesses to as their savior. 
Understandably, promising a world title only then to announce his plans to skip town on national television didn't go over too well.
LeBron's engagement to Brinson makes him look like a little less of a cheater.  Throw in the fact that the two fought together through rumors that Rashard Lewis had slept with Savannah and James' proposal means that much more.  And LeBron and Savannah were together far longer than James played on the Cavaliers.
So, as long as LeBron doesn't freeze up the week of the wedding and call it off, he just received a bit of an image boost.
David Daniels is a Featured Columnist at Bleacher Report and a syndicated writer.