WWE WrestleMania 28: CM Punk vs. Chris Jericho; Why This Match Should Happen
January 1, 2012
CM Punk and Chris Jericho are two WWE Superstars who are similar both in wrestling style and persona.  Both superstars have been former world champions, and both are known for being controversial.  In the world of professional wrestling, these factors combine to create a simple equation for a classic five-star match: 1 + 1 = 2. 
With 2012 fully underway, WrestleMania XXVIII is right around the corner, and what better way to kick start the biggest event in pro wrestling than to have a match between CM Punk and Chris Jericho.  Speculation is running rampant about the possible return of Jericho, and if there is a connection to the "It Begins 2012" vignettes that are being shown on WWE programming over the last few months, it may be likely.
 
Jericho has stated on several occasions that he will never return to the WWE, but is this just kayfabe talking? No one really knows.  All arrows are pointing to "yes," Jericho might return to the WWE very soon.  But if and when he returns, he should face the "Second City Saint" CM Punk.  This would indeed be a "Match of the Year" candidate, without a doubt. 
Punk and Jericho do have some unfinished business that could lead up to this match.  They have had some heated words via Twitter, and the issues between the two have not been settled.  If the WWE decided to work with this scenario, they could have this war of words escalate into a nose-to-nose confrontation. 
Punk and Jericho in the same ring cutting a segment together? That makes for pure pro wrestling gold.  A special edition of Jericho's "Highlight Reel" with Punk as his guest would be a great setup for this potential WrestleMania marquee match.  Jericho of course would be his usual, egotistical self, ridiculing Punk for his straightedge lifestyle and the ludicrous notion that he is the "Best in the World."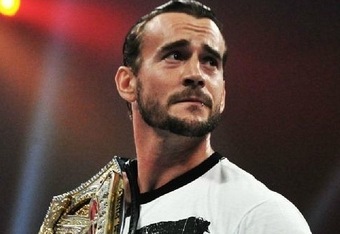 Punk would then retaliate with a series of excellent promos every week that only CM Punk could deliver to bait Jericho into attacking him.  He would set up some classic vignettes that would poke fun at Jericho and how great of a musical performer he thinks he is.  This would get under Jericho's skin.
 
The match itself would be a showstopper, to say the least.  Some wrestling fans would say that two wrestlers with similar styles would make for a boring match, but Punk and Jericho would compliment each other tremendously with their skilled in-ring abilities. 
Jericho shows no signs of slowing down, and Punk is just getting warmed up when it comes to his talents in the ring.  Picture lots of great near falls, Punk's powerful kicks mixed with Jericho's high flying.  Wrestling fans would be on their feet.  The hype for this match would be amazing, if the WWE decided to do it right, that is. 
CM Punk has become a household name in the WWE over the last few years, and Jericho is no stranger to being on top, either.  WrestleMania has always been known for creating legends, breaking legends and making history.  CM Punk and Chris Jericho in the ring together would indeed make history, but it remains to be seen which superstar would become a legend, and which one would be broken.