2012 Capital One Bowl: Why Nebraska Will Not Finish a Big Ten Sweep over the SEC
January 1, 2012
Justin K. Aller/Getty Images
Big Ten Bowl Preview Extravaganza: Part 9 of 10
When Nebraska was added to the Big Ten conference, the balance of power between the SEC and the Big Ten appeared to be shifting slightly northward. However, the SEC made a huge statement by sweeping the Capital One, Outback and Gator Bowls during a terrible 0-5 New Year's Day for the Big Ten.
Despite this setback, excitement was high in the conference, mostly thanks to the Huskers. Although Nebraska did not roll over the new conference foes to a BCS berth in year one, the Huskers will have a chance to represent the conference in the Capital One Bowl, one of the trio of games against the SEC that determines how respected the conference will be in 2012.
As is customary in these matchups, Nebraska did not pull an easy game from the SEC. South Carolina nearly won the SEC East this season, and probably would have had it not been for the loss of top RB Marcus Lattimore for the season in October. Despite this loss and a quarterback change at the same time midseason, South Carolina has persevered with solid defense.
Nebraska defeated a team just like South Carolina late in the season (Penn State), but the Nittany Lions had a lot of other distractions that week. An even better effort will be needed to finish a sweep of the SEC in these New Year's bowl games (I projected an Ohio State win in Part 7 and a Michigan State win in Part 8). Let's take a look at what Nebraska will need to do to win this game:
No. 1: Nebraska Cannot Let DL Jadeveon Clowney Dominate the Line of Scrimmage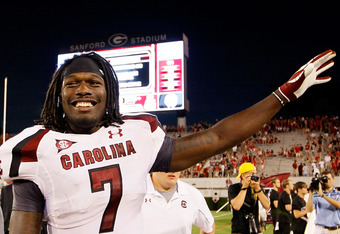 Kevin C. Cox/Getty Images
South Carolina was dominant on defense this season, but the athletic linebackers and defensive backfield led the way more than the defensive line. One exception to that was DL Jadeveon Clowney, who could be headed for the No. 1 pick in the draft in two more years.
For now, Clowney will just tear up offensive lines in college, as his talent just outshines most offensive linemen at this level. Nebraska dominated with a strong running game and offensive line this season, but the line will need to run double teams and shifts to keep Clowney out of the backfield, especially when Taylor Martinez is passing the ball.
Although Nebraska can probably produce enough offense to be competitive with just the running game, Martinez will likely need to find some openings against the Gamecocks defensive backfield to win the game. Thus, stopping Clowney from wrecking that game plan will be goal No. 1 for the offensive line.
No. 2: Nebraska Should Be Creative With the Running Game
As mentioned above, South Carolina was stronger against the pass than the run on defense, so this plays well into Nebraska's offensive philosophy. RB Rex Burkhead and QB Taylor Martinez lead the charge in the running game, combining for over 200 yards in many of the Cornhuskers' games this season.
But Nebraska is not limited to these two athletes. Three speedy and powerful freshmen running backs also showed promise in limited play this season: Ameer Abdullah, Aaron Green and Braylon Heard. To set up the offense for next season, expect Nebraska to work each of these backs into the mix more than during the regular season, leaving Burkhead fresh for the entire game.
Eric Francis/Getty Images
To get more of these players on the field, Nebraska should use more option and Diamond formation plays in this game. South Carolina will be challenged to keep up with the ball in these formations, and that could give Nebraska the edge it needs to run away from the Gamecocks.
These are not to be confused with trick plays, as this is Nebraska's version of the spread offense. Go with what works, and watch the freshmen become stars for next season.
No. 3: Taylor Martinez Must Be Protected At All Costs
Coming into this season, Martinez was in serious jeopardy of losing his starting position at quarterback. However, Martinez morphed from a good runner and an inconsistent passer to a good game manager who runs the ball on the option when needed.
With this transformation, Nebraska stopped turning the ball over with interceptions and became much harder to stop offensively. Now that the three freshmen running backs listed above are ready to take even more load from Martinez in the running game, he has been able to focus on making good reads and becoming a better quarterback.
Despite the seemingly deep crop of quarterbacks at the beginning of the season, the nearly full-time play of Martinez leaves the cupboard relatively bare should he get injured in this game. South Carolina would likely be able to completely shut down the Cornhusker passing game if QB Brion Carnes has to come into the game, and that would make it too easy to focus on the running game.
Martinez should continue his movement to a game manager and a better passer, and leave the running to the bruising quartet of backs when possible.
Streeter Lecka/Getty Images
No. 4: Nebraska's Defense Must Generate Turnovers
After the injury to DL Jared Crick, the most dominant player left on the Nebraska defense is probably LB Lavonte David. David has forced a couple of fumbles and grabbed a couple of interceptions, the most notable of these turnovers coming against Ohio State to turn the tide of that game completely towards the Huskers.
This game will provide David with another opportunity to change a game with a forced turnover. South Carolina has struggled with turnovers in their losses, and the opportunities will be there with a young QB Connor Shaw and young running backs handling most of the offense. Although top CB Alfonso Dennard will likely try to lock down the Gamecocks top receiver Alshon Jeffery, look for David to involve himself in stopping Jeffery as well.
If these two talented defenders cannot steal a read from a quarterback like Connor Shaw, then Nebraska should not deserve to win this game. The opportunities will be there to blow out the Gamecocks, but the turnover battle must go Nebraska's way.
No. 5: South Carolina QB Connor Shaw Needs To Be Rattled
There are multiple ways to shatter a quarterback's confidence. A quarterback may fall apart following an interception, or a couple of hits/sacks or a constant barrage of pressure. Connor Shaw has been effective running and passing the ball, and Nebraska should recognize this as another version of Taylor Maritnez.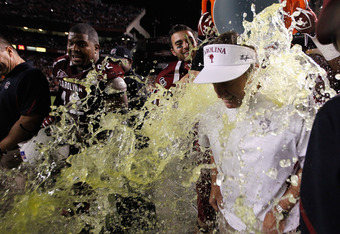 Streeter Lecka/Getty Images
This will give the Blackshirts defense numerous opportunities to shatter the young Shaw's confidence in this game, his first bowl game. Although it seems unlikely that Steve Spurrier would change quarterbacks again, Shaw could be pulled if things go south early. That should be a goal for Nebraska, as South Carolina does not have much in the way of quality quarterback backups.
One could say that Shaw cannot afford an injury in the same way Nebraska cannot afford to lose Martinez, but Nebraska has a better running game and better running backs thanks to the loss of Marcus Lattimore at USC. If Nebraska can avoid the inconsistent play against running quarterbacks that plagued them against Denard Robinson and Braxton Miller, then Nebraska will be in position to win this game.
Game Prediction
Expect both defenses to step up in this one, as Connor Shaw has trouble finding any of his talented receivers and Taylor Martinez leans on his running backs. Nebraska will wear down the South Carolina defense in the second half and will take the lead late in the fourth quarter. However, Steve Spurrier will have some magic left and will lead his young quarterback with a couple of bold plays calls down the field against the Blackshirts.
Nebraska's defense will fail them once again, and the calls will be strong for Bo Pelini to hire a top name for his defensive coordinator position for 2012.
South Carolina 23, Nebraska 21.
David Fitzgerald II is a Big Ten Football Featured Columnist for Bleacher Report.  Follow him on Twitter for new article updates @BuckeyeFitzy.