NASCAR: Will Jeff Gordon and Alan Gustafson Improve After a Great 2011 Season?
January 1, 2012
Jared C. Tilton/Getty Images
Going into the 2011 season, Hendrick Motorsports owner Rick Hendrick made radical changes to three of his teams. He rotated three crew chiefs and teams to different drivers.  One of those drivers who got a new crew chief was Jeff Gordon.
Gordon was paired up with Alan Gustafson.  Gustafson is a young crew chief who had some success with the No. 5 team. 
With Gordon's wealth of experience and Gustafson's technical skills and ability, it proved to be a great pairing that should have a lot of success in the future.
2011 brought Gordon's 66-race losing streak to an end early in the year at Phoenix. Gordon showed fire and aggressiveness, bumping and banging with Kyle Busch 10 laps to go in the race.
That was not all.
Gordon and Gustafson would go on to win two more times in Pocono and Atlanta.
He began to look like the Jeff Gordon of old.  He was contending for a lot of wins. 
But there were moments where Gustafson missed the set-up and left Gordon to struggle for entire races. I'm confident think that will go away with time as the pair work together longer and enhance their communication skills and their cars.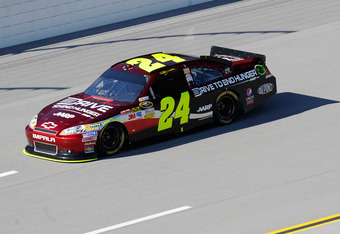 John Harrelson/Getty Images
Gordon finished out the 2011 season with three wins, 13 top-fives and 18 top-10 finishes.
Gordon's momentum going into the Chase was slowed with bad races, and he ended up finishing eighth in points.
What I find exciting for the No. 24 team in 2012 is a new team moving into the shop with them. Kasey Kahne and crew chief Kenny Francis are taking over the No. 5 car, which shares a race shop with the No. 24 team. I believe these two drivers and teams working together will strengthen both cars. 
Watch the drafting combination (depends on how much two-car drafting there is) of Gordon and Kahne at Daytona.  They will be phenomenal. 
Kahne and Francis bring experience and a fresh perspective to the race shop, which Gordon and Gustafson will benefit from.
Look for both teams to make the chase. But look for Jeff Gordon to fight for the title.