Despite Win the Detroit Pistons Have a Long Way to Go
January 2, 2012
Kevin C. Cox/Getty Images
We could talk about how the Detroit Pistons won their first game of the season, but I would much rather take a realistic approach with this team.
Despite their win over a pretty good Pacers team, this is not a good basketball organization right now.
Sure, there are shining rays of light, mainly rookie Brandon Knight, up-and-comer Jonas Jerebko, and big-man Greg Monroe. But all-in-all, this is still a bleak situation.
They still have a log-jam in the back court and a deficiency in the front court.
Be happy with this win Piston fans, but don't get your hopes up.
Welcome To The Motown Breakdown
Last Night: Pacers 88 Pistons 96
Gregory Shamus/Getty Images
The atmosphere inside the Palace of Auburn Hills reflected the Pistons' season thus far. There were entire sections of seating that were occupied by a grand total of five spectators.
Yet, it was still a night to remember because Detroit finally put one in the win column. Jonas Jerebko and Greg Monroe combined to lead the Pistons to a much needed 96-88 victory over the Indiana Pacers.
Both teams showed the effects of playing their fourth game in six days, as neither squad appeared sharp. However, the Pistons were able to knock down shots while the Pacers never really got into an offensive rhythm, save for a few short spurts.
Pistons Player of the Game: Jonas Jerebko 20 PTS, 12 REBS, 1 AST
The night belonged to Jonas Jerebko, who stormed out of the gate with eight points and four rebounds in the first seven minutes. He knocked down three triples due to the inspiration provided by his 2009 Jerebko doppelgänger—Louis Amundson.  
Piston Points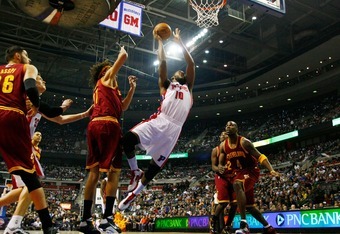 Gregory Shamus/Getty Images
Greg Monroe can play basketball. Monroe didn't start out with the hot hand that Jerebko did, but he put together a solid outing worthy of being mentioned. He racked up a double-double with 19 points, 11 boards and four assists.
Yet, it's getting a little concerning that he hasn't recorded a single block this season. He isn't a protect-the-rim player; however, a power forward should at least get one block every four games.
Again, Brandon Knight must start, which is a point cannot be made often enough. Notwithstanding Rodney Stuckey's 15 points and seven assists, the offense had a better flow with Knight in the lineup. The rookie sets the table well as he had six assists in 16 less minutes than Stuckey.
Has anybody seen Charlie Villanueva or Will Bynum? Villanueava finished serving his suspension when he had sat out Friday's game against the Boston Celtics. He and Will Bynum both went down as "Did Not Play Coach's Decision."
Bynum was a nice change-of-pace guard for the Pistons in seasons past, and Villanueva makes way too much cash to be rotting away on the bench.  
Frank The Tank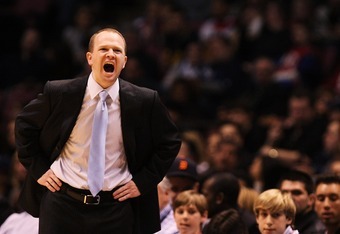 Al Bello/Getty Images
Thoughts from coach Frank via NBA.com:
"You have to give all of our guys a great deal of credit.You need to credit the big guys as well as our smalls because when you're containing penetration, now you only help when help is needed rather than over helping. It's credit to collectively the unit. We had some resolve."
Breakdown 
Good for the Pistons for picking up a win, especially after taking a loss the first time around against these Pacers.
That being said, I'm not sure how much fans can take out of this. It's good to see Jerebko playing like "the guy", and Monroe playing well down-low, and of course it's always encouraging to see Knight out on the court.
When all is said and done though, this is still a bad team. They will lose much more than they will win in this New Year.
Looking Forward: Magic vs. Pistons—Monday, January 2 at 7:30 p.m. ET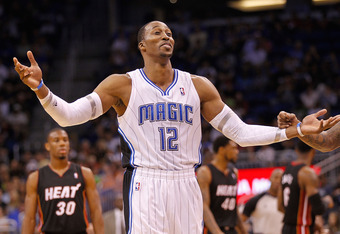 Mike Ehrmann/Getty Images
The Pistons' biggest problem in this game is going to be down low. They are going to have to try to stop Dwight Howard, whose averaging 17 points, 17.5 rebounds and three blocks per game this season.
They're going to have to try to get the ball in the paint none the less, and somehow try to keep Howard off the boards.
Greg Monroe is going to have to have another big game, but in the end this game will come down to guard-play for the Pistons.