2011 Chick-Fil-a Bowl: Don't Overlook Auburn as an SEC Contender Next Year
December 31, 2011
Kevin C. Cox/Getty Images
It would be easy to assume that Alabama and LSU will be the top two programs in the SEC West in 2012.
The top-ranked teams in the nation will slug it out in the BCS national championship, and each one returns enough talent to be considered preseason favorites right now.
But don't forget about Gene Chizik and the Auburn Tigers.
Saturday night's Chick-fil-A Bowl provided a reminder why the Tigers could be a contender next season, and with the way Chizik has been recruiting the past few years the young talent is starting to mature.
With "experts" like ESPN's Mark May and Lou Holtz picking Virginia to knock off the Tigers, Auburn played with passion and intensity in defeating the Cavaliers 43-24. It's not so much that the win is a shock, but rather how they frustrated an improved Virginia team.
Auburn's offensive explosion was probably the biggest surprise of the night.
The Tigers were without star running back Michael Dyer and starting quarterback Clint Moseley, who got hurt in the first quarter and didn't return.
No problem.
Onterio McCalebb and Barrett Trotter stepped up and showed off the depth Auburn has at the skill positions. When you can fill the voids left by players like Dyer and Moseley, then you know you have a team that can compete with the likes of Alabama and LSU.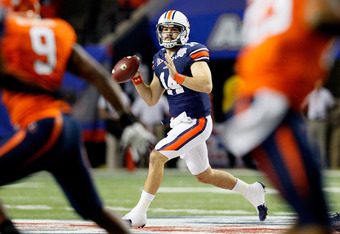 Kevin C. Cox/Getty Images
McCalebb rushed for 109 yards and caught two passes for 53 yards, and he scored a touchdown both rushing and receiving. Trotter was almost as impressive as he completed 11-of-18 passes for 175 yards and a TD.
While the defense was still suspect at times, the unit made some key plays that stalled Virginia's offense.
As fun as it was to watch Auburn on both sides of the ball, it doesn't even come close to how well the Tigers played on special teams.
Two blocked punts led to eight points, while Cody Parker added another 11 points on two field goals and five extra points.
Now, let's remember this was Virginia and not a top-tier SEC team. The Cavaliers improved to 8-4 this season, but they still closed the regular season with a 38-0 loss to rival Virginia Tech.
The Hoos defense wasn't very impressive. The unit allowed Auburn, which was averaging 24.3 points a game, to eclipse 40 points.
That's how Auburn reached the eight-win plateau and head into the offseason on a positive note—no matter what happens with Dyer.