Washington Redskins vs. Philadelphia Eagles: Live Score, Video and Analysis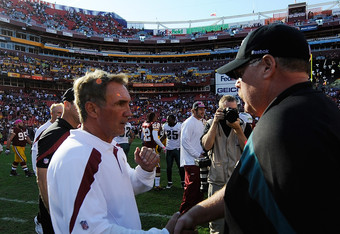 The Eagles and Redskins meet in a Week 17 game with no postseason implication but the fate of two coaches hangs in the balance
Patrick McDermott/Getty Images
34-10 Eagles FINAL
Michael Vick threw three touchdown passes and had over 300 yards as the Eagles romped the Redskins 34-10 for their fourth straight win. The Eagles finish the season 8-8.
It was a strong day for Vick and the Eagles offense. The Redskins highlight was Evan Royster who had a nice day running the ball, getting over 100 yards.
Desean Jackson, Brent Celek, and Chad Hall had TD catches for the Eagles.
The offseason starts now and the Eagles will have to decide the future of D-Jax and others.
The Redskins badly need a QB so I expect that to happen in the offseason. whether it is through free agency or the draft.
TOUCHDOWN EAGLES 34-10 looks like it will be the final
Michael VIck's day is done as Mike Kafka is in, but he is just handing off to Dion Lewis, who has gotten a couple nice runs on this drive. Eagles are about to go in again as they move inside the 10.
TOUCHDOWN EAGLES!
Brent Celek's fifth TD of the year and first today as he goes in on the tight end screen. The Eagles have used that play successfully a ton this season.
Jackson makes his fourth catch of the day and he temporarily passed Celek for the game leader.
Wow, Dion Lewis runs for 20 yards, the Eagles best run of the day and they are inside the 10.
Other scores:
Jags have beaten Indy, so the Colts get the top pick, so congrats to them I guess.
Jets just scored, 19-17 Miami with 1:15 left
The catch, as predicted, stands and hey, I'm 2 for 2 on picking these as well, haha.
The catch gives the Eagles three receivers today who have more than 75 yards receiving, Maclin, Jackson, and Celek.
Vick is over 300 yards today as he hits Maclin for 29 yards. Maclin actually initially dropped the pass, but then he caught it on the ricochet. Looks like we have another challenge coming on the part of the Redskins.
This is a terrible challenge as Maclin clearly caught it on the second effort and it did not hit the ground. This is going to stand as a catch.
I have no idea what Shanahan or the Redskins coach in the booth was looking at to tell Shanny to challenge that catch because that is an absolutely horrible challenge.
What a waste of a challenge and timeout.
While we wait for the challenge ruling, it is interesting to point out the Eagles have had over 6280 yards of offense this season, which is a franchise record. Despite a poor season, the Eagles offense, Reid's primary responsibility has clearly done the job this year. Turnovers, poor red zone offense, and defensive struggles have been the problem.
The Eagles win the challenge....Andy Reid has been phenomenal on challenges this year. I believe he has hit almost every one of them this season, I know for a fact he has hit about 5 or 6 in a row.
Evan Royster still is not over 100 yards but he is getting close 97 yards on 18 carries. Santana Moss makes a nice catch on 3rd down and the Redskins are in business near midfield. Royster might get over 100 here.
Wait, it looks like Andy Reid has challenged the catch on Moss. So it could be 4th down, lets see what the catch looks like.
Wow, that is pretty close, it looks like the ground helped him control the ball and the Eagles might get this one reversed and if they do, it will be 4th down.
Michael Vick's first pass is INTERCEPTED and the Redskins get it back at the Eagles 30.
An interesting note: Mark Sanchez had yet another horrible game and the Dolphins are going to beat the Jets. Sanchez threw three INTs and only 125 yards. If the Jets bring him back next year as their starting QB, they are crazy.
Trent Cole just got the first Eagles sack of the day and his 11th sack of the season. Cole has three straight years with more than 10 sacks. Cole also mised time due to injuries, so he really has had a solid year. Even though Babin has more sacks, it might be correct to say Cole is the better overall end, as he is better against the run and gets double teamed a lot, which opens up Babin.
Chad Hall just had a nice 28 yard punt return into Redskins territory as the Eagles will get it back and look to put the game away with one more score.
Evan Royster is running great, with 95 yards on 17 carries. He had another big run called back for holding. He looks like he will get over 100 yards today.
The TD pass from Vick to Jackson gives Vick 289 yards passing today and 2 touchdowns. It also gives Jackson three catches for 79 yards and a score.
TOUCHDOWN EAGLES!
Michael Vick throws a long one to Desean Jackson who catches it and outruns everyone to the end zone and it's 20-10. A 62 yard strike.
Some numbers for the game
M. Vick 19/33 for 227 yards, 1 TD, 0 INT
B. Celek 5 receptions, 82 yards
Michael Vick has 32 passes attempted after his first down pass goes incomplete. There is no balance for the Eagles today, but it is not the fault of Reid or playcalling. The Eagles running game without Lesean McCoy has done nothing.
Ronnie Brown has 6 carries for 14 yards and Dion Lewis has 4 carries for negative one yard.
Vick finds Celek again on 2nd down for a big play. Celek, the team leader in catches, has five catches for 82 yards today, leading all receivers.
Evan Royster has been in and out due to injuries today but he still has managed 80 yards rushing on 16 carries to go along with three catches for 37 yards.
Graham Gano drills a 37 yard field goal and it's 13-10 early in the 4th quarter.
1st and 10 at the Eagles 13 for the Skins.
An interesting stat, Jared Allen has three sacks today, giving him 22 for the season, 1/2 a sack away from tying Strahan for the all-time record.
Babin is 2nd with 18 sacks, but has done nothing today.
The 4th quarter is underway with the Skins threatening to score.
Royster is back in for Washington, and the Eagles had a near interception from Jarrett, but the officials ruled it incomplete. It looked like Jarrett had it but it doesn't matter as Trevor Laws is flagged for roughing the passer, as he hits Grossman below the knee, which is a flag. It is one of the worst rules in the NFL, but the Tom Brady rule gives the Skins 15 yards and Washington is in scoring range now at the Eagles 23.
Although most of Henery's 40-49 yard kicks were inside 45 yards, he has only one kick outside of 45 yards all season. Since he does not have as big a leg as Akers, the team often does not try longer field goals, which helps his percentage.
To correct an earlier comment, Henery is 4 for 4 from 40-49 yards this year and 1-2 from 50+. However, most of his kicks have been shorter than 40 yards.
In the year Akers set the record, he had 9 kicks from 40+ yards. So it isn't exactly comparing apples to apples.
On third and goal, Vick rolls out and throws incomplete, and Alex Henery will try another chip shot field goal. If Henery makes this kick and does not miss another one, he will set the Eagles all-time record in field goal percentage for a single season. That's an impressive record for the Eagles rookie, although most of his kicks this season have been very short. He only has one successful kick over 45 yards all year.
Henery's kick is good and it's 13-7 Eagles midway through the 3rd.
The Eagles are down inside the Redskins 5. You would think they would run it here, but Ronnie Brown has been completely useless, much like most of his season, so the Eagles might not.
The answer is they run with Dion Lewis, who gets 1 yard to the 2 yard line. 3rd and goal, and I would think this is a pass coming.
Hitting a defenseless receiver helps the Eagles keep their drive alive, so the Eagles are in business in Redskin territory, a score here to answer the Skins would be huge.
The Eagles start at their own 26 yard line and it's quickly 3rd and long.
Both Royster and Helu appear to have some minor injuries. I am not sure who their third back is if neither can return, although I do think both of them will be able to come back in. Great play by the Skins on the scoring play, as Helu got some great block. The Eagles got caught overpursuing on a blitz. It seemed like Nnamdi Asomugha did not try very hard to shet a blocker and get to Helu. He just seemed to kind of lacklusterly jog down the field as he was getting blocked. I did not see much of an effort to fight through the blocks by him, or anyone else for that matter.
For the money they are paying Asomugha, you definitely want to see a better effort.
TOUCHDOWN REDSKINS!
Roy Helu 47 yard TD reception from Rex Grossman. A screen pass that is broken big, some missed tackles by the Eagles led to Helu breaking it big.
This article is
What is the duplicate article?
Why is this article offensive?
Where is this article plagiarized from?
Why is this article poorly edited?

Philadelphia Eagles: Like this team?