Bowl Games 2011: 5 Most Exciting Bowl Games Played so Far
January 1, 2012
Chris Graythen/Getty Images
This being the last day of the year, it seems as good a time as any to make a list of memorable bowl games this season.
Lots of games have been interesting, but here are five of the most exciting that have been played thus far.
5. Famous Idaho Potato Bowl
Ohio defeated Utah State 24-23
The Bobcats were down six for almost the entire fourth quarter, and it looked as if Ohio would again be denied their first ever bowl game victory. Then sophomore quarterback Tyler Tettleton took over the game as he had done so many times earlier in the season.
With 2:40 left on the clock, Tettleton smartly and quickly led his team down the field, and got them into Utah State territory with less than a minute left. It came down to a fourth-and-six play where Tettleton found receiver LaVon Brazill down the middle to the one yard line.
With eleven seconds remaining, Tettleton dove into the end zone for the score and helped the Bobcats get the bowl win that had eluded them in their previous five attempts.
4. Hyundai Sun Bowl
Utah defeated Georgia Tech 30-27 in OT
Thanks to an untimely interception with a little over four minutes left in the fourth quarter, Utah found themselves down two scores to a Georgia Tech team that can eat up the clock with their its triple option attack. That clearly wasn't good enough for Utes quarterback Jon Hays, however.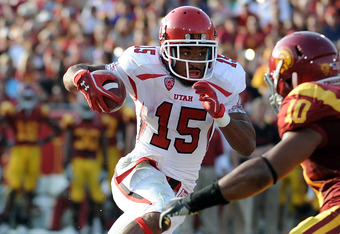 Harry How/Getty Images
With 7:33 left Hays found Kendrick Moeai in the end zone to cut the deficit to seven points. Then, thanks to two defensive stands by Utah, Hays got one final shot to tie the score. On fourth-and-fourteen with 1:39 left on the clock, Hays threw it into the end zone and DeVonte Christopher somehow came down with the ball.
After holding Georgia Tech in regulation, Utah took advantage of playing defense first in overtime. Georgia Tech only managed to get a field goal, so Utah used running back John White to pound it into the end zone on third-and-goal for the win.
3. Military Bowl Presented by Northrop Grumman
Toledo defeated Air Force 42-41
People who thought this game might produce a lot of points were not disappointed.
It was a back-and-forth game all evening long, and Toledo star receiver Eric Page did not disappoint either, taking a kickoff back for a touchdown. However, even with all the excitement and scoring in the first 58 minutes of the contest, it was the last minute and a half that was most interesting.
With 1:32 left in the game, Air Force quarterback Tim Jefferson found Zack Kauth with a 33-yard touchdown pass that brought the game to within one. Then, Falcons head coach Troy Calhoun had his team attempt a fake field goal to try to take the lead.
The pitch was bobbled, and the Falcons were stopped well short of the goal line. However, Calhoun's gutsiness is rewarded with the number three spot on this list.
2. Valero Alamo Bowl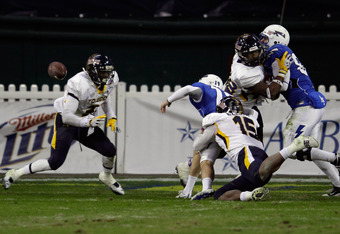 Rob Carr/Getty Images
Baylor defeated Washington 67-56
When all was said and done, the bowl game records for total yards in a game, total touchdowns, and touchdowns by a single player were shattered. The record for total points in a game was just three points from being broken.
Possibly more crazy than the fact that Baylor outscored their basketball team from the night before was that Robert Griffin III was not the star of the game. Baylor's Terrance Ganaway had over 200 yards rushing and five total touchdowns on the night, though it looked as if a small truck could've made it through some of the holes in the defense untouched.
While ESPN commentator Chris Spielman was probably appalled at the "defense" being played in this game, it is hard to argue that it wasn't one of the most entertaining football games played this entire year.
1. R+L Carriers New Orleans Bowl
UL-Lafayette defeated San Diego State 32-30
It had been 41 years since the Ragin' Cajuns had been to a bowl game before this year. They weren't going to let the opportunity to create a classic pass them up.
The Cajuns were definitely ready to play, surprising San Diego State's secondary with a potent passing attack and jumping on the Aztecs 19-3 early in the third quarter.
The Aztecs made it interesting, even scoring the go ahead touchdown with 53 seconds left in the game. However, they couldn't convert the 2-point attempt, which would come back to haunt them just a few minutes later.
Expertly driving his team down the field was UL-Lafayette quarterback Blaine Gautier, who had over 400 yards passing in the game. Gautier set up his kicker Brett Baer with a difficult but not impossible 55-yard field goal. A penalty by San Diego State moved the kick up five yards, and Baer capitalized on the mistake.
The first night of bowl games ended with a last-second game-winning field goal, which is about as exciting as you can ask for.