The 20 Sickest UFC Knockouts of 2011
The sport of mixed martial arts brings together some of the most talented fighters in the world.
Regardless of what discipline these fighters specialize in, there is nothing more mesmerizing in the sport than the knockout. Whether it is a punch or a kick, we are always captivated by the striker that can stop a fight with a single strike.
2011 was one of the best years for the knockout in the history of the sport. The UFC, being home to the premier fighters in the world, was obviously home to the vast majority of these knockouts. With so many to choose from, it was hard to narrow a list down to just 20.
However, there were certainly some that stood clearly above the rest.
Without further ado, here is the list of the 20 sickest UFC knockouts of 2011.
Begin Slideshow

»
Mark Hunt came to the UFC on a five-fight losing streak against huge names like Fedor Emelianenko and Alistair Overeem.
His first fight in the UFC didn't go any smoother, as he was submitted by armbar against Sean McCorkle. Hunt got another shot against Chris Tuchscherer.
The two lumbering heavyweights were slugging it out in to the second round. Hunt was landing his fair share of shots and Tuchscherer even taunted him by sticking his tongue out at one point.
Hunt continued to pepper Tuchscherer with shots before sending him limp to the mat with an uppercut after a failed takedown.
It wasn't the most stylish knockout of the year, but you could see the power behind it.
Charlie Valencia and Ivan Menjivar met at UFC 129 in a bantamweight battle.
This was both fighters' debut in the UFC after the UFC-WEC merger that took place in 2010. Valencia had faced some top-level competition in the WEC including Dominick Cruz and Urijah Faber.
Menjivar had bounced from weight class to weight class most of his career and only had one bantamweight fight in the WEC before facing Valencia.
Both fighters came out with some high-energy striking, but Menjivar had the upper hand.
He closed the gap on Valencia and shattered his nose with a vicious left elbow. The official ruling on the fight was a TKO, but the elbow that Menjivar landed started it all and was deadly enough to make this list.
Two of the hottest up-and-coming lightweights at the time faced off at UFC Fight for the Troops 2.
Melvin "The Young Assassin" Guillard is one of the most deadly strikers in the lightweight division. He has freakish athleticism matched with great power for a lightweight in all of his limbs.
He faced off against Evan Dunham, who was coming off of a close split-decision loss against Sean Sherk. The loss against Sherk was the first of his career and because it was so close, he was still considered in the mix for a potential title shot.
Those hopes for Dunham were ended when he faced off against Guillard.
Guillard just seemed to overwhelm Dunham right from the start with his nonstop motor.
Guillard was finally able to corner him against the cage before ripping off three vicious knees from the clinch that turned the lights out on Dunham and his hopes at making a run at the lightweight title.
Again, this one was officially ruled a TKO, but Dunham was out.
Tony Ferguson and Ramsey Nijem were facing off to determine the winner of the 13th season of The Ultimate Fighter.
The fight started quickly with Nijem throwing a flurry of strikes before getting taken down by Ferguson. The two were stalemated on the ground until Nijem was able to scramble back to his feet.
From this point, Ferguson appeared to have the advantage in the stand-up. He kept coming forward, putting the pressure on Nijem, who didn't seem to have an answer.
He backed Nijem closer to the cage and clipped him with a left hook that dropped him.
Ferguson earned Knockout of the Night honors and became the lightweight champion of The Ultimate Fighter 13.
Melvin Guillard makes his second appearance on this list with his knockout against Shane Roller at UFC 132.
Guillard came out in typical fashion, throwing flying kicks and knees which continued to back Roller against the cage. It was clear that Roller was simply overmatched on the feet.
Guillard kept the pressure up and dodged a few of Roller's attempts at mounting some kind of offense. The end began when Roller was clipped with a quick one-two combo.
Roller was dropped, but managed to get back up. That recovery didn't last long as Guillard connected with a knee and another straight left that sent Roller to his back.
The knockout punch didn't come until Guillard followed Roller to the ground with a hard right that made him go limp.
UFC on Versus 4 gave us two of the best knockouts all year.
The first was Matt Mitrione's against Christian Morecraft. There had been some trash talk between the two building up to this fight. Mitrione seemed to take exception to Morecraft believing that he could stand with him.
"Meathead" backed up his talk by dominating the stand up for the majority of the fight.
Morecraft attempted to take the fight to ground, but couldn't keep Mitrione on the ground. Mitrione dropped Morecraft several times before providing the final shot that ended the fight in the second round.
It is hard enough to deal with getting knocked out, but it is even tougher when you get knocked out by someone who is smiling as they do it.
In the 54th fight of his fantastic career, Matt Hughes was looking to hand Josh Koscheck his second straight loss.
Hughes looked sharp to start the fight as his stand-up looked excellent. He had the support of the crowd behind him and it appeared as if he may just pull it off.
That was until Koscheck was able to dish out some uppercuts from the clinch followed by an overhand right that dropped Hughes. Hughes bobbed and weaved on the ground trying to avoid the bombs that Koscheck was raining down from above.
Hughes was only able to last for so long as one of the big right hands caught him and turned the lights out.
An unfitting way for a great like Matt Hughes to potentially end his career.
UFC 132 was the biggest event for knockouts this year.
George Sotiropoulos was on the rise in the lightweight division and talks were heating up that he was getting very close to earning a shot at the championship. He was looking to bounce back from a decision loss to fellow lightweight contender Dennis Siver.
He faced off against Rafael dos Anjos, who was the big underdog heading in to this fight.
Sotiropoulos didn't get much of a chance to bounce back, as dos Anjos knocked him cold with a clean right hand just 59 seconds in to the fight.
This was easily the most brutal loss of Sotiropoulos' career and we haven't seen him return to the Octagon since.
"The Irish Hand Grenade" Marcus Davis was once one of the top fighters in the welterweight division, but his run ended just as fast as it began.
He made the move to lightweight in hopes of reviving his career and got his chance to make his debut at UFC 125 on New Year's Day of 2011.
Davis took on Jeremy Stephens and looked fantastic early. Davis was working Stephens over in the first two rounds of the fight, which was confirmed by the judges scorecards after the fight.
However, as we know, things can change so quickly in MMA. Stephens was able to land a devastating right in the third round that sent Davis falling to the ground like a tree that had been chopped down in a forest. He followed it up with a diving punch for good measure.
Davis' move to lightweight may have been the right one, but this loss got him cut from the UFC roster.
One of the most highly anticipated striking matches of 2011 took place at UFC 132.
Chris "The Crippler" Leben took on Wanderlei "The Axe Murderer" Silva in what everyone knew would end in someone unconscious. Both men are known for their aggressive brawling style and it didn't take long for them to live up to expectations.
Silva came out guns blazing, landing four hooks to the chin of Leben. Unfazed, Leben landed his own hook that wobbled Silva. Silva tried to clinch while still coming forward, but ate four uppercuts before collapsing to the mat just 27 seconds in to the fight.
After all the build-up and hype to this epic striking match, the last image is Wanderlei Silva still trying to grapple with the referee as Leben celebrates on the other side of the cage.
It is always hard to see legends fall, but few have fallen as had as Wanderlei Silva.
UFC 134: Rio was hyped to be one of the biggest events of the year.
The UFC headed to Brazil and brought some of their most elite Brazilian talent to highlight the event. Minotauro Nogueira is one of the most legendary fighters of all time and earned his spot on the card against promising contender Brendan Schaub.
Schaub was coming off a powerful knockout of another heavyweight legend, Mirko Cro Cop. Many believed that he was going to do the same to Nogueira after "Big Nog" was coming off a long layoff.
Nogueira came right after Schaub with the massive crowd behind him.
The two exchanged blows as Schaub backed up against the cage. "Big Nog" unleashed a flurry of shots on to Schaub's chin before a final right sent him face first to the mat.
A huge knockout in a historic event for one of MMA's true legends.
Brendan Schaub makes his second appearance on this list, only this time on the other end of the knockout.
Schaub at the time had only been handed one defeat in his entire career. He was on a three-fight win streak and taking a step up in competition with the legendary Mirko Cro Cop.
Cro Cop really had never lived up to expectations since joining the UFC. He was once the deadliest striker in the heavyweight division, but now just appeared to be a shell of his former self.
Cro Cop was putting on a solid showing against Schaub early, working him in the striking department.
The fight was back and forth right through to the middle of the third round, until Schaub connected with a powerful overhand right that dropped Cro Cop like a sack of potatoes. Cro Cop hit the ground with a sickening thud before eating another shot from Schaub while unconscious.
As beautiful of a knockout as it was, it is hard watching a legend like Cro Cop go down so brutally.
Jon Fitch has been the number two welterweight in the world for what seems like an eternity.
Fitch is one of the best wrestlers in MMA, but the lack of finishes on his resume has kept him from earning a second shot against Georges St. Pierre. Fitch has done his fair share of lobbying for a title shot, but there have just been more exciting contenders in the division.
Fitch had a chance to make another pitch for a shot at the belt against Johny Hendricks this past Friday at UFC 141.
That pitch failed hard as Fitch was silenced by a Johny Hendricks' left hook 12 seconds in to the first round.
Hendricks put himself right in to the mix of contenders in the welterweight division and saved Dana White from having to give Fitch another shot at GSP.
Carlos Condit has catapulted himself to top contention in the welterweight division.
He is one of the most exciting fighters in the weight class and his knockout on this list is a perfect example. Condit's last fight was against Dong Hyun Kim, who was undefeated heading in to their fight.
Condit highlighted the entire fight with a flying knee that connected flush on Kim's chin.
Kim collapsed against the Octagon wall before eating a few more strikes from Condit.
This knockout earned Condit his second straight Knockout of the Night award. Condit will be facing off against Nick Diaz at UFC 143 for the right to face Georges St. Pierre for the welterweight gold.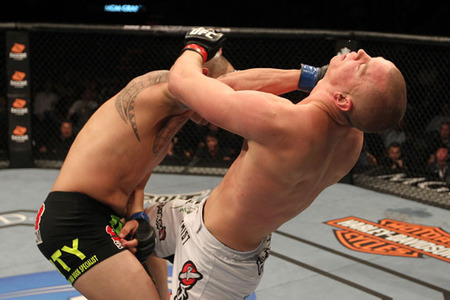 Who would have thought that two mid-card heavyweights could provide for one of the most stylish knockouts of 2011?
Travis Browne and Stefan Struve met at UFC 130. Both men were looking to climb up the heavyweight rankings, especially Browne, who has yet to lose in his MMA career.
The fight was pretty back and forth in the first round, including a couple close submission attempts by Struve. When Browne escaped, he laid a solid combination on Struve that had him backpedaling.
Struve attempted to surprise Browne by launching a flying knee, but it was countered perfectly with one of the best superman punches I've ever seen.
Struve's entire body went limp as "The Skyscraper" crumbled to the floor.
Browne may be a ways away from a title shot at this point, but this is a highlight he'll have on his resume forever.
Yves Edwards went in to his UFC 131 fight against Sam Stout looking to keep his winning ways going in the latter half of his career.
Edwards is well past his prime, but was once one of the top lightweights in the world.
Sam Stout has had an up-and-down career in the UFC, but his fight against Edwards will forever be remembered. The two lightweights went in to exchange blows, but Sam "Hands of Stone" Stout lived up to his nickname when he connected.
He landed a vicious left hand that sent Edwards down to the mat in a hurry. Edwards was on the mat for some time after such an earth-shattering shot.
Stout isn't going to be competing for the lightweight belt any time soon, but he has earned his way into the UFC highlight reel.
This knockout just goes to prove that highlight reel shots can come from anywhere, not just the main event.
This UFC 129 matchup between John Makdessi and Kyle Watson was just a preliminary fight that wasn't necessarily exciting until the finish. Both men spent most of the first round finding their range. The second round wasn't highlighted by much beyond some back and forth striking.
Then in the third round, it finally happened.
Makdessi was able to escape Watson's clinch, faked a kick and performed a perfect spinning back fist that knocked Watson cold.
It was a beautiful knockout that would have taken home Knockout of the Night honors had it not been for another fantastic knockout later in the night.
This has to be one of the craziest finishes in the history of MMA.
Pat Barry and Cheick Kongo met at UFC on Versus 4 as the main event. Both men brought some serious striking ability to this fight and many fans were expecting one of these fighters to get dropped.
It turns out that both of them got dropped.
It started about midway through the first round when Barry connected with a short right hook that sent Kongo crashing to the ground. Barry then went full throttle, attempting to finish Kongo as he wobbled all over the Octagon trying to stand or take Barry down.
Kongo finally managed to get to his feet and stumbled back towards the cage before throwing an uppercut from nowhere that sent Barry unconscious to the mat.
It will go down as maybe the greatest comeback in UFC history and is certainly one of the best knockouts of the year.
No great knockout list will ever be complete without Anderson Silva's front kick to the face of Vitor Belfort.
This fight was hyped up to be the first time that Anderson Silva would be challenged by a striker of equal caliber. Many believed that "The Phenom" Vitor Belfort could go toe to toe with Silva.
The fight started in typical Silva fashion as he danced around finding his range against Belfort. It was clear right off the bat that Vitor respected Silva's striking as he had no intentions of just rushing in.
Then out of nowhere Silva flicks his foot up with ease planting it directly on the chin of Belfort. Belfort collapses to the mat before eating a few more strikes and the fight is stopped.
Anderson Silva currently sits atop the throne reserved for the pound-for-pound best fighter in the world. As long as he continues to deliver finishes like this, that throne will belong to no one else.
The number one knockout of 2011 belongs to Lyoto "The Dragon" Machida.
Machida has been one of the few fighters that has turned Karate in to a successful MMA style. Machida's brilliant counter-striking and tremendous speed have made him one of the most dangerous fighters in the light heavyweight division.
When he took on Randy Couture at UFC 129, many expected him to be tested in a way he hadn't before.
Machida answered those challenges by pulling a flying front kick straight out of the "Karate Kid" and knocked out Randy Couture.
The kick got the entire crowd on their feet and earned Machida another shot at the light heavyweight gold. It also sent Randy Couture into retirement for the last time.
Machida's brilliant kick was supposedly taught to him by movie star Steven Seagal, but this top knockout belongs solely to "The Dragon" in my book.