San Diego Chargers vs. Oakland Raiders: Live Score, Video and Analysis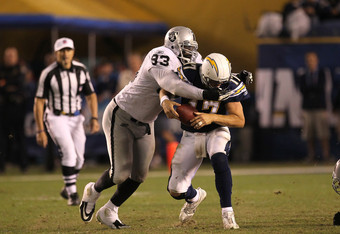 Stephen Dunn/Getty Images
The San Diego Chargers come to Oakland to meet the Raiders today, in a game the Raiders must win to have a chance at post-season glory. The Chargers at 7-8, have already been eliminated from playoff contention but would love to play spoiler against a long-time rival.
Win or lose this will most certainly be the last time Norv Turner leads the Chargers into battle as he is expected to be fired as soon as Monday morning. The season has been a total disappointment for a team expected by many to be Super Bowl contenders.
The Raiders will look to bully the Chargers into just calling it a season. Just as when the Raiders went down the coast on November 10th, expect a heavy dose of Michael Bush. In that game Bush lugged the rock 30 times for 157 yards in a 24-17 Raiders victory.
That earlier game was vintage Raider football that Al Davis would have been proud to see. As the defense tried to cheat up to stop Bush, Carson Palmer burned them deep in throwing for 299 yards on only 14 completions. Look for the Raiders to take their shots against a Chargers secondary that looked awful last week against the Lions.
Injuries are definitely a factor here as the Raiders will be missing Darren McFadden for the ninth straight game and have several other players who are questionable at best. Meanwhile, the Chargers have some guys in Mike Tolbert, Ryan Matthews and Vincent Jackson who may not take a chance with minor injuries due to the game having no real meaning for the Chargers. I'll give injury updates closer to game time.
Raiders WR Denarius Moore had a huge 78-yard reception in today's game. Watch it here!
Raiders are going to lose. On a positive note, though, I'll be cashing the biggest bet I've ever made in my life next week when the Steelers absolutely destroy the Broncos. Maybe there's a positive there after all. It's been a fun season, can't help but wonder how it would have turned out if the Raiders hadn't lost DMC and JC. Think it might have turned out differently. Guess I'll be starting draft preparation and projections tomorrow. Good night Raider Nation. Tip your waitresses and bartenders and drive home safely! A QB who just went 6-22 is representing our division! As Sinatra said, "That's Life"!!
I love people who show up with 4 minutes left in the game and the outcome obvious that cheer against my team. Really don't want to go to jail, but it just might be inevitable ;-)
Palmer throws an INT and barring a miracle the season is over.
Palmer to DHB and the Raiders are on the move.
Raiders defense gets torched again. 38-26 Chargers. This sucks!
Chargers get it out of trouble and are on the move! STEP UP DEFENSE!!!!!
Raiders kick off from the 50 because of a personal foul and Sea-bass pops one up to the goal line and the Chargers have the ball at their own 6 inch line!!
Once again, it all comes down to the defense! I truly believe if given a chance the Raider offense will win this game. KC is still up 7-3, late on the Broncos. The playoffs are so close I can taste it. Come on RAYDAZ!!!!!!!
Raiders with a 1st and 10 at the SD 23 yd line and Palmer hits Boss for a touchdown!! Boss hurt on the play, but what a catch!!
Palmer to DHB for 30 plus and here come the Raiders!!
OMG the Raiders make a stop on 3rd down. Novak on for a FG and it's NO GOOD!!! We're alive!!!!!
Defense being abused again as the Chargers march down the field. Alittle pride guys, please!!!
End of the 3rd quarter. Raiders defense will be the key to any potential comeback. They need to step up badly!
Can the Raiders' defense do something today?
Sea-bass on from 32 and it's 31-19 Chargers. Four FG's from Sea-bass today.
Palmer then hits Murphy down the middle for 25 and a Raider first down, then hits Ford for another and the Raiders are in the red zone.
Meanwhile, back at the ranch, the Raiders face 3rd and 3 and pick it up with a completion to DHB.
Watching this Denver-KC game really pains me. Denver is absolutely horrible! If the Raiders don't come back they get to be in the playoffs and that is an absolute travesty!
Rivers down the middle for a touchdown to Jackson. Chargers go up 31-16.
If the Raiders don't find a way to start getting to Rivers they will be done for the season. SD on the move.
Raiders defense can't get off the field on third down. First down Chargers.
Meanwhile in Denver the Chiefs lead 7-3.
Raiders can't do anything from there though and Sea-bass knocks in a chip shot and it's 24-16 Chargers.
Palmer goes deep to Moore and it's complete for 60 plus! Raiders in the red zone!
This article is
What is the duplicate article?
Why is this article offensive?
Where is this article plagiarized from?
Why is this article poorly edited?

Oakland Raiders: Like this team?