Vancouver Canucks: January 2012 Predictions and Preview
October 8, 2016
Jim Rogash/Getty Images
Vancouver Canucks January 2012 Schedule:
Monday, Jan. 2nd vs. San Jose Sharks
Wednesday, Jan. 4th vs. Minnesota Wild
Saturday, Jan. 7th @ Boston Bruins
Monday, Jan. 9th @ Florida Panthers
Tuesday, Jan. 10th @ Tampa Bay Lightning
Thursday, Jan. 12th @ St. Louis Blues
Sunday, Jan. 15th vs. Anaheim Ducks
Tuesday, Jan. 17th vs. L.A. Kings
Saturday, Jan. 21st vs. San Jose Sharks
Tuesday, Jan. 24th vs. Edmonton Oilers
Tuesday, Jan. 31st vs. Chicago Blackhawks
The Canucks play only 11 games in January, a light schedule due to the All-Star Game. Seven games are at home, and there is single four-game roadtrip.
The Canucks start off on a short two game home stand with a pair of important games against the Sharks and Wild. They then depart on a roadtrip which kicks off against the Boston Bruins in a rematch of the Stanley Cup Finals.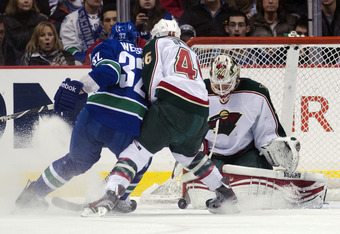 Rich Lam/Getty Images
The Canucks then return to Vancouver for a leisurely five game homestand that stretches over 17 days.
Notable Games
Wednesday, Jan. 4th vs. Minnesota Wild
This battle could decide who wins the Northwest Division. The Canucks currently lead the Wild and have a game in hand, plus they hold all the tiebreakers. A Minnesota loss could be the final straw that breaks their hopes of a divisional title.
Still, Wild fans should be happy that their team is going to make the playoff despite all expectations.
Saturday, Jan. 7th @ Boston Bruins
A rematch of the Stanley Cup Finals, there are many storylines to talk about, but the focus will ultimately be on Roberto Luongo.
Both teams should be pumped for this game, and fans should consider themselves lucky that the game is happening later in the season, as both the Canucks and Bruins were in major slumps to start the season due to the infamous Stanley Cup hangover.
But as January starts, both teams are right at the top of the NHL standings. Depending on how the first week of January plays out, this could be a battle for first overall in the NHL.
Despite being a marquee Saturday game, Hockey Night in Canada is choosing to run the Red Wings and Maple Leafs game instead, but luckily Sportsnet picked up the game so it is still televised.
Tuesday, Jan. 31st vs. Chicago Blackhawks
I'm going to miss this rivalry when the NHL goes through realignment. But until then, Canucks/Blackhawks is the best rivalry in the Western conference.
To add fuel to the fire, this could also be a battle for first place in the Western Conference, if not first in the NHL overall. 
Canucks to Watch
Roberto Luongo
Luongo found his game after his usual early season struggles and a challenge from backup Cory Schneider. All eyes will be on him going into Boston on January 9th, a city that wasn't very kind to him in the Stanley Cup Finals.
Still, Luongo did post a pair of shutouts in the finals amongst the blowouts, so fans will be watching to see what happens in the rematch.
Jannik Hansen
Hansen is on fire. After signing a 3-year contract with a mere $1,350,000 cap hit, the speedy Hansen has already exceeded his career high of nine goals in 82 games with 11 goals in only 38 games so far.
He is also on pace to record 56 points this year, which would shatter his previous high of 32. Can the great Dane keep chipping in goals?
Daniel and Henrik Sedin
Lost amongst the general media consensus that the Canucks are a soft team of whiners and divers is that the two Sedin twins are once again racking up the points. 
Henrik currently is tied for first overall in the scoring race with Claude Giroux, both with 45 points.
Daniel is right behind with 43 points, good enough to tie for third overall with Evgeni Malkin and Phil Kessel.
With a relatively easy schedule this month, expect the Sedins to continue picking up multiple point games to stay in the hunt for the Art Ross Trophy.
Also expect them to continue to get zero respect from the national media due to playing in Vancouver after most Eastern fans have gone to bed.
Seriously, if Brian Burke had succeeded in luring them to Toronto as free agents a few years ago, they'd be building statues of the twins outside the Air Canada Center and naming streets after them already. 
January Predictions:
Last month, I predicted the Canucks would go 9-4-2 in December.
The Canucks have already exceeded my prediction, going 11-2-1 so far, with the final game of 2011 to be played tonight on New Year's Eve.
I also predicted that at the end of 2011 they would have overtaken Minnesota for the division lead. The Wild were far hotter than anyone expected (at least before their recent nosedive), but the Canucks still chased them down to reclaim the division lead. 
The question in January is if the Canucks stay focused with a lengthy homestand, and keep on winning.
If this was October or November I'd be worried, but in January teams are already looking ahead to playoff positioning and stretch drives. I don't think there will be a problem with motivation or discipline. 
I predict the Canucks will go 8-3 in January, slightly off their torrid pace in December, but still good enough to stay at the top of the standings.