NBA Better Take Notice: LeBron James Is Back, Better Than Ever
December 31, 2011
Ronald Martinez/Getty Images
Last year ended with a very disappointing NBA Finals defeat for LeBron James, who was so close to his first ring he could taste it. However, instead he left with a bitter taste of defeat in his mouth yet again, this time at the hands of the Dallas Mavericks.
LeBron, who had been excellent in last year's playoffs leading up to the finals, really didn't seem like himself playing the Mavericks. Some say it was the way Dallas played him; others will just say he choked. No matter what label you put on it, LeBron did not play like he should have. He will be the first to tell you that. 
At that moment, I believe something in LeBron snapped. After losing in his second NBA Finals appearance, this time with a team that looked nothing less than a sure fire thing, LeBron had his fill of it. During the offseason, James committed to finally improving his post game with Hakeem Olajuwon, hoping to add yet another weapon to his dynamic offensive arsenal. He and Wade also took the time to learn how to play in harmony with each other, develop some chemistry. LeBron and the Heat did everything in their power to come back ready as ever for the new NBA season.
The season opened up this season against the same team that ended their title hopes last season, the Dallas Mavericks. Sitting in my living room, getting ready for the game, I could feel it. I told myself, "Watching that championship banner go up is going to spark the Heat for this one." And did it ever. The Heat went on to win the game, 105-94, which is not a full telling of how bad of a blowout that game really was. However, this might be. The Heat's biggest lead of the game, a whopping 35 points. Their lead was so huge that the Heat starters didn't even end up finishing the ball game.
Nonetheless, LeBron James finished with 37 points, 10 rebounds, six assists, two blocks and two steals. Keep in mind, he didn't even finish the ball game. LeBron's 37 points was an opening-day record for the Heat. Without a doubt, he had the most dominant performance on Christmas Day. LeBron's post game looked much improved, as did the chemistry with D-Wade that was very evident during the incredible alley-oop tip pass from James.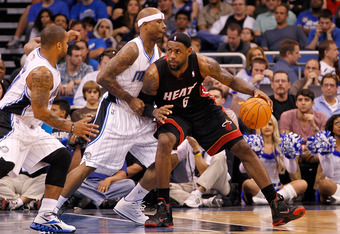 Mike Ehrmann/Getty Images
The next game would be against the Boston Celtics, a familiar foe for this Miami Heat team. In last year's playoffs, the Miami Heat knocked out the Boston Celtics in 5 games which was capped off by LeBron's clutch 4th quarter performance. This time around, James and company took care of Boston with a respectable 115-107 victory. James put up 26 points, six rebounds, five assists, two steals and one block. Yet another impressive game from the King. It would not end there either.
LeBron's would then go on to Charlotte where he would put up 35 points, six rebounds, seven assists, three steals and two blocks in a 96-95 victory.
Finally, on his birthday, vs the Timberwolves, LeBron would go on to put up 34 points, eight rebounds, 10 assists, four steals and one block in a 103-101 victory. A game where LeBron's great assist to Wade ended up being the winner. I'd say it was a happy birthday for him. 
Now I realize this is only 4 games into the regular season, but LeBron's season averages at this point are 33 PPG, 7.5 RBG, 7 APG, 2.8 SPG, and 1.5 BPG. Those are scary good numbers. LeBron has also upped his FG and FT percentage from last season for the time being. If this is a sign of what we are going to see from LeBron all season then I am ready to dub Miami the title favourites early on. 
LeBron's defensive numbers are really the first things that jump out at me. On his career stat line, LeBron averages 1.7 steals per game and 0.8 blocks per game. At this point, he has 2.8 steals per game and 1.5 blocks per game. That's outstanding to say the least. Now it may not stay that way all season, but you can tell LeBron is really committing to that side of the basketball court early on. Finally using that long wingspan to his advantage.
Something else that really jumps out at me is that his season low at this point is 26 points. A lot of players in the NBA will happily take that as their season high, this man has it for a low so far. I realize he'll have performances where he puts up less than that, but mark my words when I say there will also be performances where he has more than his high of 37.
From the looks of it, LeBron has come back hungry! If he can stay this hungry all season then the Scoring Title, NBA MVP, Defensive Player of the Year and most importantly, the NBA Championship can all be his. The sky's the limit for LeBron, he just has to keep on soaring.
Visit The Sports Courier for more great content!