Baltimore Ravens vs. Cincinnati Bengals: Live Score, Video and Analysis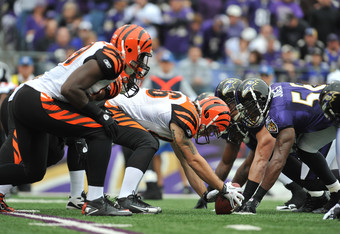 Larry French/Getty Images
The Bengals struggled at times during their final outing of 2011, falling to the Baltimore Ravens 24-16.
However, thanks to Tim Tebow and the Denver Broncos the Bengals clinch the sixth seed and will travel to Houston to do battle with the ailing Texans.
Ray Rice and Ricky Williams made light work of the Bengals defense who proved susceptible once again to the big play.
Baltimore will be celebrating their first AFC North title since 2006, as well as grabbing a precious bye and home-field advantage in the postseason.
With three teams in the playoffs, 2011 is a great year for the AFC North, and it seems likely that we'll see another in-division clash before the year is over.
FINAL: Baltimore 24 Cincinnati 16
Who Dey!
Missed the highlights from today's game?
Watch them here!
Another hail mary and it's no good.
Bengals lose but make the playoffs. Will meet Houston next week in what couldn't be a more favorable match-up.
FINAL: Ravens 24, Bengals 16
Dalton throws a hail mary but what seems like every member of the Ravens defense is covering him.
2 ticks left.
Andy Dalton has 1:05 left to go and grab a Bengals win.
It means very little but will go a long way towards giving confidence as they head into the postseason.
Dalton throws 31-yard pass to Jermaine Gresham and the Bengals are on the march, but fail to make anything of it.
Third and 10 with 0:36 left on the clock.
Fans just became aware of the playoff berth and the stadium is rocking.
Dalton throws to Leonard for a first down, clock won't stop.
Dalton throws, pass knocked down.
0:11 left.
DENVER LOSE, BENGALS GET SIXTH SEED
Tim Tebow and the Denver Broncos just handed the Cincinnati Bengals the sixth seed in the 2011 NFL playoffs regardless of what happens in the Baltimore game.
Baltimore take a time-out on fourth and 5.
TWO MINUTE WARNING
Ravens 24, Bengals 16
Ravens football when we come back. Bengals have no penalties remaining.
Marshal Yanda just handed the Ravens a costly penalty adding five yards and putting them at first and 15 on their own 15.
Rice gets enough for the first down and forces the Bengals to burn a time out.
Rice is really showing why he is in the top-five running backs in the league right now.
Bengals really need to come up with something now, time is running out.
The Bengals fail to capitalise on great field position as Andy Dalton scrambles on third and 8 for 4 yards.
The boos rein down as mike Nugent comes on to kick.
It's good. Eight point game.
Ravens 24, Bengals 16
A.J. Green only has two catches for 26-yards today. He may be in more pain than Cincy are letting on.
Ravens get called offsides and the Bengals capitalise on second and 5 for a first down courtesy of Andrew Hawkins.
Bengals are deep in Ravens territory.
The speed with which Baltimore just turned this game has exposed some hard truths for Bengals fans.
Cincinnati may not be ready to play at this level, but that doesn't mean the future isn't bright.
There's time left on the clock and the Bengals are more than comfortable playing from behind, they've been doing it all day.
Third and 10 Cincy, let's see what they have left.
PBS is deathly quiet. People are starting to leave.
Ray Rice takes it to the house yet again on third and 1. 51-yards for the TD. Yet again Rey Maualuga is made to look stupid in what was effectively an exact replica of his TD in the opening moments of the first half.
Paul Brown Stadium just died.
Looks like the Bengals will limp into the playoffs right about now.
Ravens 24, Bengals 13
Terrell Suggs knocks the ball loose from Jermaine Gresham's grasp and Bernard Pollard recovers.
First turnover of the day and it's Baltimore ball.
Crowd went awfully quiet there and there is danger of a momentum swing right now.
Damn!
Despite the Bengals' struggles through the air today you have to love how much the offensive line have stepped up this afternoon.
Dalton has been pretty safe and happy in the pocket all day, and I shudder to think what might have happened if that wasn't the case.
Bengals make their way into Ravens territory on a Cedric Benson 12-yard gain for a first down following a big Andy Dalton scramble.
Jameel McClain is down and I wouldn't put it past Harbaugh telling him to take his time recovering to slow down the Bengals. He's that kinda guy...
The Ravens have first and 10 just short of their own 35, get the ball to Ray Rice but the Bengals stop him for 3-yards.
On second down the Bengals get him again and the Ravens face third and 4.
The crowd comes alive at the request of Mike Zimmer.
Flacco throws incomplete over the middle to Pitta, but Kelly Jennings had it from the get-go.
Ravens punt and the momentum stays very much on Cincy's side.
Bengals to start at the 19.
Cedric Benson gets 11-yards on third down and finally the Bengals are alive and kicking.
These Bengals really thrive off of one another, and there's no doubt Scott's TD has give Benson a bit of a wake-up call.
For those not keeping track:
San Diego lead Oakland 31-16, while Denver trail Kansas City 7-3.
Looking good for Cincy right now despite a three and out following Benson's dash.
Mike Nugent comes on for a 46-yard attempt...
It's good.
Ravens 17, Bengals 13
The Bengals convert on third and 4 to end the third quarter on a pass to Andrew Hawkins who emphatically signals for a first down. The game is certainly swinging in Cincy's favor now and its up to the offense to march up the field and level this thing up.
Andy Dalton seems to have finally found his feet, so lets hope it continues as we move into the fourth.
And lo and behold Cedric Benson just carried the ball for more than two yards, gets six yards to give the bengals second and 4.
On third and 1 the Bengals call a timeout to talk this one over.
The crowd has come alive after that TD. Andy Dalton and the passing game are breathing a sigh of relief on the sidelines right now.
Scott has everything to prove, with Benson likely playing his last few snaps in stripes. If Scott wants to be the feature back in 2011, now is the time to step up.
With two picks in the first round this year many have pointed to Cincy taking an RB early. Bernard Scott just stated his case for why they might want to reconsider that.
Bengals defense just came up with the sack on third and 6, Carlos Dunlap was the first man there. Atkins and the house fell on the pile and the momentum is beginning to change.
The crowd is in a frenzy, and here comes the offense.
This just became a football game.
On second and 7 in Ravens territory, Andy Dalton has Bernard Scott wide open for a definite TD and he misses the catch...face-palm.
Dalton follows it up with a first down pass to Simpson and the offense is heating up.
Scott gets the hand-off on first down and takes it to the HOUSE! 25-yards!
Touchdown Bengals.
Scott goes around the outside, puts a move on Ray Lewis and breaks an Ed Reed tackle.
More than made up for his missed catch. Bengals roar into life!
Cedric Benson go home.
Ravens 17, Bengals 10
The Bengals finally catch a break with holding called against Michael Oher, giving the Ravens a second and 14 inside their own ten.
The Bengals get the stop on Ricky Williams and its third and 12.
Crowd comes alive and here come the defense. Stop needs to come here.
Flacco dumps it off to Pitta and Nate Clements gets the tackle. Baltimore will punt.
Defense continue to bail out the anaemic offense. Things can't stay the way they are or the Bengals defense is going to end up gassed resulting in a fourth quarter similar to what we saw just before the half.
The offense needs something on this drive or you can all but just call it a day and pray that Oakland or Denver lose. Enthusiasm will soon start to drain from A.J. and Andy if things continue the way they are.
Officials no-called pass interference on that possession and are giving Bengals a lot of problems today. Cincy can't catch a break and some terrible calls are all but burying them. Frustrating stuff.
Baltimore deep in their own territory after Webb fields the kick at the one for some strange reason.
Jermaine Gresham is called for pass interference resulting in a Bengals first and 20. Pretty odd call from the official on that one.
Its followed by two almost-picks thrown by Dalton, only to be saved on the second one via a Jerome Simpson spear worthy of the WWE.
Third and 20 for Cincy results in a fourth down, ugly, ugly stuff.
The wind continues to billow in Cincinnati and the Bengals defense have just come up with a big stop on second and 8. John Fanene flattens Ray Rice who gets about half a yard.
Followed by a big third down with the crowd piping up. Thomas Howard with a great tackle on Dennis Pitta to save the first down and force the punt.
Great play from the Bengals defense and nice noise from the fans in attendance.
Bengals get the ball just shy of their own 30 after Brandon Johnson tips the punt to save the penalty for Skuta's contact with the punter.
A.J. Green picks up a first down to the 49-yard line on the catch and run and the Bengals have a chance to get something going here.
The Bengals first half possessions went :Punt, FG, Missed FG, Punt, Half.
And you can add one more punt to begin the second half.
The Bengals tried to air it out on that drive and got absolutely nothing. Ravens defense was clued up on every down.
Baltimore take over on their own 38 after the Kevin Huber punt.
2 minutes ago - by Paul Dehner Jr. - First-half deficit one of worst this season for Bengals
The Bengals fell to a tie for their second-worst halftime deficit of the season on Sunday. Trailing 17-3, the 14-point deficit was only surpassed by the 28-7 deficit endured at Pittsburgh. They also trailed Buffalo by 14 points in Week 3 and came back to win the game, 23-20.
The good news for Bengals fans is that Oakland are trailing 24-13 to San Diego whilst Denver continue to sit 7-0 behind the Chiefs.
Here comes the kick-off.
Tate returns it to the 30-yard line.
John Harbaugh and the Ravens look jovial as they head into the locker room. A great half of football for Baltimore, totally outclassed the Bengals here.
After a penalty ridden final series from the Bengals defense there will certainly be a nasty atmosphere in the locker room as Marvin Lewis reads them the riot act right about now.
The Bengals defense haven't been terrible tonight, merely outclassed. Silly mistakes have been present as always, but some solid rushing efforts from the Ravens and an on point Joe Flacco are showing the Bengals what lies ahead if they make it into the postseason.
The Bengals continue to be inconsistent in all facets, and recent themes such as Benson's ineffectiveness, failure to convert redzone possessions and Mike Nugent missing kicks are all too apparent.
Without a TD on the board thus far, the Bengals need to capitalise on their first possession of the second half or else they run the risk of being blown out.
If there's one thing we know about these Bengals, they seem to thrive when they're in a hole. They're in one right now and with everything on the line, they must step up.
This article is
What is the duplicate article?
Why is this article offensive?
Where is this article plagiarized from?
Why is this article poorly edited?

Cincinnati Bengals: Like this team?