The Top 10 Greatest Triple H Moments in WWE History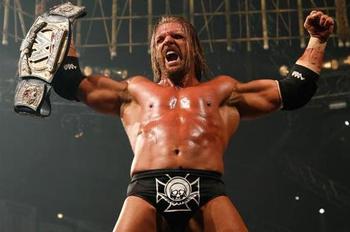 Triple H is one of the greatest WWE Superstars of all time, and the "Cerebral Assassin" has been involved in some of the most memorable moments in WWE History. Whether wrestling fans want to agree or not, he is "The Game," no question.
Here are the top 10 greatest moments of his illustrious career, from No. 10 to No.1.
10) Triple H Becomes a King (1997)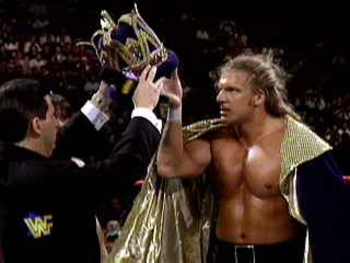 When Triple H was known as Hunter Hearst Helmsley, he was a mid-card wrestler that had been in some less-than-stellar feuds. But all that was forgotten when he won the 1997 King of the Ring Tournament, defeating Mankind in the finals.
For Triple H, having a King of the Ring win under his belt made him instant championship material, and he was on his way to proving that in the WWE.
9) Triple H Helps Usher in the Attitude Era (1997)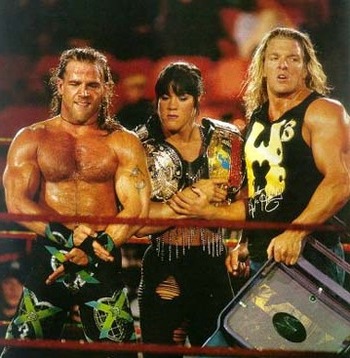 Triple H was on the fast track to becoming a household name in the WWE. With the help of Shawn Michaels, he formed one of the most controversial stables of all time: Degeneration X.
Triple H, along with Chyna, appeared at the end of the main event of RAW is WAR on August 11th, 1997 to aid Shawn Michaels in taking out Mankind. DX had arrived in the WWE, thanks in part to Triple H.
8) Triple H Takes the Helm of DX (1998)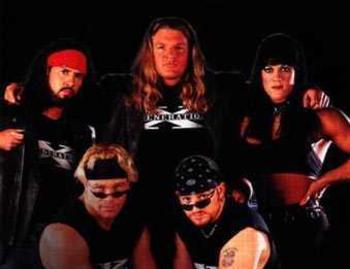 It was the night after WrestleMania XIV, Shawn Michaels had been defeated by "Stone Cold" Steve Austin, and a new era for the "Texas Rattlesnake" was just beginning.
Triple H stated to the WWE Universe that Michaels had "dropped the ball" and essentially kicked him out of DX forever. Triple H became the new leader of DX. He brought former WCW Superstar Sean "X-Pac" Waltman and the New Age Outlaws into the ranks of DX. This would indeed be a brighter day for DX, and Triple H was captain of this new ship.
7) Triple H Becomes an Undisputed Champion (2002)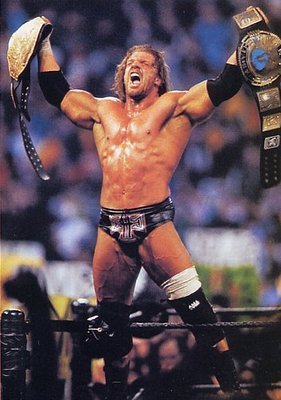 After almost an entire year on the shelf due to injury, Triple H showed no ring rust when he returned to the WWE. "The King of Kings" defeated and dethroned then-champion Chris Jericho for the WWE Undisputed Championship at WrestleMania XVIII, the grandest stage of them all.
This is a moment that many wrestling fans remember as one of Triple H's finest.
6) Triple H and Steve Austin Join Forces (2001)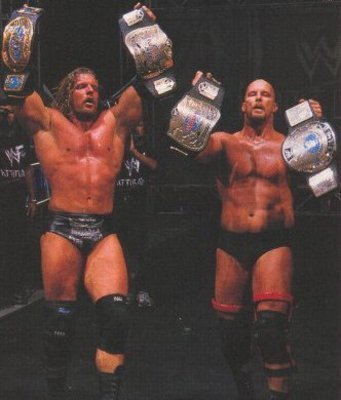 Triple H is known throughout the WWE as a man who can't be trusted. On April 2nd, 2001, Triple H interfered in the main event Steel Cage Match between new WWE Champion Steve Austin and The Rock.
It seemed on the surface that he was going to turn on Austin, but Triple H stunned the wrestling world by aiding Austin in the double team against The Rock. "The Two Man Power Trip" was born. In the subsequent months, Austin and Triple H captured all the major titles in the WWE and were one of the most dominant tag teams in history.
5) Triple H Betrays His Best Friend (2002)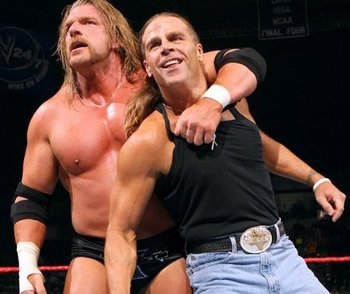 Triple H and Shawn Michaels have been best friends for over two decades, but it's a friendship that has been strained on more than one occasion. Triple H betrayed his friend on the July 29th, 2002 edition of RAW when he smashed Michaels' face through a car window. He said he did this to prove that Michaels was "weak" and that his coming back to the WWE was a mistake.
This proved to the WWE Universe that Triple H was indeed "The Cerebral Assassin."
4) Triple H Makes His Entrance (2011)
Triple H has always been known for making an entrance, but at WrestleMania XXVII, he made an entrance that was fit for "The King of Kings."
He was set to face The Undertaker in a rematch from WrestleMania XVII. The lights went down, and a single spotlight hit the entrance way. Triple H was dressed in his "King of Kings" outfit and was surrounded by Roman Soldiers. All the while Metallica's "For Whom the Bell Tolls" played during this entrance piece.
This moment will always be remembered by wrestling fans as one of Triple H's coolest.
3) Triple H Becomes a Champion (1999)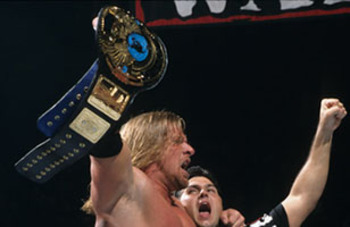 As Triple H's in-ring abilities evolved, he became a contender for the WWE Championship. It was a long journey for "The Game," and he came close to winning the gold on several occasions.
After losing the Triple Threat WWE Championship Match at SummerSlam 1999, many wrestling fans thought that Triple H would never reach the top. Those fans were proven wrong when he defeated Mankind in the main event on RAW, to win his very first WWE Championship. Triple H had finally arrived at the top of the WWE mountain.
2) Triple H Punches His Ticket for WrestleMania (2002)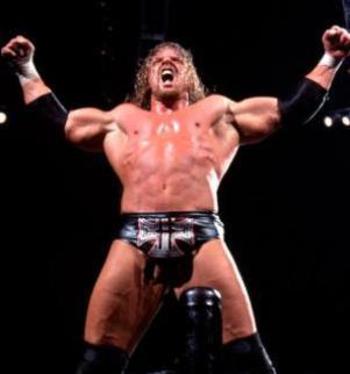 The Royal Rumble is without a doubt the most grueling match in the WWE. Many WWE Superstars gain the respect of their peers by winning the Rumble, and Triple H was about to earn that respect as well.
After a long absence of more than eight months due to a serious injury, Triple H returned to the WWE and overcame 30 of the top superstars to win the 2002 Royal Rumble. Triple H was on his way to the Super Bowl of Pro Wrestling: WrestleMania.

And now, the No.1 greatest Triple H moment in WWE history...
1) Triple H Returns (2002)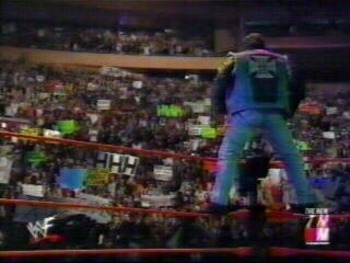 On May 21st, 2001, Triple H had suffered a career-threatening injury, and many wrestling fans thought it would have been his last match. In the main event, it was Triple H and Steve Austin vs. Chris Jericho and Chris Benoit for the WWE Tag Team Championship. Triple H attempted to help his tag team partner when he suffered the injury.
Eight long months passed, and Triple H came back to WWE RAW on January 7th, 2002. Sporting a leather jacket, denim vest and jeans, Triple H headed for the ring and was greeted by tens of thousands of screaming fans at the home of the WWE: Madison Square Garden. It had been a long wait, but Triple H had returned to the WWE to pick up where he left off in his legendary career.
Keep Reading