Stupid, Absurdly Early 2009 Fantasy Football Rankings: Running Backs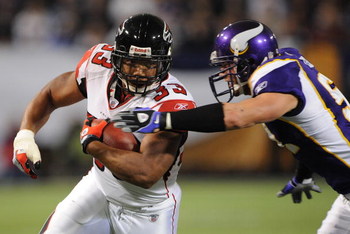 Pre-season rankings, along with conventional wisdom, were gone with the wind in the 2008 fantasy football season. Nowhere was this more apparent than at the running back position.
The No. 1 overall back was DeAngelo Williams out of Carolina, a team that just drafted a halfback in the first round of the draft back last April.
A first-year starter was number two.
A starter who made it into the end zone once last season scored 13 touchdowns this year. There were three rookies in the top 10. The perennial No. 1 one ended up with seven.
Nobody has any idea what they're doing with these. It's unpredictable, a crap shoot.
Now let me polish off my rifle...
1. Adrian Peterson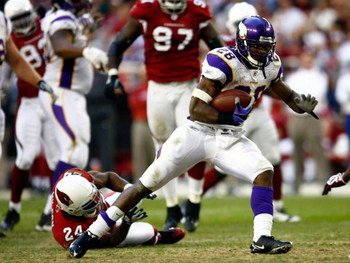 There are a lot of backs with potential to be in the elite class for 2009, but the one guy that I have the most confidence in is Peterson.
He shook his inconsistency problems from his rookie campaign, so that's one less thing to worry about.
He now has also proven beyond any doubt that he can produce while in an offense with absolutely no passing game.
The only other knock is that his running style leaves him susceptible to injuries. I say it leaves him susceptible simply to battering.
The hits he takes will shorten his career, not his seasons.
Draft the most talented back in the NFL at the top of your drafts with confidence.
2. Brandon Jacobs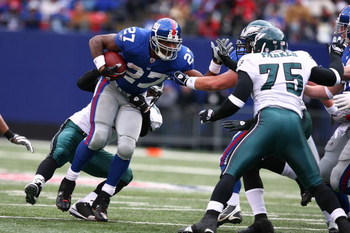 The first thing to know is that both Brandon Jacobs and touch thief Derrick Ward are both free agents. Both will demand substantial money and both will most likely not be back in New York.
Whether Jacobs re-signs with the Giants or goes elsewhere, he'll most likely have less competition for carries than he has in the Meadowlands.
Now what can he do with more carries? That's where this gets delicious.
Jacobs had 15 touchdowns while missing three games. He averaged 5.0 yards per carry, second most of all backs with at least 200 touches.
In the right situation, Jacobs is more than capable of being one of the most valuable fantasy running backs in football. I say he breaks out in '09.
3. Clinton Portis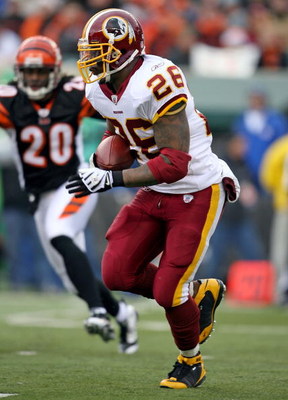 If you take out weeks 13 and 14, when Portis was injured and played LC and Heidi with head coach Jim Zorn, the Washington tailback averaged 15 points per game.
If you plug that average into those two games, Portis would have finished as the fourth highest scoring running back in fantasy. So there's that.
He also runs for tons of yards and gets tons of carries. What more could you ask for in a high first-round pick?
4. Steve Slaton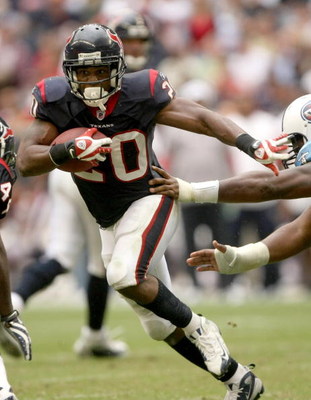 In what was expected to be a year long running-back-by-committee, it took Slaton all of one week to impress coaches enough to earn the starting job in Houston.
With the role, the rookie contributed 1,600 total yards to a young offense that is on the rise.
Later in the season, when most first-year backs are hitting the wall, Slaton was getting more and more touches week in and week out.
He made the most out of them, averaging 131 total yards per game during the last seven weeks.
I expect Slaton to extend that hot streak into next season, putting up top five numbers in 2009. And yes, I have him higher than Matt Forte.
5. Maurice Jones-Drew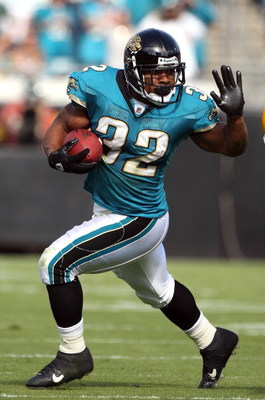 The 32-year-old Fred Taylor is expected by many to be released by the Jaguars this off-season.
Even if he takes a pay cut and stays in Jacksonville, he'll be a clear-cut backup to Maurice Jones-Drew, leaving the door open for a breakout season by the 5-foot-7, 208-pound bowling ball.
Jones-Drew is a quick, powerful, do-it-all back who finished this season just outside of the top 10 on only 197 carries.
Even sharing time with Taylor in 2008, Jones-Drew had the second most receptions by a running back with 62.
In 2009, he'll be too involved in the offense to be kept out of the top five at his position.
6. Matt Forte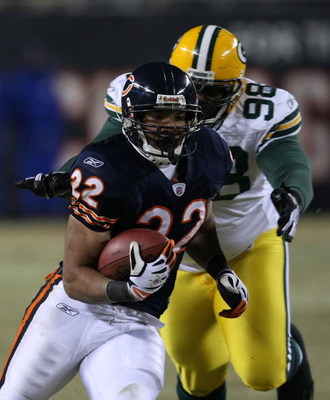 No rookie running back was more impressive in '08 than Matt Forte. The Chicago second-round pick had over 1,700 total yards, 1,238 coming on the ground.
Trouble is, it took Forte 316 carries to get to that 1,238 number. That's only 3.9 yards per carry.
That looks dangerously similar to Marshawn Lynch's 4.0 average from a year ago and Lynch took a minor step back in his sophomore season this year.
I'd expect Forte to do the same (a minor step back mind you, he's still a first-rounder), especially if he doesn't get much help around him in the Bears offense this off-season. Forte is no Adrian Peterson.
7. Michael Turner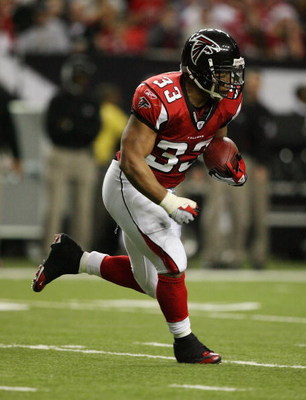 While Michael Turner's 1,699 rushing yards in his first year as a starting running back are extremely impressive, the 377 carries it took him to get there scare me.
That's a pretty large workload for a guy in his first year as a starting running back.
In a backfield with a rising stud quarterback, I would be surprised if the Atlanta offense leaned on Turner as much in 2009.
With fewer touches, Turner should fall back some in fantasy production.
He's a mid-first rounder and a dependable one at that, but don't look for another top two beast of a season.
8. Steven Jackson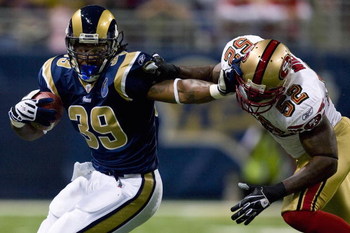 Steven, Steven, Steven. If only you could stay healthy.
When he's at 100 percent, Jackson puts up as elite of numbers as it gets. Problem is, he has missed four games each of the last two seasons.
Nothing makes me think that anything around Jackson in St. Louis will take any pressure off of him to help prevent injuries, so I just can't trust him as much as I'd like to.
His upside is too high to pass up in the mid- to late-first round, though.
9. Brian Westbrook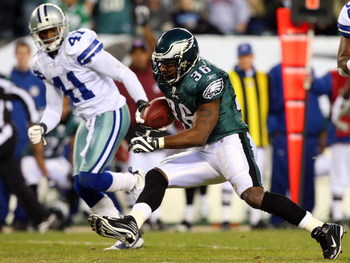 Westbrook's ranking is probably more liable to change than that of any other player. Everything depends on what happens this off-season.
Does Donovan McNabb stay in Philadelphia? If he's gone, does Kevin Kolb take over? Will Andy Reid learn to balance the offense?
Brittle Brian also still has his injury issues; you just can't count on him to play all 16 games.
But he certainly can produce enough in the games he does start to warrant a first-round pick. Watch his situation carefully.
#10 - LaDainian Tomlinson
The thing to understand about LaDainian Tomlinson is that he didn't suck this year. The Chargers back failed to put up double-digit points in only three games.
He still finished with the seventh-most fantasy points at the running back position.
However, as his touches dropped in number a wee bit in 2008, so will they in 2009. LT wants to finish out his contract, which has three years remaining, and so does San Diego.
The Chargers organization knows that whatever the media and fans say, Tomlinson gives them the best chance to win.
Sproles will be resigned and Hester will continue to develop and both will cut into Tomlinson's playing time, just enough to preserve him.
But it won't be enough to prevent Tomlinson from being a top fantasy running back.
Want More?
For some preliminary quarterback rankings, hit it here: http://bleacherreport.com/articles/99552-stupid-absurdly-early-2009-fantasy-football-rankings-quarterbacks
More rankings are coming in the next few days for other positions.
For more fantasy football goodness throughout the off-season, all you need to know is http://ffwriterswithhair.blogspot.com/
Keep Reading