Why the Duke Blue Devils Are Grossly Overrated and Will Stay That Way
December 31, 2011
Chris Trotman/Getty Images
Mike Krzyzewski's Duke Blue Devils are one of the most overrated teams in the country: They are ranked fifth in the country in the Coaches' Poll. However, the team will not be exposed for the weak team they are until March.
Duke's resume may sound impressive, yet it is filled with asterisks. At 11-1—including 2-1 against ranked teams—they are among the top of the ACC standings.
That resume will be even more impressive after the ACC schedule, in which they will lose no more than four games. However, they are not in the Top Five in the country, and they should be a borderline Top 10 team.
Duke is a very deep team—with nine solid players after red-shirtting freshmen Alex Murphy and Marshall Plumlee. However, Coach K doesn't usually spread out the playing time evenly on deep teams (one of the very few faults he has).
After their top five of Seth Curry, Austin Rivers, Mason Plumlee, Andre Dawkins and Ryan Kelly (all of whom have at least 25 minutes per game), the next closest player in minutes per game is Tyler Thornton at 18.8 minutes per game.
Michael Gbinije, Josh Hairston and Quinn Cook all play less than 11 minutes per game.
While Coach K certainly makes players earn their playing time, as is his style—his starting five are playing much more than necessary, and this makes the team appear to lack depth. After those five, there are great players without playing time, and that takes away from the team's depth.
Duke has played three ranked opponents, but they have not beaten an elite team in my mind. While you can argue that Michigan and Kansas are elite teams, neither team is in the Top 15 of the standings.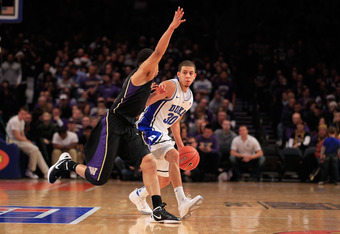 Chris Trotman/Getty Images
The college landscape this year has three or four elite teams atop the rankings that are head-and-shoulders above the rest of the field. Then there are roughly five great teams, and after that there is a mass of good teams that are clustered together—ranging from unranked to No. 14 in the country.
This layout means that their seven-point wins against Michigan and Kansas are not as impressive as they seem, and there was no doubt heading into either game that Duke was the better team.
Ohio State was the only elite team Duke has played this season, and they were embarrassed. While playing in Columbus against the Buckeyes is a Herculean task, the Blue Devils should have been able to keep the game close.
Ohio State came out early and shot out in front to a double-digit lead in the first couple of minutes. Duke brought the game back to a close score for a brief period mid-way through the first half, but after that Ohio State blew them away—leading by double-digits throughout the second half—winning 85-63.
This game exposed Duke's many weaknesses, including their inability to stop elite big men or an inside-outside combo. While the Plumlees can stop good big men, when they play one that is truly elite like Jared Sullinger they don't stand a chance.
Jared Sullinger, William Buford, DeShaun Thomas and Aaron Craft all scored at least 17 points in the game, burning Duke.
Another weakness for the Blue Devils is free-throw shooting. While Coach K's teams are usually led by a player shooting over 90 percent (Seth Curry), they have two glaring weaknesses that opponents can focus in on.
The Plumlees are awful at the stripe, with Mason shooting a pathetic 38.4 percent.
If Duke is playing in a close game, their woes from the stripe will hurt them mightily, and many games during March Madness come down to the wire. The Dukies will falter when it counts most, exposing them as overrated.
While I think that Duke is a good team, they are not great. The team should be around No. 10 in the country, yet their ranking at No. 5 right now is an insult to the teams behind them. By the time the rankings come out in March they will be even higher, yet they will suffer an early exit in the NCAA tournament.
Josh Schoch is an aspiring sportswriter dedicated to bringing you everything related to college basketball, the NFL, NBA, MLB, college football, and much more. Follow him on Twitter.