Dallas Cowboys vs. New York Giants: Live Score, Video and Analysis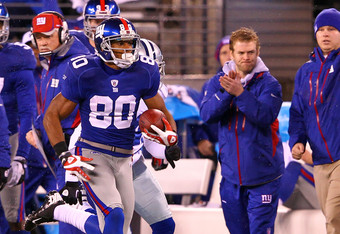 Victor Cruz breaks away for a long touchdown in the first quarter.
Al Bello/Getty Images
The playoffs began a week early for the Dallas Cowboys and New York Giants. Bleacher Report's live coverage of the Sunday night showdown at MetLife Stadium will have you covered from the ramp-up to kickoff all the way to the final gun...and beyond.
The Giants have claimed the NFC East title, beating the Cowboys 31-14 to complete a season sweep of Dallas.
Both teams came into the game with 8-7 records, so it's wasn't about arcane tiebreakers such as total net points against common opponents. No, it's winner-take-all, loser-go-home.
Hakeem Nicks scored a four-yard touchdown pass from Eli Manning with 3:41 to play to give the Giants a stranglehold on the game.
Final score: Giants 31, Cowboys 14
The Giants finished with 437 yards of offense to 300 for Dallas.
A big factor tonight was Kevin Gilbride sticking with the running game, even as it didn't perform spectacularly at times. New York finished with 106 yards on the ground on 31 carries, just a 3.4 yards per carry average.
But because the Giants remained committed to running the ball, it made the Dallas defense continue to honor the run rather than being able to pin its ears back and rush Eli Manning.
The NFC wild-card games next week feature Detroit returning to the Superdome for a rematch with New Orleans and Atlanta going to New Jersey to face the Giants. Green Bay and San Francisco have next week off.
So let the playoffs begin after a wild season that came down to the final game.
One more snap and .... congratulations to the New York Giants, NFC East Division champions. The Cowboys finish 8-8.
The defense has had a renaissance over the last two weeks, logging 11 sacks in the wins over the New York Jets and the Cowboys. That bodes well with the dangerous Falcons coming to MetLife Stadium for a wild-card playoff next weekend.
And that's going to do it. Romo gets stripped by Justin Tuck, Giants recover and can run out the clock.
Looking ahead, this will be the first-ever playoff meeting between the Falcons and Giants. It's also the first time in a non-strike season since the NFL-AFL merger in 1970 that a team will win the NFC East with fewer than 10 wins.
Manning to Nicks for a division title. Extra point puts New York up 17 with 3:41 to go.
Eli breaks a tie with Johnny U and Big Brother Peyton for the most fourth-quarter touchdown passes in a single season with 15.
Big completion from Manning to Nicks, 36 yards to inside the Dallas 5. A touchdown here just about seals the deal.
Felix Jones with a big drop on third-and-13. Not a great throw by Romo, but that's a catch that has to be made when, you know, the whole season is on the line.
Eli makes it a much shorter kick for Tynes to make it a two-score game and ... it's good.
Skandrick is throwing a nutty after Cruz made another huge catch. People forget how strong Manning's arm is until he does something like that last throw.
Shades of Super Bowl XLII—Eli spins out of a sack and connects with Victor Cruz for a huge gain to completely flip the field position.
If this were hockey, Devin Thomas might get the second assist on the Dallas score.
It's officially interesting. Laurent Robinson gets his second touchdown catch of the second half and it's a one-score game.
Devin Thomas forgot the age-old rule—the retaliation is always more likely to get caught than the instigation. The penalty turns a good return from Dez Bryant into a really good one when you add the free 15 yards.
Pet peeve of mine for years—receivers running five-yard routes on third-and-six.
Back-to-back big plays by Michael Boley. Any questions why the Giants defense was so bad while he was out?
Great play by Boley and Webster to keep Witten short of the sticks. Big fourth down and Romo's short on the sneak.
Second sack for Umenyiora just after a big gain from Romo to Witten. Fifteen minutes to a division champion (unless there's OT).
Foreshadowing: The Giants couldn't gain a yard between the tackles in the first half. Jacobs can't get a yard on fourth-and-one between the tackles.
Fourth-and-one from no man's land and Tom Coughlin wants to think about it a little bit longer.
D.J. Ware picked a good time to fumble. DeMarcus Ware's offsides call negates the turnover. Three potential turnovers for Dallas that have been missed now.
Antrel Rolle creates the first turnover of the night. Bad decision by Romo to throw into double-coverage in the middle of the field. Pressure does that to quarterbacks, though.
Dallas finally got to Eli. Now they get the ball back with a chance to make this interesting again.
Nice video of Victor Cruz' salsa dance after his first-quarter touchdown.
Romo to Robinson down the sideline for a touchdown—94 yards in the blink of an eye. Huge touchdown for Dallas on its first second-half possession.
Nice work by Sammy Morris to escape and pick up a big first down.
This article is
What is the duplicate article?
Why is this article offensive?
Where is this article plagiarized from?
Why is this article poorly edited?

Dallas Cowboys: Like this team?