Green Bay Packers Week 17: Aaron Rodgers vs. Matt Flynn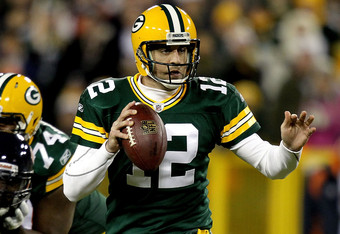 I expect Aaron Rodgers to have a restful New Years Day
Matthew Stockman/Getty Images
Muhammad Ali would be proud.
Green Bay Packer head coach Mike McCarthy has been dodging and dancing around the questions regarding QB Aaron Rodgers' playing time in Sunday's game versus the Detroit Lions all week.
The season finale will have no bearing on the Packers' playoff status as they already clinched the No. 1 seed throughout the playoffs while the Lions could improve their seeding with a win over the Packers.
The debate over late-season playing time continues. Many can make the argument that players need to avoid getting rusty by getting at least some playing time in a meaningless game such as this. There are examples of teams that rested players only to fail in the playoffs leading some to wonder if the added time off played a part.
Many can point to the sixth-seeded 2010 Packers Super Bowl Champions as evidence that time off doesn't matter at all.
The Chicago Bears went all out in last year's finale that could only keep the Packers out of the playoffs. The Packers won and their momentum continued and carried them to a Superbowl victory.
On the other hand, you can also make the argument that there is absolutely no reason to expose the likely MVP of the NFL to injury this Sunday and make sure Ndamukong Suh and company only get to shake Rodgers' hand.
I don't believe there is an absolute correct answer, but you will find me on the side of resting players. At the end of the day, you have to ask yourself, "What if (insert player name) were to get hurt?" It would be a shame to lose any player, but especially key players who can be rested prior to the playoffs in a game that will have no bearing on your playoff position.
What would be your strategy?
Not to mention, the Detroit defense doesn't exactly carry a squeaky-clean reputation with them.
The Packers are able to use this opportunity to allow young players reps in order to see if they perhaps could be ready to contribute in the playoffs. And it is a rare opportunity for the backup QB in Green Bay, Matt Flynn in this case, to be able to get some meaningful snaps against a first-rate opponent without it being due to injury, and to showcase his ability to the rest of the league.
The Packer defense will also use this opportunity to play younger players such as OLB Vic So'to as they could use some spark entering the playoffs after an up-and-down season.
Seeing some rare action against the Bears last week, So'to did appear active and somewhat disruptive—an element the Packer defense could really use to help Pro Bowler Clay Matthews on the opposite side.
It would surprise me if Aaron Rodgers played more than a series or two, if at all. But my guess is McCarthy won't give away that secret until the offense takes the field. It should make for an interesting matchup as the Lions intend to go all in and the Packers look to see if their depth can carry them to a victory.
It is a division game after all, where a Packers victory could mean the sixth seed for the Lions, and there may still be some bad blood between the two clubs after the controversial Suh "stomp" on Thanksgiving Day.
Happy New Year!
This article is
What is the duplicate article?
Why is this article offensive?
Where is this article plagiarized from?
Why is this article poorly edited?

Green Bay Packers: Like this team?