Tony Romo Will Lead Dallas Cowboys Past New York Giants to NFC Title
December 31, 2011
Tom Pennington/Getty Images
When I look at this game, it is without a doubt the game of the weekend. 
The Dallas Cowboys will travel to New Jersey to face the New York Giants for the NFC title. Both teams will put it all on the line.
The winner is in the playoffs, the loser goes home. There is nothing else to play for.
This is the time where Cowboys QB Tony Romo will show his critics that he can win the big game. His playmaking skills will be tested, but I believe that Romo can handle the pressure.
While Romo is currently dealing with swelling in his throwing hand, it has gone down and improved throughout the week. Unless the Giants target his hand, I don't expect that to effect his throwing on Sunday.
He is going against a Giants defense that has struggled this season, from pass-rushing to the secondary not keeping up with wide receivers.
Dallas has a phenomenal receiving corps. It is going to be tough for the Giants to cover Dez Bryant, Miles Austin, Jason Witten and more.
The Dallas passing game can spread the defense enough for RBs Felix Jones and Sammy Morris to get some yards running the ball.
That will be very important to have a solid running game to give Romo some relief.  
On the other side, Giants QB Eli Manning is coming off a moral-boosting win over the New York Jets.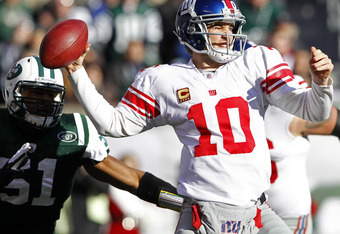 Rich Schultz/Getty Images
While the Giants recovered enough to win against the Jets, I am a little concerned that they were exposed in their loss the week before against the Washington Redskins.
Manning just looked awful, throwing three interceptions in that game. I would not be surprised if the Cowboys took notes from one division rival to take down another.
Another tough thing for the Giants to swallow is that up-and-coming TE Jake Ballard is out with a knee injury.  
Ballard was becoming a favorite target for Manning to keep drives alive. Ballard is a big target with great hands who can fight for extra yards. New York's offense will suffer a little without Ballard
I think this injury is very significant for the Giants offense. While Manning has great wide receivers and running backs, they are all beat up with little injuries here and there.
Manning is going to have to rely on WR Victor Cruz to step up once again to keep drives alive and make big plays. I full expect the Cowboys secondary to be all over him.
Just like Romo, Manning is going to need his running game to play well to keep the Cowboys pass rush off of him.  
The Cowboys defense should have LB Sean Lee out there for the game. He is the team's leading tackler. With Lee out there, that will give DeMarcus Ware the ability to just rushing Manning and add to his current sack total this season of 18.
It's going to be a great game. I believe that Romo has more playmaking abilities and I trust the Cowboys defense more than the Giants, although neither defense has been playing well lately.
Look for the Cowboys to be crowned NFC East champions.