Oregon in the Rose Bowl: My Favorite Ducks Bowl Memory
January 1, 2012
Christian Petersen/Getty Images
With the Ducks a day away from taking on the Wisconsin Badgers in the 2012 Rose Bowl, Oregon has a shot to right the ship, avenge their 2010 Rose Bowl loss to Ohio State and take some of the sting out of last years title loss to Auburn.
While the players are preparing for the game, bowl season allows players, coaches and fans alike to think back to past bowls and relive some past successes. 
Despite the way that the game ended, last year's national championship is the scene of my favorite Oregon Ducks bowl memory.
All game long, the Auburn defense had been doing a great job of holding the Oregon offense and in the fourth quarter, they had contained them to only one touchdown. 
Time was becoming a factor in the fourth quarter and it appeared that Oregon would not get much time with the ball. With time running down, Cam Newton was carrying the ball when Casey Matthews came from behind and knocked it lose, allowing the Ducks to recover in Auburn territory.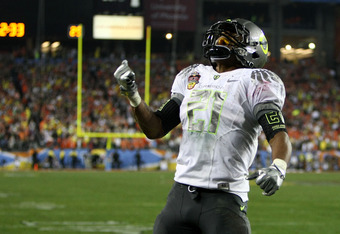 Jonathan Ferrey/Getty Images
After working the ball down the field, Oregon found themselves down near the goal line where they had been finding little success. Coach Chip Kelly called for a shovel pass that allowed LaMichael James to get into the end zone and set up one of the best bowl memories for Duck fans.
While the touchdown was great, it left Oregon two points short and only 2:33 remaining in the game. Oregon went for two and Kelly drew up a beautiful play that had Darron Thomas roll out right and throw across his body to the back of the end zone to Jeff Maehl.
The play was beautifully drawn up and executed to perfection and tied the score in the national title game. While many may overlook this play because of the eventual loss, this was one of the most exciting plays that most Duck fans have ever experienced. 
Joe Penkala is a B/R Featured Columnist that covers College Football and the Oregon Ducks. You can contact him @joepenkala