Brock Lesnar: Twitter Explodes with Reaction to UFC Legend's Retirement
December 31, 2011
Jon Kopaloff/Getty Images
Just like that, a brutal kick from Alistair Overeem sent Brock Lesnar into retirement.
OK, maybe the diverticulitis had something to do with it, but either way, the baddest man on the planet's return to the ring was far too short lived.
While many expected Overeem to come away with a victory, it's hard to imagine anyone saw Lesnar's immediate retirement following the fight as a possibility.
One of the most recognizable faces of the UFC won't be entering the Octagon anymore.
Naturally, Twitter is exploding, as everyone has something to say about the premature retirement of the former champ.
Update: Saturday, December 31st at 9:58 a.m. ET
While this was a horrible outcome for Lesnar, Overeem's stock as a fighter just went through the roof. MMA fighter Derek Brunson speaks on Overeem's potential.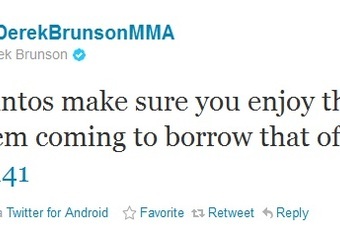 Update: Saturday, December 31st at 9:47 a.m. ET
Upon retiring, Lesnar prompted many to think he would be making a return to the WWE. Bleacher Report's very own Tom Kinslow isn't buying it.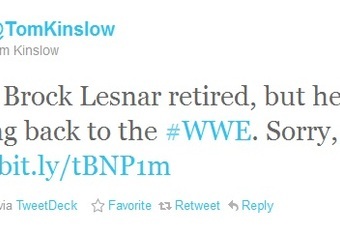 Those who didn't get to see the fight live and were frantically checking Twitter for updates had to be stunned when SportsCenter cranked out this tweet.
Rod Welton shares the frustration of many fans who shelled out the money for the short-lived fight.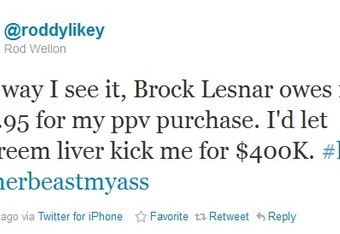 WWE's Chris Jericho decided to run his mouth a bit about not only Lesnar, but the UFC itself. Pay particular attention to the hash-tags.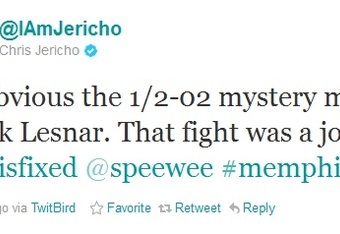 The Fake ESPN states the obvious here. Lesnar hasn't been Lesnar for a long time. His official retirement may have come after a brutal kick to the stomach by Overeem, but he was done before he entered the Octagon.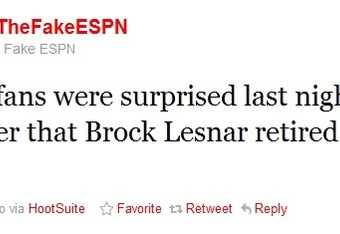 UFC commentator Jon Anik points out the positive impact Lesnar had on UFC during his brief, but spectacular career.